Chocolate Chip Cookie Dough Brownie Truffles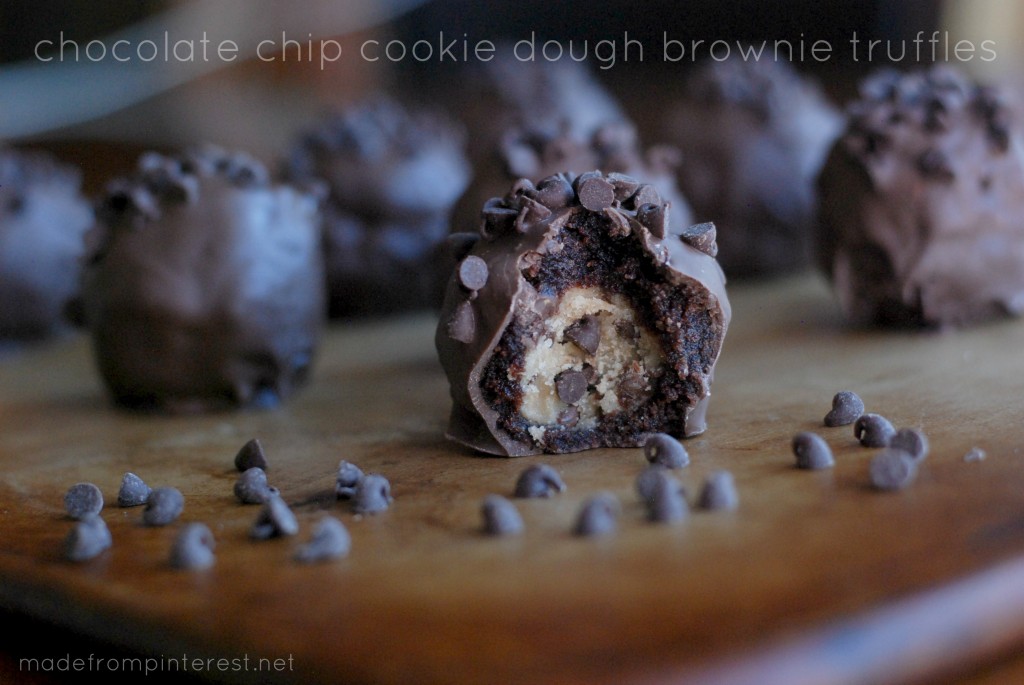 Author:
Made From Pinterest
¾ cup softened butter
¾ cup brown sugar
¼ cup white sugar
2 TBL milk
1 tsp vanilla extract
2 cups all-purpose flour
Pinch salt
1½ cups miniature chocolate chips for recipe
½ cup miniature chocolate chips to sprinkle on top of truffles
1 pkg fudge brownie mix, baked and cooled
1 pkg chocolate almond bark
Bake your brownies as per directions on the box for a 9x13 pan and let cool.
In a large bowl or in your KitchenAid mixer, mix the butter and both sugars until creamy. Add the milk and vanilla until well incorporated. Add the flour and salt and continue to mix until well combined. Finally add in the 1½ cups miniature chocolate chips
Line a cookie sheet with foil and drop rounded, tablespoon sized balls of dough. Freeze the cookie dough for about 30 minutes or until pretty firm.
Cut your brownies into approx 1½" squares.. Flatten a brownie square in the palm of your hand. Fudgy brownies will flatten easily and retain their moisture which is why it's important to make sure you use a fudgy brownie mix rather than a cake-y one.
Take your cookie dough balls out of the freezer and place a cookie dough ball in the middle of the flattened brownie and then wrap the brownie around the cookie dough ball. If the brownie cracks, that's okay; just kind of roll it in your fingers until the brownie completely surrounds the cookie dough. After covering all of the cookie dough balls, place them back into freezer again to firm up.
Melt the chocolate almond bark according to the directions on the package. Using a fork, dip each brownie truffle into the chocolate bark to coat completely. Allow excess to drip off. Put these balls back onto your foil lined sheet and sprinkle the tops with the remaining ½ cup of mini chips.
These can be kept in the refrigerator in an airtight container or they also freeze really well.
You may have some extra chocolate chip cookie dough left over but since this recipe doesn't call for any eggs, you can eat the cookie dough straight from the bowl!