Grilled Flatbread with Chorizo & Peppers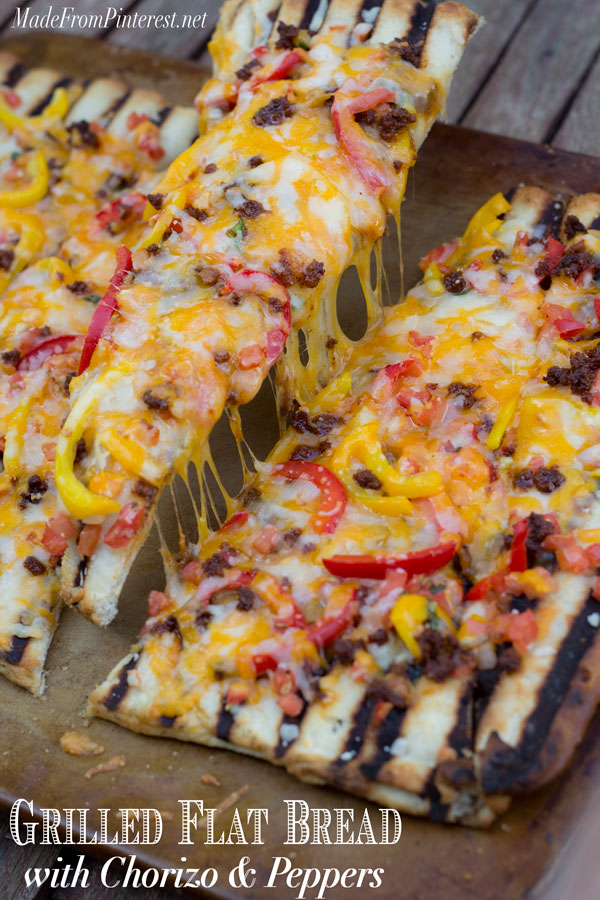 2 Tbsp. olive oil
1 lb refrigerated pizza dough, at room temperature
¾ cup fresh salsa
4 oz dry-cured Spanish chorizo, chopped
½ cup mixed red and yellow pepper strips
1 pkg (8 oz) KRAFT Shredded Triple Cheddar Cheese with a TOUCH OF PHILADELPHIA
HEAT grill to medium heat.
BRUSH 1 Tbsp. oil onto large sheet of parchment paper. Divide Dough in half: place 1 piece on prepared parchment.
Roll out to 14X8-inch rectangle or 12-inch round. Repeat with remaining oil, dough and second sheet of parchment.
Transfer dough, parchment sides up, to grill; remove parchment.
GRILL 2 to 4 minutes, or until bottoms of crusts are lightly charred. Place grilled sides up, on work surface.
TOP with salsa, chorizo, peppers and cheese. Grill 4 to 5 minutes or until cheese is melted.