Mango BBQ Brisket and Brie Quesadillas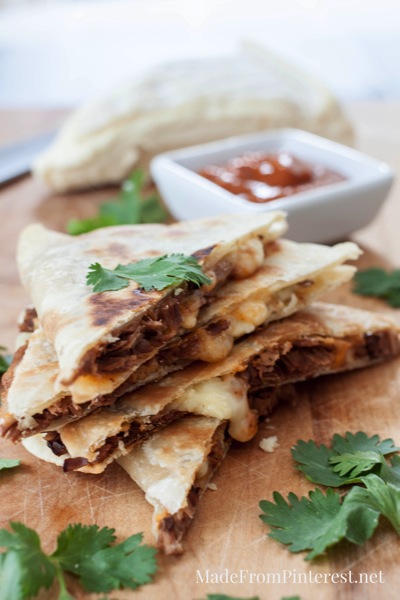 1 (3lb) beef brisket
Kosher salt and freshly ground black pepper
1 tsp chili powder
2 cloves garlic
1 (12oz) can cola drink
3 tbsp olive oil
1 yellow onion, diced
5 cloves garlic, minced
1 cup ketchup
¼ cup freshly squeezed lemon juice
3 tbsp Worchestershire sauce
2 tsp Creole mustard
1 tsp Kosher salt
½ tsp freshly ground black pepper
¼ cup bottled mango chutney
8 (8 inch) flour tortillas
8 oz Brie cheese, thinly sliced, with rind left on
1 cup shredded Monterey Jack cheese
Cilantro for garnish
Rub the meat with salt, pepper, chili powder, and garlic.
Place brisket in the crockpot and pour the Cola over the top.
Cook on low for 8 hours.
Remove from the crockpot and let rest for 15 minutes.
Slice against the grain (1/8-1/4 inch thick).
Heat olive oil in a 2-qt sauce pan.
Saute onions for 5 minutes.
Add garlic and cook until fragrant.
Stir in the remaining ingredients and simmer for 5 minutes.
Transfer to a blender or food processor and run until smooth.
Heat a griddle or large pan over medium or preheat grill.
Lay out the tortillas. Divide the meat, brie, and monterrey jack between the tortillas, placing the meat and cheese on half of the tortilla.
Top with a spoonful or two of barbecue sauce and fold the other half over.
Place in skillet on medium or on the heated grill (brushing the tortilla with oil will prevent sticking).
Cook until the bottom is crisp and flip over.
Remove from heat and cut into 2-3 wedges. Serve with extra barbecue sauce.
Garnish with cilantro.