Beef and Black Bean Chili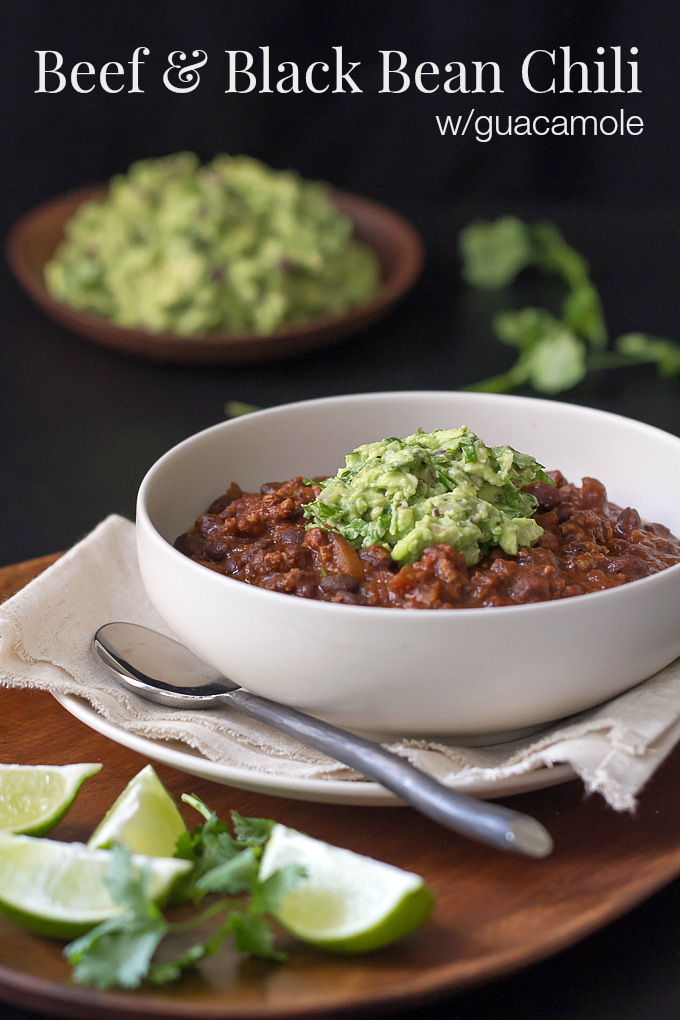 3 cans black beans
1 14.5oz. can diced tomatoes
pinch ground Chipotle chile pepper (or one diced chile from a can of Chipotle Chiles in Adobo)
2 tsp. olive oil
1 lb. very lean ground beef (less than 10% fat)
1 C. diced onion
1 T or more regular chile powder
1 T or more ground Ancho chile pepper
¼ tsp. ground Chipotle chile pepper
2 tsp. ground cumin (I used about 3 tsp.)
2 C. homemade beef stock or 1 can beef broth
2 T tomato paste
¼ cup fresh-squeezed lime juice
1 bunch cilantro, chopped (reserve half for guacamole)
½ red onion, finely diced
¼ cup fresh-squeezed lime juice
1 bunch cilantro, chopped
2 avocados
salt and fresh ground black pepper to taste
Place 2 of the 3 cans of black beans in colander and rinse well and drain. Set aside.
In a food processor puree the third can of undrained beans, tomatoes with their liquid, and pinch of Chipotle chile powder or whole chipotle, depending on which you're using. Process until smooth.
In bottom of heavy soup pot, heat 2 tsp. olive oil, add ground beef (breaking it apart as you cook it) and diced onions. Cook until beef is browned and onions are soft.
Add all the chile powders and cumin and saute about 30 seconds more.
Add beef stock, pureed bean mixture, drained beans from colander and tomato paste. Simmer, uncovered, 30 minutes (or longer on low heat). Taste to see if you need more chili powder, if you used a whole chipotle chile you probably won't need any more spice.
About 5 minutes before serving, stir in half of the chopped cilantro and ¼ cup lime juice and continue to simmer. Taste chili and season with salt and pepper if desired.
Serve Chili hot, with a generous scoop of guacamole on top of each serving.
Slice avocados in half lengthwise and remove pit. Scoop out flesh and put in mixing bowl with ¼ cup fresh lime juice, cilantro, red onion. Stir to combine and lightly mash the avocado. (Original recipe had the avocado just diced). Cover and keep in refrigerator until ready to serve.