Roasted Chickpeas Recipe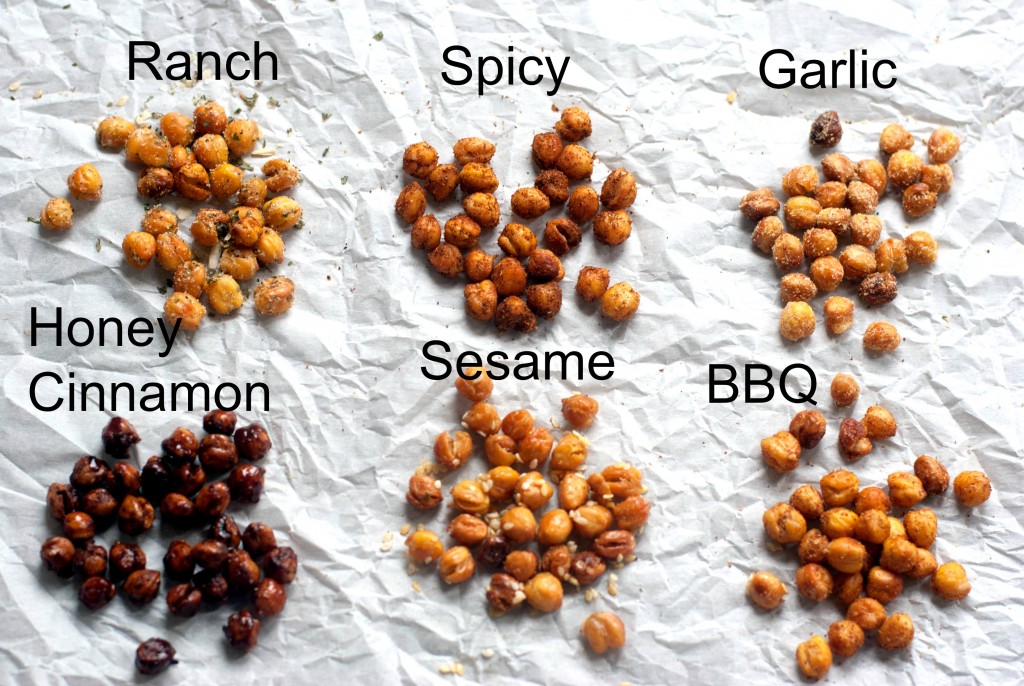 Author:
Made From Pinterest
2 14-15oz cans of chickpeas (also known as garbanzo beans)
2 TBL olive oil (can also use coconut oil)
1 tsp ground cinnamon
1 TBL granulated sugar
2 TBL honey
1 tsp sesame oil
1 tsp garlic powder
½ tsp sea salt
1 TBL sesame seeds
1-2 tsp garlic powder or 2 cloves fresh minced garlic
¼ tsp fresh cracked pepper
½ tsp sea salt
1 tsp ground cumin
1 tsp chili powder
½ tsp cayenne pepper
½ tsp sea salt
2 tsp paprika
1 tsp cumin
1 tsp chili powder
1 tsp onion powder
1 tsp garlic powder
1 tsp salt
3 tsp brown sugar
¼ Cup Black Pepper
1½ Cup Parsley Flakes
½ Cup Garlic Salt
2 TBL Kosher Salt
¼ Cup Granulated Garlic
¾ Cup Granulated Onion
2 TBL Dill Weed
This last seasoning mix is used to make homemade ranch dressing. You can find the whole recipe HERE. However it does contain some dairy products. You can reduce the amounts for the chickpeas recipe or make the whole recipe and it will stay fresh in your refrigerator for months
Drain and rinse your chickpeas. Remove any loose skins off of the beans but don't worry about taking them all off. Just remove the ones that are super loose.
On a paper towel or towel, evenly spread your beans and let dry. I dried mine for about ½ hour.
Preheat oven to 400 degrees.
Line a cookie sheet with either foil or parchment paper.
Evenly spread your dried beans on cookie sheet
Bake for 40-60 minutes. It will all depend on your oven. Check after 40 minutes and if they are crunchy, they are done. If they are too moist then cook a little longer but watch so they don't burn.
After baking, quickly transfer to a bowl and mix with the 2 TBL olive oil or coconut oil.
Then spread the seasonings of whatever flavor you are using and mix well.
With the honey cinnamon flavor, after coating, you can put the beans back into the oven for 5 minutes or so to caramelize them.
With the ranch recipe, mix 2-3 tsp of the whole mix into your baked chickpeas and refrigerate the rest for other recipes.
Yummy!