Healthy No Bake Key Lime Bars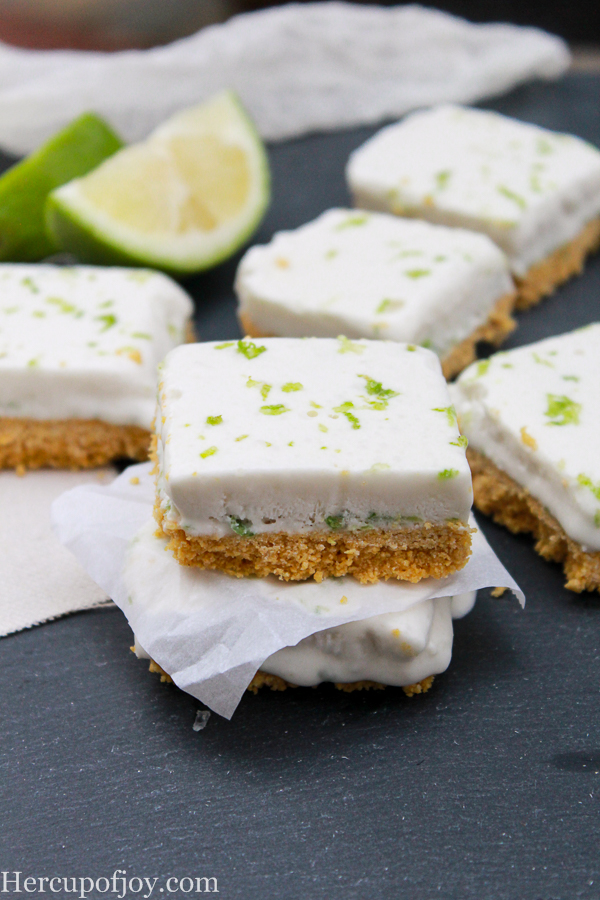 Crust:
3 cups corn Flakes (fruit juice sweetened)
4 tbsp coconut oil, melted
3 tbsp raw honey or maple syrup
½ tsp pure vanilla extract
Filling:
14 oz can coconut milk, full fat*
1 lime, zest of
4 tbsp lime juice (1-2 limes)
3 tbsp honey or maple syrup
Place the coconut milk in the fridge overnight.
Prepare an 8x8 baking dish by lining it with parchment paper.
Place corn flakes into a food processor or blender and process until finely ground. In a bowl, add the corn flake crumbs, coconut oil, honey or maple syrup and vanilla extract. Mix until well combined, then press the crust mixture into the baking dish. Place the baking dish into the freezer to set while you make the filling.
Remove the coconut milk can from the fridge making sure not to flip the can over or shake it. Open the can and scoop out the white cream that has settled to the top, try to get as little liquid as possible. Place the cream into a chilled bowl and beat on high speed until fluffy. Add in the lime zest, lime juice and honey or maple syrup. The mixture will not be as fluffy as whipped cream, it will be slightly pourable.
Evenly spread the cream mixture over the chilled crust and place in the freezer for at least 2 hours. After freezing, remove the bars from the baking dish (this will be easy because of the parchment paper in step 2.) and cut into 16 bars. Serve the bars frozen or thawed for up to 15 minutes. Keep the leftovers frozen in an airtight container with parchment paper between each layer.
Olena from iFoodreal.com recommends using Thai Kitchen, Trader Joe's Coconut Cream or Compliments canned coconut milk with creamy consistency. I wouldn't use Asian brands, it is grainy and does not mix well.
Recipe by
TGIF - This Grandma is Fun
at https://www.thisgrandmaisfun.com/low-carb-key-lime-bars/