Roasted Garlic Bread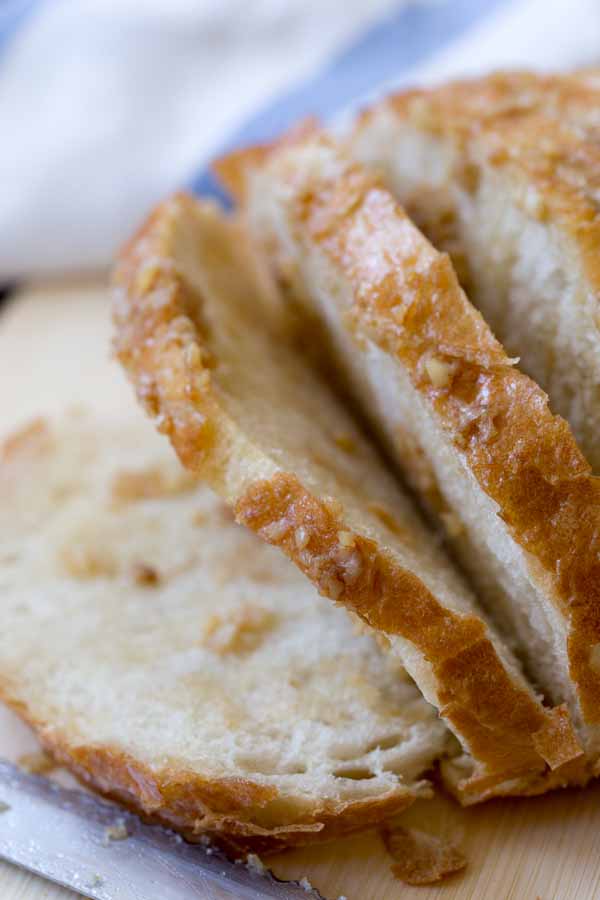 1 lb loaf of Italian crusty bread
1½ sticks of butter (3/4 cup) melted
1 head of garlic, peeled and minced
Preheat oven to 375°.
In a small saucepan, melt butter until golden brown. Add garlic and sauté on low for 5 minutes. When the garlic begins to smell sweet, becomes soft and turns pale yellow, it is ready. This gives the garlic that roasted flavor. Do not overcook or the garlic will become bitter.
Cut loaf into ½ inch slices, leaving the bottom intact. By not cutting through the bottom, your loaf will hold together and the butter will drip to the bottom crust, which will bake up into a golden, buttery crisp, garlic heaven that Gilroy would be proud of!
Lay loaf of bread on a sheet of foil large enough to wrap around the entire loaf. I use two sheets folded together using the same method as I use for my Oven Baked Bacon.
Open each slice of bread and pour a tablespoon full of butter and garlic in each slice. In a thin stream slowly pour remaining butter and garlic over bread slices, letting the butter and garlic drizzle in.
Wrap in foil and bake in preheated oven for 10-15 minutes, until garlic is fragrant and bread is warmed through and crusty.
Remove foil and serve immediately.