French Onion Sliders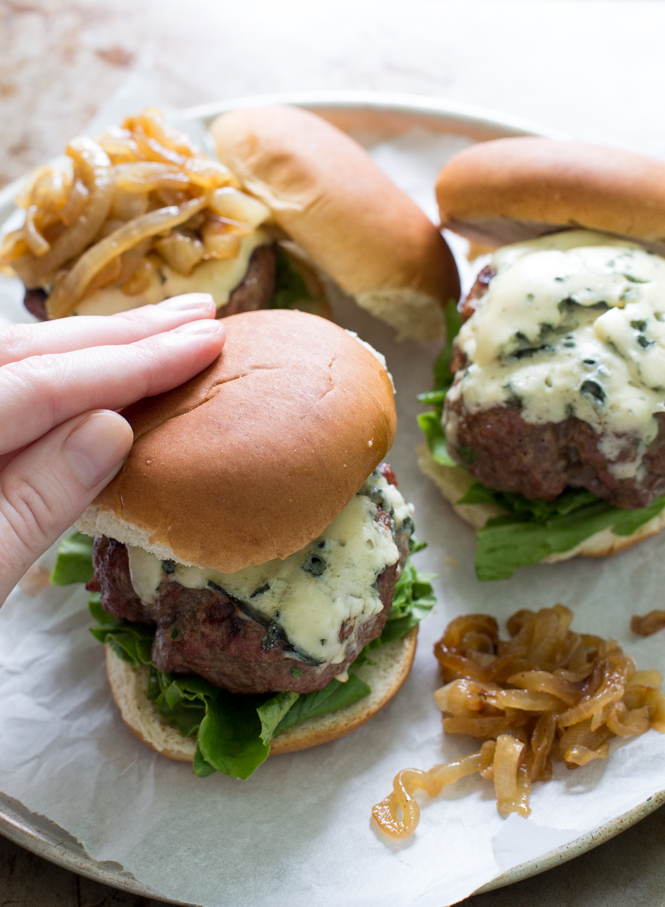 1 tablespoon unsalted butter
1 large onion, cut in half and sliced thin
5 tablespoons beef broth
1 pound ground beef
1 teaspoon worsteshire sauce
1 teaspoon onion powder
½ teaspoon garlic powder
salt and pepper
6 blue cheese slices
6 slider rolls
Heat butter in a medium skillet.
Add onions and cook over low-medium heat for 30 minutes. Try not to stir the onions too much. The onions should turn golden brown. If they are getting too brown turn the heat down to low.
Stir in the beef broth. Set aside until ready to assemble the sandwiches.
Meanwhile add ground beef, worsteshire sauce, onion powder and garlic powder to a large bowl. Mix with your hands until combined. Portion into 6 sliders. Season the patties with salt and pepper.
Grill burgers to your liking and top each slider with blue cheese a minute before taking them off of the grill.
Serve burgers on slider rolls and top with warm caramelized onions. Serve immediately and enjoy!