Macaroni and Cheeses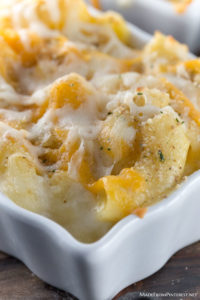 1 cup Progresso Bread Crumbs
2 lbs elbow macaroni
12 eggs
1 cup cubed Velveeta cheese
½ lb butter (2 sticks)
6 cups half and half
4 cups grated sharp cheddar cheese Reserve one cup for topping.
2 cups extra sharp white cheddar cheese
1½ cups shredded mozzarella cheese
1 cup grated asiago cheese
1 cup grated gruyere cheese
1 cup grated monterey jack cheese
1 cup grated muenster cheese
⅛ tsp salt
1 tbsp black pepper
Preheat oven to 375 degrees.
Spray a 9x13 pan with non-stick cooking spray.
In a large sauce pan bring salted water to a boil. Add the macaroni and cook until it is al dente (about 9 to 10 minutes); drain and set aside to keep warm.
Combine the Velveeta, butter, and 2 cups of the half and half in a large bowl. Add the drained warm macaroni until the Velveeta is melted.
Wisk the eggs in a large bowl until frothy.
Mix the remaining half and half with the frothy eggs.
Add the egg, half and half and remaining grated cheeses, salt and pepper. Mix until completely combined.
Pour half the mixture into the 9X13 baking dish, sprinkle ½ cup of the Progresso Bread Crumbs.Add remaining macaroni mixture and top with ½ cup of Progresso Bread Crumbs. Bake for 30 minutes. Sprinkle remaining 1 cup of yellow cheddar cheese and bake until golden brown on top, about 30 minutes more.