Nestlé Crunch Peppermint Mousse Parfait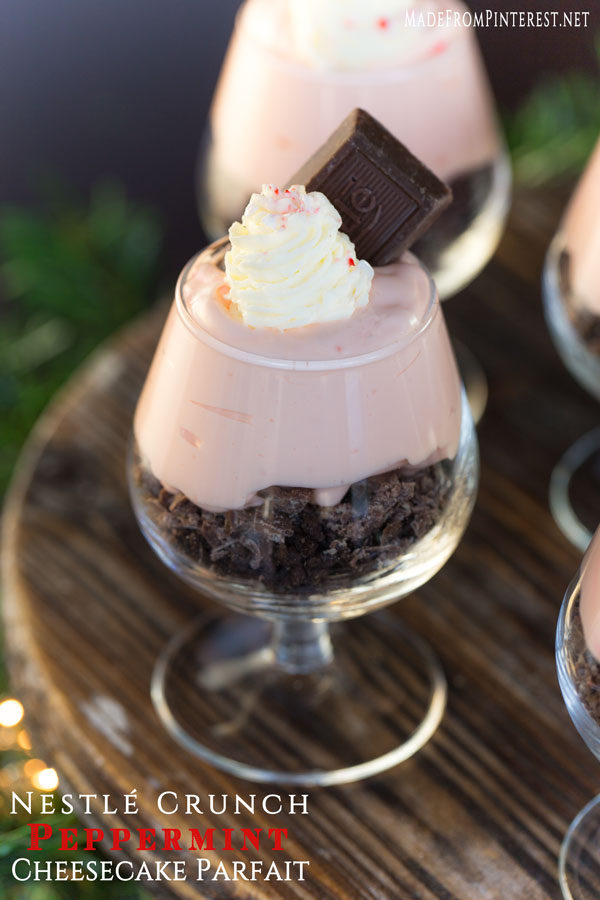 Author:
Made From Pinterest
For the crust
½ package Chocolate wafer cookies (about 20 cookies)
15 mini Nestlé Crunch candy bars chopped
2 tablespoons melted butter
For the filling
1 3-ounce box white chocolate instant pudding mix or 1 box french vanilla instant pudding or (1-ounce box sugar-free white chocolate instant pudding mix)
1½ cups whole milk or 2 cups for creamier mousse
1 8-ounce package cream cheese, softened to room temperature
1 3-ounce box instant cheesecake flavored pudding mix or (1-ounce box sugar-free cheesecake flavored instant pudding mix)
½ teaspoon real peppermint extract (do not use mint extract which is usually a combination of peppermint and spearmint)
1 12-ounce container frozen whipped topping, plus extra for garnish, if desired
1-2 drops of red food coloring (optional)
Candy cane sticks, Nestlé Crunch candy bars and crushed candy canes for garnish, if desired
Place the Nestlé Crunch candy bars and chocolate wafers in a food processor and pulse into fine crumbs. Add melted butter and pulse until combined.
Spoon the crumbs into dessert cups of your choice. Place in refrigerator and prepare the mousse filling.
Prepare the white chocolate pudding with the milk. Use 1½ cups milk for thicker mousse, 2 cups for a thinner mousse. NOTE: Do not prepare the cheesecake pudding mix at this time. You will use it later in the recipe.
Use a kitchen aid or standard mixer to beat the cream cheese until light and fluffy.
Combine the dry cheesecake pudding mix, chilled prepared white chocolate pudding mixture and peppermint extract, beat until completely mixed. Be sure to scrape down the sides and bottom of bowl to ensure all ingredients are mixed fully.
Use a wire whisk attachment on slow speed to gently fold in the whipped talking. Add one drop of pink or red food coloring for light pink mousse, 2 drops for a darker pink mousse.
Place mixture in refrigerator for one hour to chill.Use a spoon, pastry bag or ziplock bag with a large tip to top mousse on the crumb crust. Refrigerate until ready to serve.
When ready to serve top with additional whipped topping, crushed candy canes and crushed Nestlé Crunch mini candy bars.