Tortilla Cup Appetizers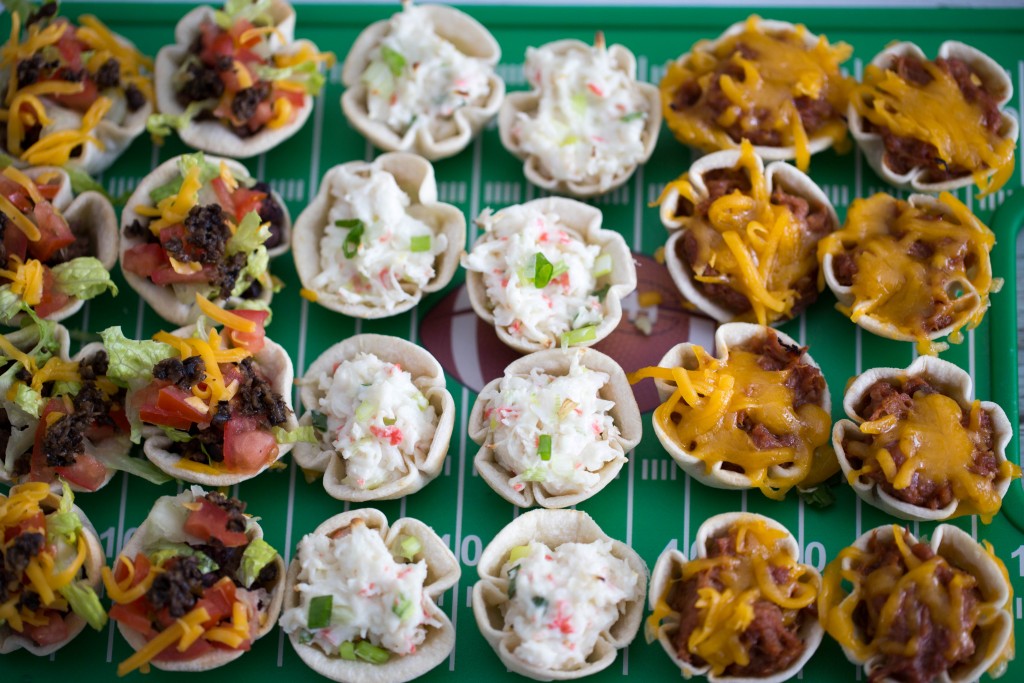 Author:
Made From Pinterest
1 lb ground beef
Pkg taco seasoning
Desired taco toppings can include: Black beans, lettuce, cheese, tomato, green onion, chopped olives, cilantro, sour cream etc.
Shredded pork. Either canned or home cooked. I used a pork tenderloin that I cooked in my crockpot. See instructions below.
Favorite BBQ Sauce. I used Famous Dave's BBQ sauce.
Shredded mild cheddar cheese
Preheat oven to 350 degrees
Brown and drain your hamburger. Add the desired amount of taco seasoning to your meat
Let your cream cheese come to room temperature. In a large bowl, remove the shredded imitation crab meat from the bag and put into your bowl. With a fork, loosen the shredded crab meat so that it's not stuck together.
Add your softened cream cheese.
Slice up your green onions and add to the crab mixture.
You can use a can of pork or I used some leftover pork that I had. I cooked a pork tenderloin in my crockpot all day with two cans of chicken broth. If you cook your own pork, shred before adding the barbecue sauce.
Add the desired amount of your favorite pre-packaged or homemade BBQ sauce to your pork and mix well.
With a biscuit cutter or a glass (mine is inches in diameter) cut out your circles from your TortillaLand tortillas. I got about 4 small circles out of one tortilla.
Place each little round tortilla into a mini muffin pan.
Push them down into the muffin space which helps to make the beautiful ruffles around the edges.
Place about a teaspoon of ground hamburger and then sprinkle a few black beans on top for the taco cups.
Drop a nice, full rounded teaspoon of crab/cream cheese mixture for the crab cups.
Fill to the top of the edge of the tortilla for the BBQ cups.
Bake at 350 degrees for 15 minutes
Add any additional toppings that you like to the taco cups. Lettuce, cheese, tomato, green onion, chopped olives, cilantro, sour cream etc.
If I have any leftover sliced green onions, sometimes I sprinkle them on top of the crab cups but they will be good to go just as they are when they come out of the oven.
Add some grated mild cheddar cheese to the pork cups right when you take them out of the oven and the cheese will melt perfectly..