Lavender Vanilla Scones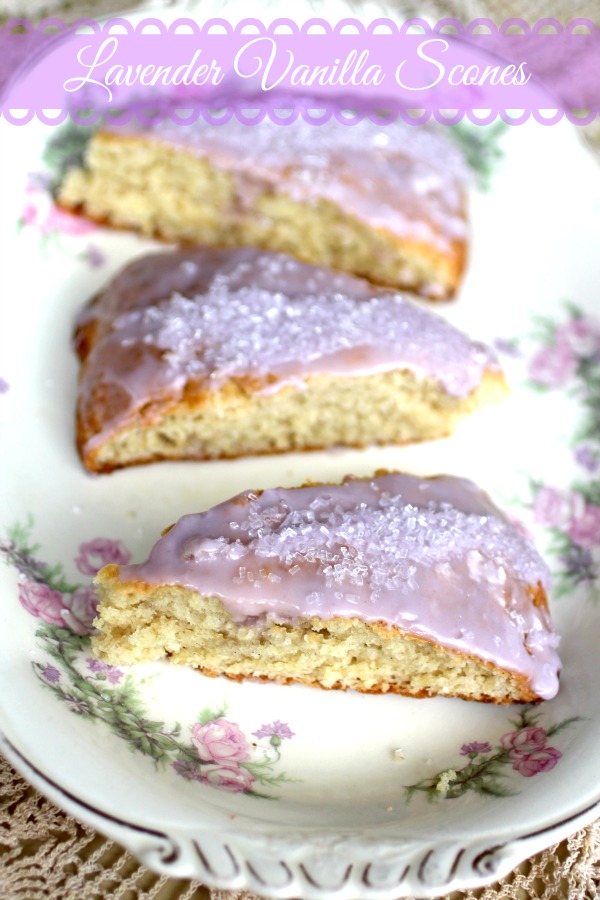 2 cups all-purpose flour
2 teaspoons baking powder
¾ teaspoon culinary lavender buds
½ teaspoon baking soda
½ teaspoon salt
½ cup sugar, or vanilla sugar
4 tablespoons unsalted butter, cold
¾ cup buttermilk
¼ cup heavy cream
1 large egg yolk
2½ teaspoons vanilla extract
½ inch piece of vanilla
1½ c powdered sugar
1 tsp vanilla
1 tablespoon unsalted butter, melted
2 - 4 tablespoons heavy cream (enough to make a glaze)
Few drops of blue and red food coloring to make lavender
Sugar crystals
Mix the buttermilk and cream
Add the vanilla bean to the buttermilk and cream.
Heat until it just simmers.
Let cool.
Mix the flour, lavender, baking powder, baking soda, salt, and sugar together
Grate the cold butter into the flour mixture
Rub the cold butter into the dry ingredients until flour is crumbly.
Remove vanilla bean from buttermilk.
Cut in half and scrape the vanilla pulp into the buttermilk, stirring to distribute the vanilla evenly.
You can discard the vanilla pod or dry it off and add it to a cup of sugar. Cover tightly and in a few weeks you'll have vanilla sugar.
In a separate bowl, whisk together the cooled buttermilk mixture, egg yolk, and the 2½ teaspoons of vanilla extract until blended.
Add to the flour mixture and stir with a fork until dough forms a ball.
Dough will be sticky.
Place the dough onto a silpat lined baking sheet and pat into a disk about 1-inch thick.
Cut the dough into wedges but do not separate them.
Let stand twenty to thirty minutes, so the gluten can relax.
Brush with heavy cream.
Sprinkle with the vanilla sugar
Bake for 15 minutes at 400F or until golden.
Meanwhile mix the confectioner's sugar, 1 teaspoon vanilla, melted butter, and cream until it is a thick glaze.
Color with the food coloring.
Spoon over warm scones.
Sprinkle with sugar crystals.
Serving size:
1 scone
Calories:
240
Fat:
7.4
Saturated fat:
4.5
Carbohydrates:
40.6
Sugar:
24.0
Sodium:
203
Fiber:
0.6
Protein:
3.0
Cholesterol:
38