Butterscotch and Chocolate Panna Cotta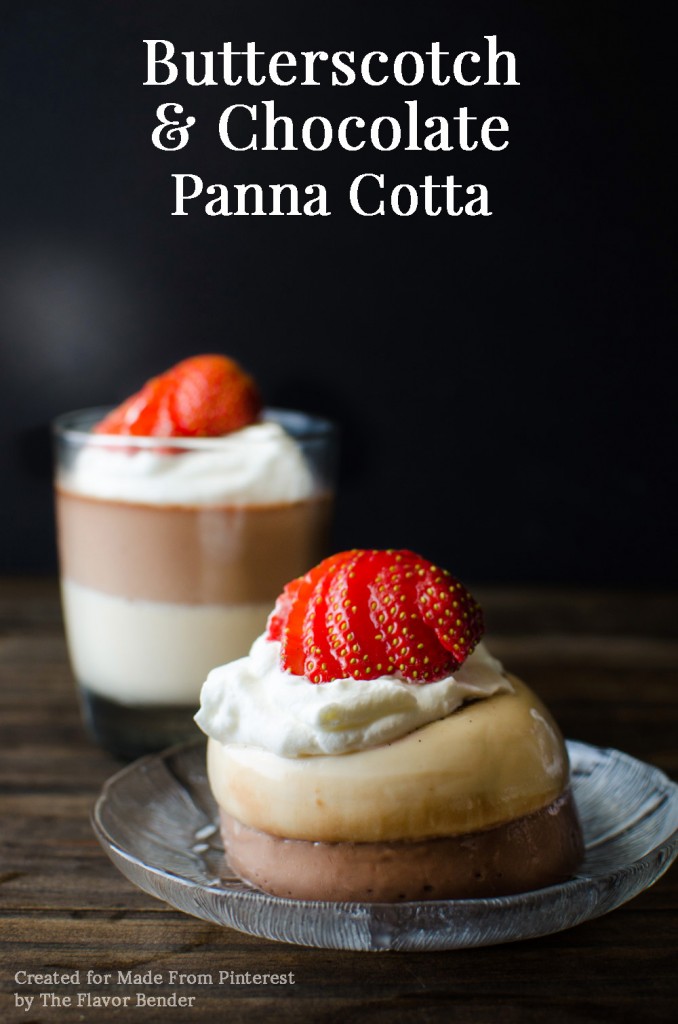 Serves:
2 larger / 4 mini portions
220mL / 1 cup whipping cream
150mL / 5 fl oz half and half
3 tbsp cold water
1 ¼ tsp powdered gelatin
115g / 4 oz brown sugar, plus 1 tbsp brown sugar
42g / 1.5 oz semi sweet chocolate (chopped)
2 tbsp half and half
2 tbsp unsalted butter
Salt
Add the cold water to a small bowl, and sprinkle the gelatin evenly on top. Leave it to bloom (about 15 minutes).
Lightly coat your molds with some vegetable oil. Use either two large 1 cup capacity glasses, or four ½ cup capacity molds.
Combine the cream, half and half, a generous pinch of salt and 4 oz of brown sugar in a saucepan and heat over medium heat while stirring, until the sugar has completely dissolved.
Add the bloomed gelatin into the warm milk mix and stir until the gelatin has melted. DO NOT BOIL. Divide this cream-gelatin mix into two and set aside.
Place the butter in the empty saucepan and heat until melted. You could heat it further to turn it into brown butter if you like. Add the extra brown sugar, plus one portion of the cream-gelatin mix. Remove from the heat and whisk to combine. (You don't want the oil in the butter to be floating on top. If this happens - whisk vigorously OR place the mix in an empty bottle with a secure lid and shake it well to emulsify the mix).
Divide this butterscotch layer into the prepared molds. Place them in the freezer for about 40 minutes, or until the surface has just set.
Combine the chopped chocolate with the 2 tbsp of cream in the saucepan and melt the chocolate over medium heat to get a smooth sauce.
Add the second portion of the cream-gelatin mix in a stream while whisking, to completely incorporate the cream-gelatin mix into the chocolate. Do not boil. Set aside to cool down.
When the butterscotch layer has just set, gently pour the warm chocolate layer on top. Divide evenly between the molds. (Adding warm chocolate will help it stick to the butterscotch layer at the bottom so that they will not separate when you unmold the panna cotta).
Let it cool down to room temperature. Then cover and let it set in the fridge overnight till completely set and chilled.
To unmold, place the glass or mold in hot water for a few seconds, OR under running water for a few seconds. Then hold it over a dish and gently shake to loosen it. If it's doesn't come out, wrap the glass or mold with a warm paper towel to warm up the panna cotta.
Serve with whipped cream and berries.