Vegetarian Tamale Pie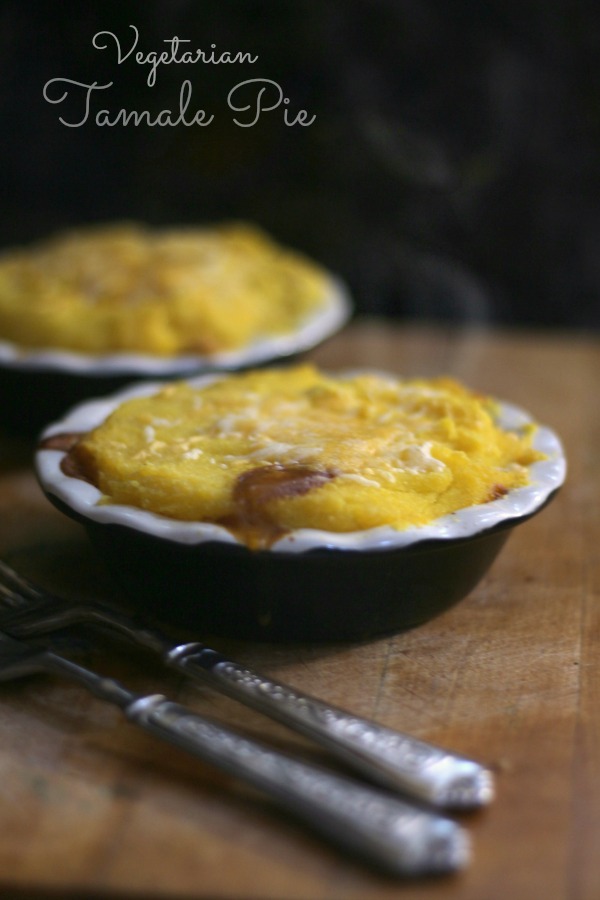 2 tablespoons oil
1 cup chopped onion
½ cup chopped Bell pepper
2 14-ounce cans black beans
2 14-ounce cans seasoned pinto beans
2 16-ounce packages frozen corn
2 14-ounce cans diced tomatoes with chiles
1 can sliced black olives
¼ to ½ cup chopped fresh cilantro
1 package taco seasoning
1 teaspoon cumin
1 teaspoon garlic powder
3 cups shredded Cheddar or Mexican blend cheese, divided use
2 cups cornmeal
2 teaspoons honey
2 cups boiling water
Preheat the oven to 400F.
Spray a baking dish with non-stick cooking spray.
Heat the oil until sizzling.
Saute the onion and Bell pepper in the oil until they are soft and blackened around the edges.
Mix the onion mixture, beans, corn, tomatoes, and olives together in a large bowl.
Stir in the cilantro, taco seasoning, cumin, and garlic.
Spread in the bottom of the baking dish.
Sprinkle with 2 cups of the cheese.
Set aside.
Pour the boiling water and honey over the cornmeal.
Stir until smooth and thick.
Spoon the hot mixture over the bean mixture and gently spread to cover.
Sprinkle the top with the remaining cheese.
Bake for 20 to 30 minutes or until the top is crusty and golden.
Serving size:
1/10th
Calories:
928
Fat:
16.1
Saturated fat:
4.8
Carbohydrates:
149.4
Sugar:
10.7
Sodium:
730
Fiber:
31.5
Protein:
52.1
Cholesterol:
16