Easy, Soft French Bread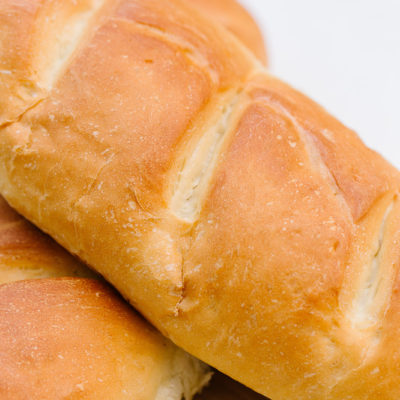 2½ cups distinctively warm warm (warmer than lukewarm)
¼ cup sugar
1 Tablespoon dry yeast
6 cups flour
¼ cup oil
1 Tablespoon salt
Mix together the water, sugar, yeast and 3 cups of the flour. Then pour the remaining 3 cups of flour over this dough. Pour the ¼ cup oil over the flour and add the salt. Then mix again until all flour is mixed in.
Cover with a clean towel and allow to rest for 10 minutes, the mix back down.
Repeat this process until it has been mixed back down five times.
Turn dough onto counter that has been lightly coated with shortening. Divide into two parts.
Roll each part of the dough into a rectangle about 9x12 inches and roll up like a jelly, rolling from the long side. Pinch edge of loaf to seal the seam. Arrange side by side on a large greased cookie sheet.
Mix one whole egg or one egg white with a fork and add 1 TBL water. Smear on entire surface. Sprinkle with sesame seeds if desired. Cut 3 gashes in top of loaves with a sharp knife.
Let rise at room temperature until double in size.
Bake at 350 degrees for 30 minutes or until golden brown.
Remove from baking sheets immediately and cool on racks.