Back to School Teacher Crayon Wreath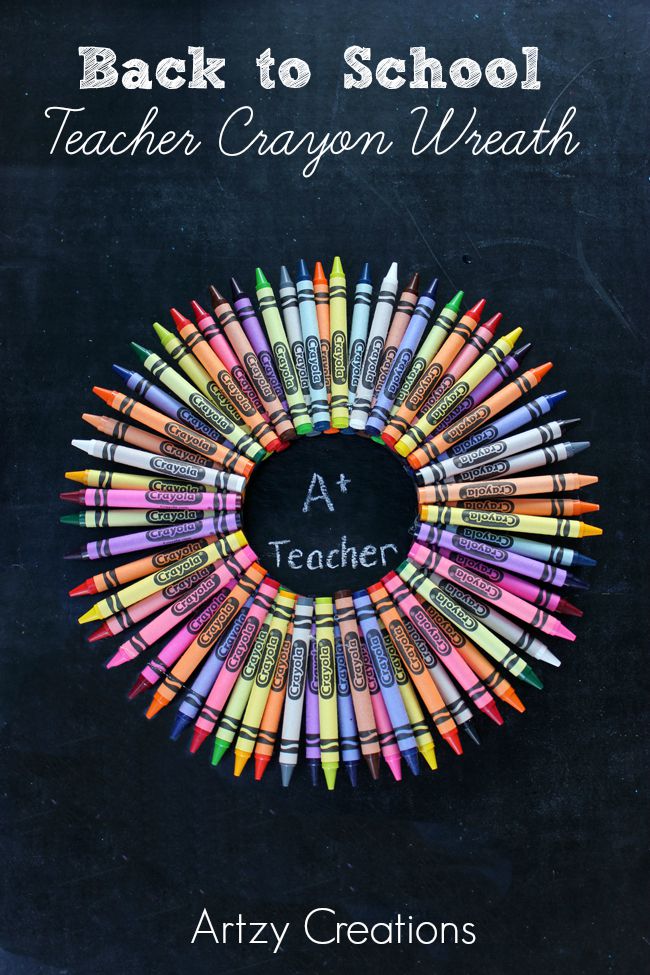 Hi to all of the Made From Pinterest fans! It's me, Melanie from Artzy Creations and I'm here to share with you, another fun craft, just in time for Back To School. Can you believe it's back to school time already? I can't. The summer has flown by and being a teacher myself, I'm gearing up for the new school year. Buying my new pencils, pens, crayons, not only for my kiddos, but for myself as well. This Back To School Teacher Crayon Wreath is a simple but awesome back to school teacher gift that would bring a smile to any teacher's face because it would make for a great room decoration. Trust me on this… being a teacher, I definitely know! 🙂
Round Picture Frame
Piece of Cardboard
Black Acrylic Paint
Chalboard Paint
Crayons ( I used three boxes.)
White Chalk
Paint Brush
Hot Glue
Step 1: Find a picture frame that has a thick border to it at your local craft store. Paint the surface with the black acrylic paint and let it dry.
Step 2: I painted the cardboard insert that is used to hold and support an actual picture with chalkboard paint. Make sure to use a heavy piece of cardboard that isn't corrugated because you don't want the ridges. It's needs to be a smooth surface. Apply 2 to 3 coats of the chalkboard paint and let dry.
Step 3: Hot glue the crayons in place. You can do a single layer like shown above or continue with a second layer as shown below.
Step 4: Use a piece of chalk to put A+ Teacher or the name of the teacher in the center.
It's that simple and easy! And with crayons on sale right now, it really makes this project inexpensive. I'm telling you that any teacher would love to receive this as a back to school gift and you'd certainly put a big smile on their face.
Here is the wreath on my wall at school!
You can follow Artzy Creations on Facebook, Instagram, Pinterest, Twitter, and Google +.
Pom Pom Ice Cream Cones For Kids
This awesome post has been shared with Home Stories A to Z