Are you ready for some……did ya think I was going to say "Football"? Nope! I am ready for some….Summer! This weekend we had beautiful weather that made me get excited for warmer nights and barbecuing outside.
In anticipation of the longer days of summer, we decided to make these Bacon Pineapple Burgers that I pinned many moons ago on Pinterest:
Pretty simply, make your hamburger patties and criss-cross two pieces of bacon. Place your patty in the middle of the bacon and put a pineapple slice on top. Then cross the bacon over the burger and pineapple and pin with two toothpicks:
We put these on the BBQ grill and everything was cooking just fine so hubby came inside to check his email. After a few minutes, he went back out to the grill and then came running back inside yelling "Debbie…get me something!"
Get him what?
A plate for the burgers?
A spatula?
Oh no. How about some water because the grill was ON FIRE!
He grabbed a spray bottle with some water and ran back outside to douse the hamburgers and the grill with water.
Fortunately we got the fire out but unfortunately the burgers….well….they kinda looked like hockey pucks.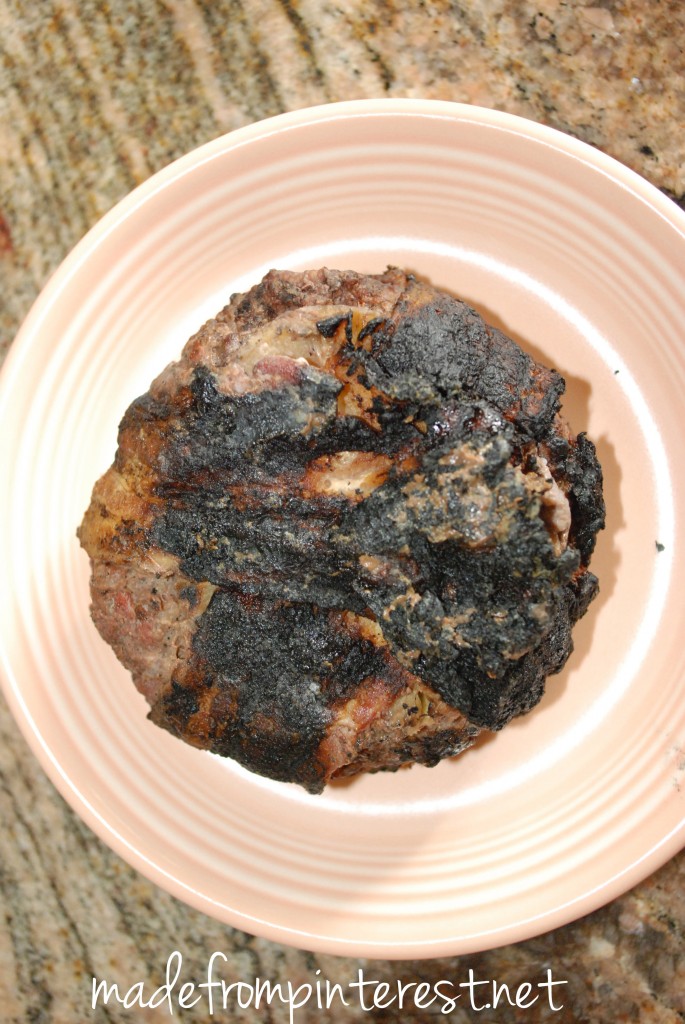 I was somewhat disappointed but I have some growing boys in my family and a little charbroil wasn't about to stop them from eating these so our whole family decided to just slather some BBQ sauce on these and guess what?
They were still good!
So if these burgers tasted good even after being burned, then I can say that This Pin Really Rocks!

Check out these sites that we are partying with today!
DIY Showoff – Lines Across – Craft-O-Maniac – Keeping it Simple – Making the World Cuter – The Plaid and Paisley Kitchen – This Gal Cooks