Moist, sweet banana crumb cake has a crunchy center layer and a crunchy top that is just right for brunch, afternoon snack, or even a simple dessert.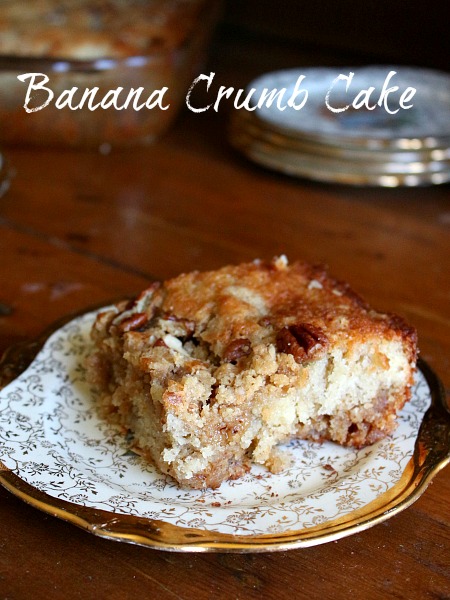 Hey y'all, Im Marye from Restless Chipotle and I have to say that I am so thrilled to be guest posting here on Made From Pinterest… AGAIN!
You know, I am at that stage in life when my family is getting smaller. I have eight kids and since #4 left for the Navy in June I am at the fewest family members since 1995. You might not think that's such a big deal… you might even think I'd be relieved… but the truth is I find it really difficult to know how much to cook these days! When you are used to grocery shopping in massive amounts it's hard to figure how much you're going to need for an average size family. All of that to say that this morning I woke up to this….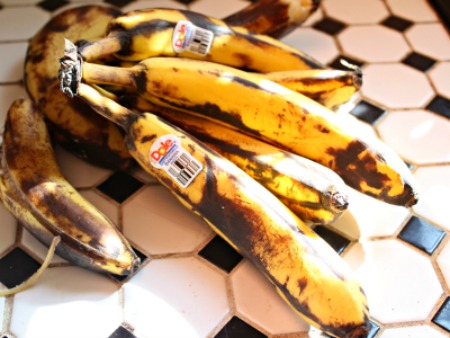 I will save you the gory details but some of the banana had started to ooze out of the peel. They were VERY ripe. So, today turned into banana baking day and I made several recipes to use up the bananas, including this Banana Crumb Cake from Cookies and Cups that I found on Pinterest when I desperately did a search on bananas.
There's a lot to like about this recipe. It's moist, very banana-y, and not too awfully sweet. I decided that I didn't want to add a glaze, although the original recipe calls for one, and it was just right for us with a bare-nekkid top. If you want to glaze it you sure can. I think it would be a little more like dessert that way. I also decided to put pecans in the crunch part…feel free to leave those out as well.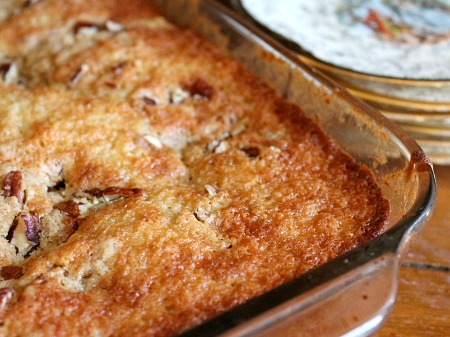 You know how some recipes just take you back to when you were a kid, or invoke some special memory? Well this one is like that. It is just full of old-fashioned goodness – give it a try!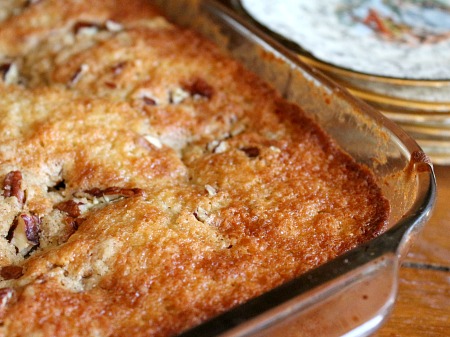 Banana Crumb Cake with Crunchy Topping
Moist, sweet, and perfect for brunch -- this old fashioned banana crumb cake is sure to be a hit with your family. Crunchy streusel topping is mixed with pecans and then layered in the batter and on the top. Easy and delicious!
Ingredients
2

cups

flour

3

teaspoons

baking powder

1

teaspoon

salt

3

very ripe bananas

1 cup mashed

½

cup

unsalted butter

2

cups

granulated sugar

2

eggs

1

teaspoon

vanilla

1

cup

milk

Crumb Filling and topping

1

cup

cold butter

cubed

2

cups

light brown sugar

2

cups

flour

1

cup

coarsely chopped pecans
Instructions
Preheat the oven to 350°

Butter a 9x13 baking dish and then set aside

Melt the butter until is is golden, about 3 to 5 minutes. Don't let it scorch -- set it aside to cool.

In a medium bowl whisk together flour, baking powder and salt.

Pulse the bananas in a food processor or blender until they are liquid. Pour into a large bowl.

Mix in butter until combined and then stir in sugar, eggs and vanilla until mixed well.

Stir in milk and flour mixture until combined. Don't overmix.

Crumb Filling/Topping

Prepare crumb filling/topping by cutting the cold butter into the sugar and flour until coarse crumbs form. Use two knives or pulse quickly in a food processor.

Stir in the pecans.

Pour ½ of the batter into the prepared pan.

Top with ⅓ of the crumb mixture.

Cover the filling with the remaining batter and top with remaining crumb mixture.

Bake for 50-55 minutes until the center is set and a toothpick comes out clean.

Cool for 10 minutes.
Nutrition
Serving:
1
g
Calories:
689
kcal
Carbohydrates:
100.2
g
Protein:
8.5
g
Fat:
30.6
g
Saturated Fat:
15.9
g
Cholesterol:
90
mg
Sodium:
463
mg
Fiber:
3
g
Sugar:
62.1
g
If you like this recipe for Banana Crumb Cake here are a couple that you may like from my blog –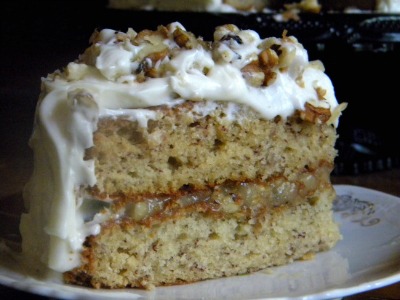 Old Fashioned Banana Walnut Cake with Cream Cheese Frosting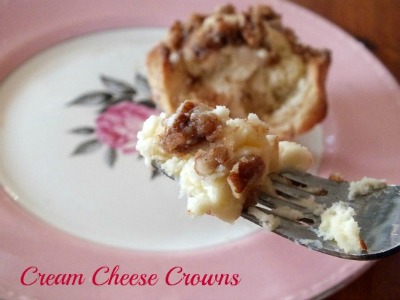 Cream Cheese Crowns – think of a combination between a cheese Danish and a cinnamon roll – yep.
This awesome post has been shared with Home Stories A to Z and Living Well Spending Less.