One part cobbler, one part cake, and wholly delicious! Make this ultimate blueberry cobbler cake recipe.
For Father's Day weekend, we went to see Jurassic World in 3D. It was awesome, gruesome, on the edge-of-your-seat fun, terrifying, and extremely bloody all rolled into one. In other words, a good popcorn eater of a movie! At the end of the movie I turned to Mr. Chef and said "we can't take the grandkids to this movie or they'll be having nightmares for as many years as those dinosaurs have been dead".
The next day I started to warn a friend not to take their kids to see it and her response was " too late, we took the entire family last night and almost died". Now, it may be called a catatonic state, not sure, but it's been three days and none of the kids have uttered a single word. 🙂
This actually reminded me of the time Mr. Chef and I took Brother Chef to see Jurassic Park when he was three. He was completely into dinosaurs and we were completely oblivious to the terrifying nature of the show–call it parenting naivety 101. A short way into the film, brother Chef was literally crawling over the head of my husband, so we left sparing ourselves of several weeks of a child sleeping in our bed. Good times…
Also for Father's Day weekend, we ate this easy, light, and wholly delicious blueberry cobbler cake. It's not quite a cobbler, and it's not quite a cake, but it IS wholly delicious! A perfect Father's Day weekend…a bloody and gruesome movie mixed with sweet and satisfying dessert. What more could a man want? 🙂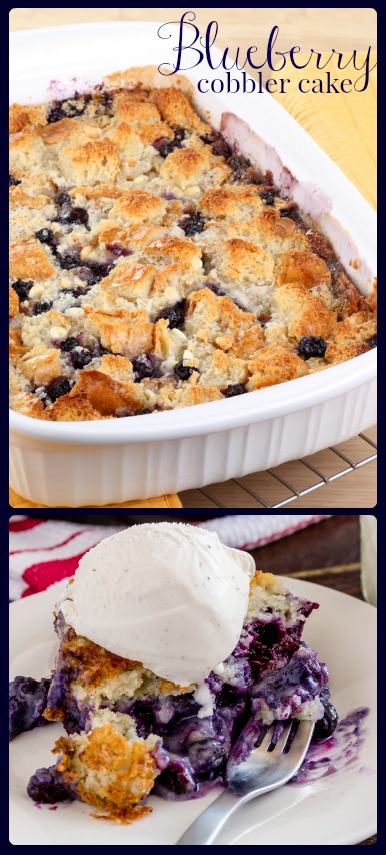 Blueberry Cobbler Cake
Ingredients
1 1/4

cups

all-purpose flour

1/2

cup

granulated sugar

1/4

teaspoon

salt

1 1/2

teaspoons

baking powder

3/4

cup

unsweetened almond milk

1/3

cup

non-dairy butter

melted

1

teaspoon

pure vanilla exract

2

cups

fresh blueberries

1/3

cup

granulated sugar
Instructions
Preheat oven to 350 degrees Fahrenheit. Prepare an 8 x 8-inch baking dish with cooking spray; set aside.

In a large mixing bowl, whisk together flour, 1/2 cup sugar, salt, and baking powder until well blended. Stir in milk, butter, and vanilla until well combined. Spread in prepared baking dish.

Sprinkle blueberries and sugar evenly over batter.

Bake for 45-50 minutes or until a toothpick entered in the center of the cake comes out clean.

Serve plain or top with your favorite ice cream.
For other delicious dessert recipes, visit Bakerette.com
Rhubarb Apple Pie with Walnut Crumb Topping
This awesome post has been shared with Home Stories A to Z