Hello, new friends! *waves excitedly at imaginary computer people* My name is Nicole and I blog over at 365(ish) Days of Pinterest. I just know that you and I are going to be kindred spirits. We Pinterest lovers need to stick together, right? I'm excited to be a new contributor here on Made from Pinterest and I can't wait to get to know you better over the coming months. Let's start with this adorable Candy Heart Wreath, shall we?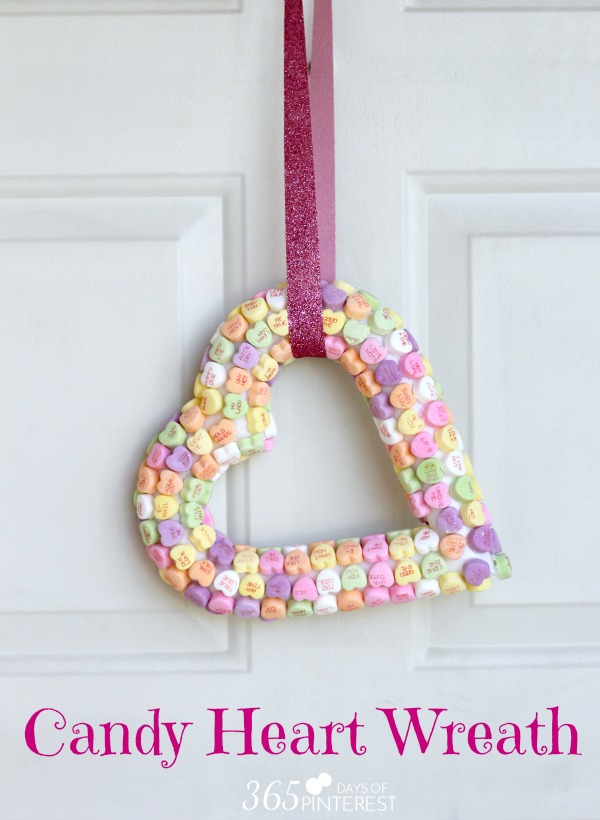 According to the stores around here, Valentine's Day preparations began on December 26th. Now that we are within a reasonable distance of this next holiday, the grocery stores have moved on to Easter and feel the need to tempt me with Cadbury Creme Eggs at the checkout counter already. It's a little annoying, yes, but it also means that they are already marking down candy to clear the shelves. I saw a cute candy tree on Amanda Jane Brown and was inspired to do something similar for Valentine's Day this year. You could do this project with a variety of candies, but I opted for candy hearts because they are colorful, cheap and they taste awful so no one in my family actually wants to eat them. 😉 So gather up a few supplies for your Candy Heart Wreath, warm up your hot glue gun and get to work!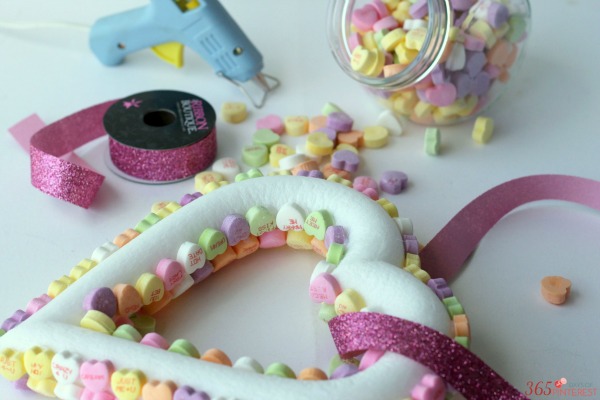 Candy Heart Wreath
What you'll need:
Heart-shaped foam form
Candy hearts
Hot glue gun and several sticks (if you're using a mini gun)
Ribbon
What to do:
Add a drop of hot glue to the back of a candy heart and press it gently onto the foam wreath.
Continue FOREVER until you've covered the front of the wreath completely.
As you can see, there's not much to it, but it feels a bit time-consuming while you're in the middle of the process. To be completely honest, I spent less than 20 minutes putting it together. I did not place any hearts on the back. I just covered the front as much as possible, cramming the hearts together tightly in little rows. This helps them stay on, too. When you are finished, loop a piece of sparkly ribbon through the heart, tie it off and hang on the door or wall!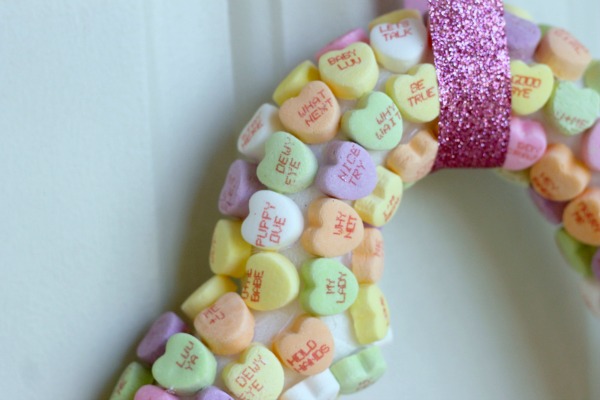 Honestly, I HATE glitter. I call it Devil's Dust. It gets everywhere and you find yourself picking it off of your clothing for weeks after using just a tablespoon of it. But, I just couldn't resist this ribbon. It was so pretty. That's the danger of shopping at a craft store, I'm warning you!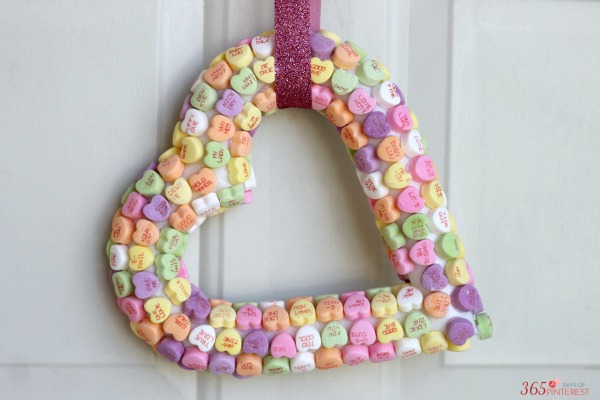 Just a couple of notes:
If you live somewhere with inclement weather during the winter (snow, rain, general misery…) then I wouldn't suggest hanging your Candy Heart Wreath on your front door. I don't know how well the candy would hold up to a lot of moisture, even if they are hard as rocks. Our front door is covered by a hideous "security screen" that I hate, so there's no point in hanging anything there that's pretty. I actually hung my wreath up on the wall just inside the door. It would also be pretty over the mantel!
If you bang into this, a heart here or there may fall off. Just add another dab of glue and squeeze it back into its place. This is another reason I opted to keep mine off the front door. It's been hanging on the wall for over a week with no problems whatsoever, but I know it would not survive my boisterous door slammers and their equally boisterous neighborhood friends.
So, what do you think? Cute, right? See, I told you we need to be friends. I'd love it if you came over for a visit to check out some of my other fun stuff!