Going meatless or just want to have a delicious Meatless Monday? You are in the right place, these Cheesy Lentil Quesadillas are crazy delicious and filling.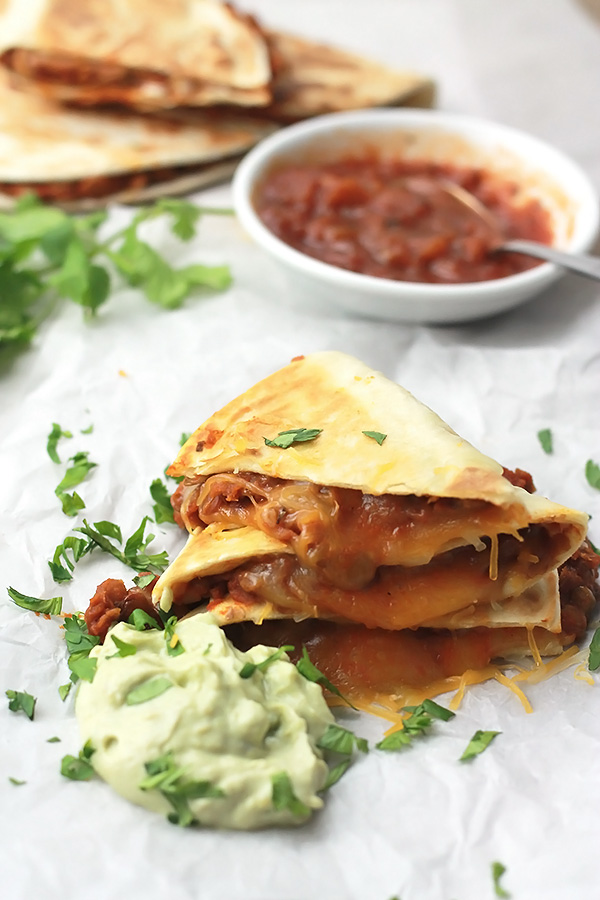 Hello Made For Pinterest readers, I hope your year is off to a good start and you are sticking to your resolutions if you made any. I generally don't make resolutions, but I set goals and make action plans that help me meet my goals. Sometimes the goals are tweaked.
One of my friends has resolved to eliminate meat from her diet for the next month. So, of course, she asked me for some recipes to help her meet her goal. (I don't eat meat). I shared with her one of my favorite recipes for Cheesy Lentil Quesadillas. Lentils are used in place of the meat.
When people eliminate meat, the first thing they ask is "How will I get my protein?" But how much protein do we actually need? In the U.S., it is recommended that a sedentary man gets 56 grams of protein per day and a sedentary women 46. However, if you are pregnant or nursing, add 10 to 20 grams. Those of us who exercise may need more depending on the frequency and intensity of our exercise. If you want more information about protein, I suggest checking out the Harvard Health Publications from Harvard Medical School.
Lentils are loaded with protein and fiber and both will fill you and help with weight loss or maintaining your weight.
Now let's get to the recipe!
This recipe is so easy! After cooking the lentils with tomato sauce and spices, just fill a tortilla, heat, and eat. I served mine with guac, salsa, and a garnish of cilantro, but here is where you can get creative and make your Cheesy Lentil Quesadillas customized to your liking!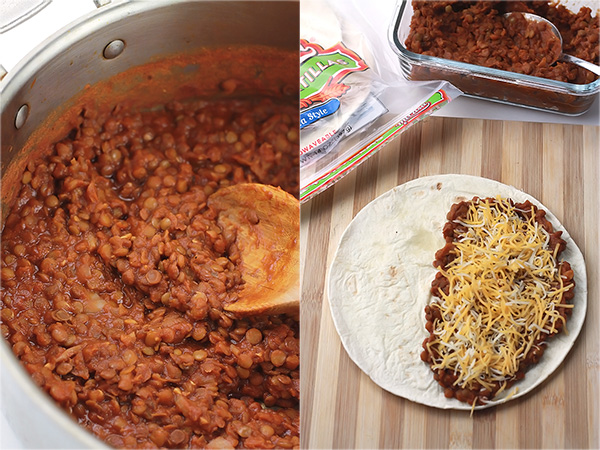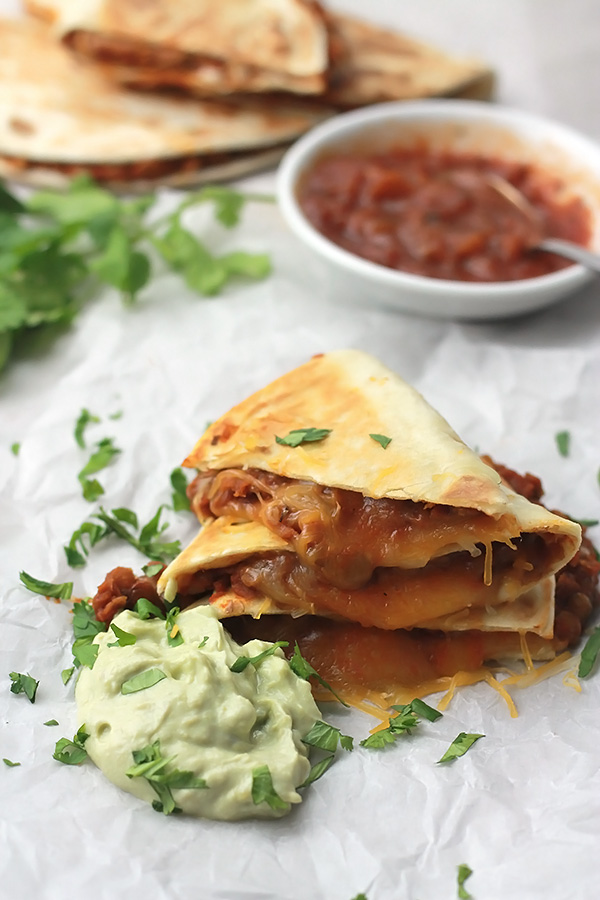 What a delicious way to get in your protein, and by the way, you can also use these lentils in tacos and burrito bowls.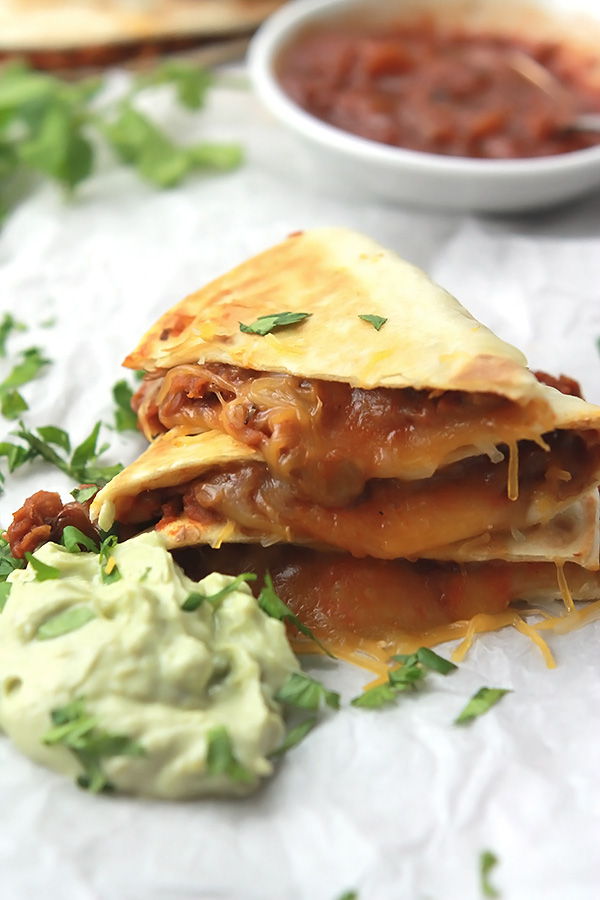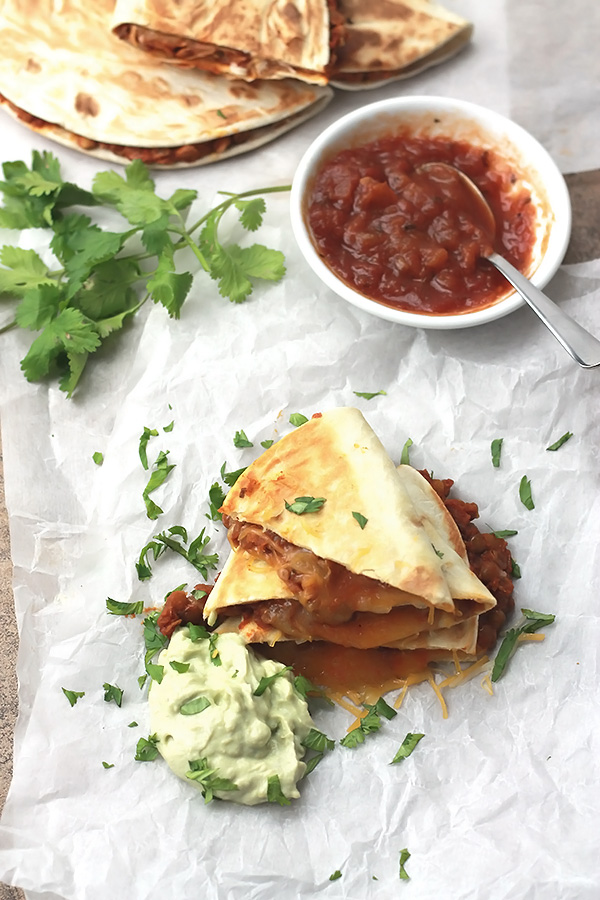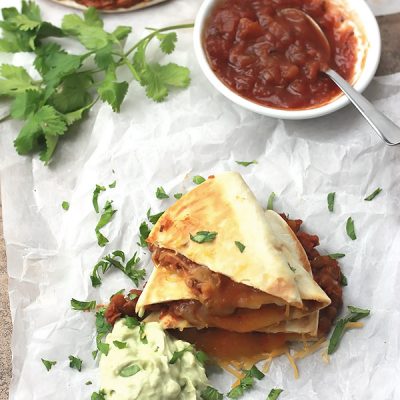 Cheesy Lentil Quesadillas
Ingredients
2

tablespoons

olive oil

1/2

large onion

about 1 cup chopped

3

cloves

garlic

minced

2 1/2

teaspoons

chili powder

1 1/2

teaspoon

cumin

1

teaspoon

smoked paprika

1

teaspoon

dried oregano

1

cup

green lentils

uncooked

1 1/2

cup

tomato sauce

12 oz.

2

cups

vegetable broth

1/4

teaspoon

red pepper powder

salt to taste

12

flour tortillas

2

cups

shredded Mexican blend cheese

fresh chopped cilantro for garnishing

guac and salsa
Instructions
Heat oil in a large stockpot over medium heat. Add onions to the pot and saute until translucent.

Add garlic, chili powder, cumin, paprika and oregano to pat and continue to saute until fragrant about 2 minutes.

Add lentils, tomato sauce and stock to pot and stir to combine. Return to a boil, once boiling reduce heat to low and simmer 35 to 40 minutes or until lentils are tender, add in more stock as needed to prevent lentil from sticking to bottom of pot.

Taste and season with salt as needed.

When lentils are done, heat a large skillet over medium heat or heat an electric griddle to 350 degrees.

Spread about 3 tablespoons of lentils over one half of tortilla, sprinkle cheese over lentils, fold other half of tortilla over lentils and cheese, brush with a bit of olive oil and place in skillet or place on the griddle. Cook on each side 3 to 4 minutes or until golden brown.

Transfer to plate, serve with a scoop of guac, salsa and garnish with cilantro.