Hello, my name is Kim, and I'm a cherry fanatic. It borders on obsession. I can never get enough cherry desserts. Any chance I get to make something using fresh, frozen or canned cherries I'm all over it.
I love keeping cherry pie filling on hand at all times. Typically I keep a couple of extras in my pantry in case the "mood" strikes.
The mood strikes pretty often.
Especially in winter when I can't get fresh cherries.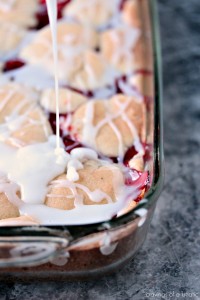 We live in Ontario, just across the border from Michigan. If you know anything about cherries you know Michigan is one of the best places for fresh cherries. So the bar is set high when it comes to how cherries taste.
If you can find a good canned, or jarred, cherry pie filling for the off-season then life is good. You can still get your sweet cherry fix throughout the colder months. Which is crucial for a gal like me.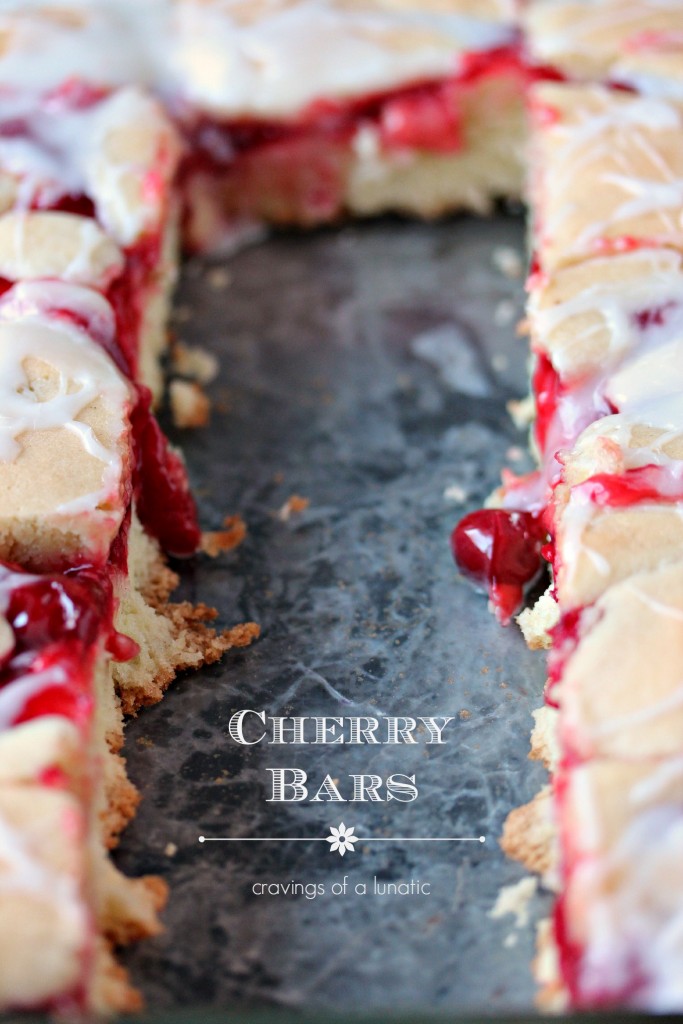 Once or twice a month I like to whip up something cherrytastic. I just love cherry treats, whether it's bars, or No Bake Cherry Cheesecakes, Toasted Coconut and Cherry Hand Pies, or Cherry Danish Dessert. It gives me that sweet fix I need to keep me happy until cherry season hits.
This was a dessert I kept seeing on Pinterest. Obviously I had to try it out. There are many versions of it out there. I have actually pinned a few different ones.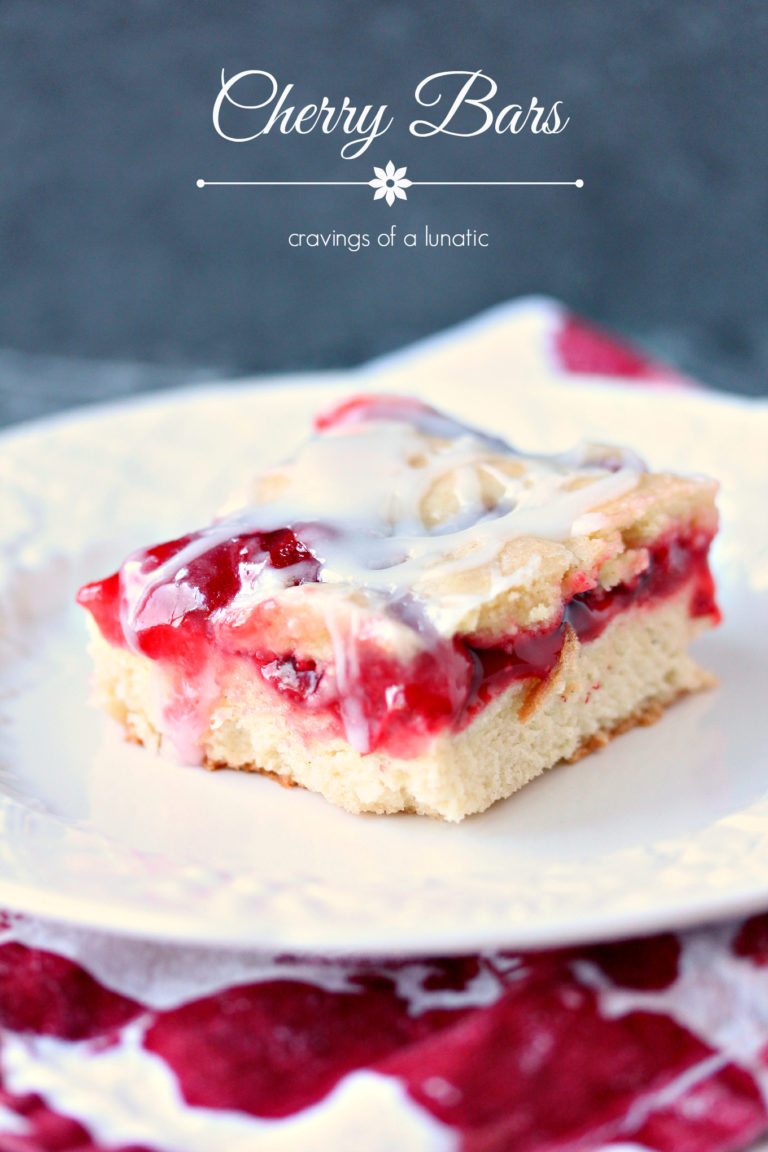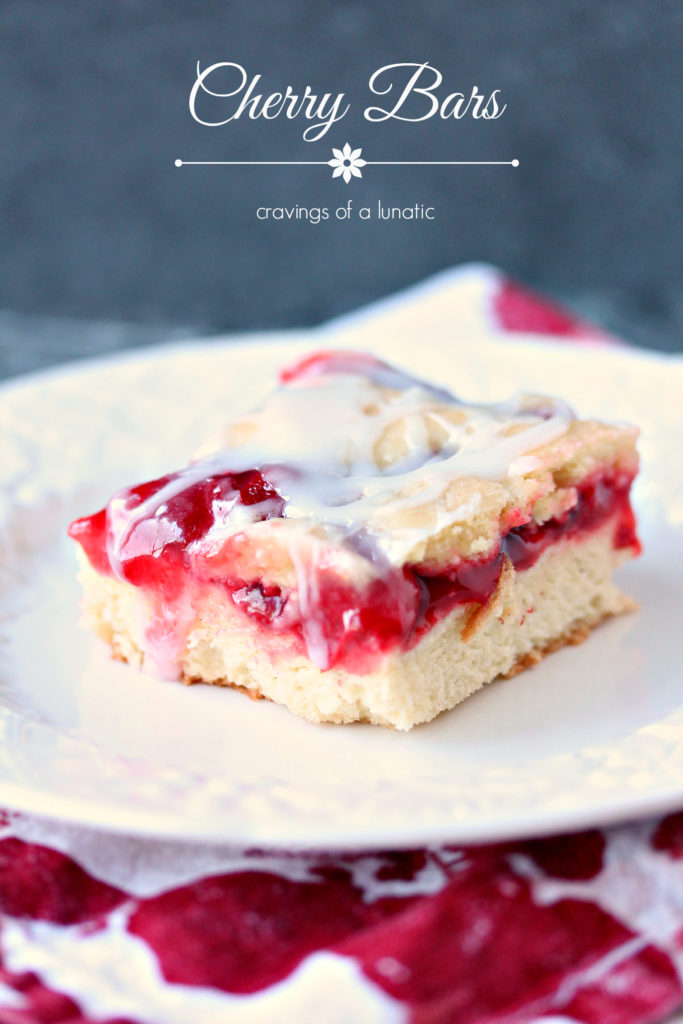 For the purpose of this post I used Taste of Home's version, but tweaked it just a wee bit. I also really love Deliciously Sprinkled's version, and have pinned that a few times as well.
You will see Cherry Bars or Cherry Kuchen Bars all over Pinterest and the net. Lots of bloggers have versions of them. Why? Because they are SO amazing.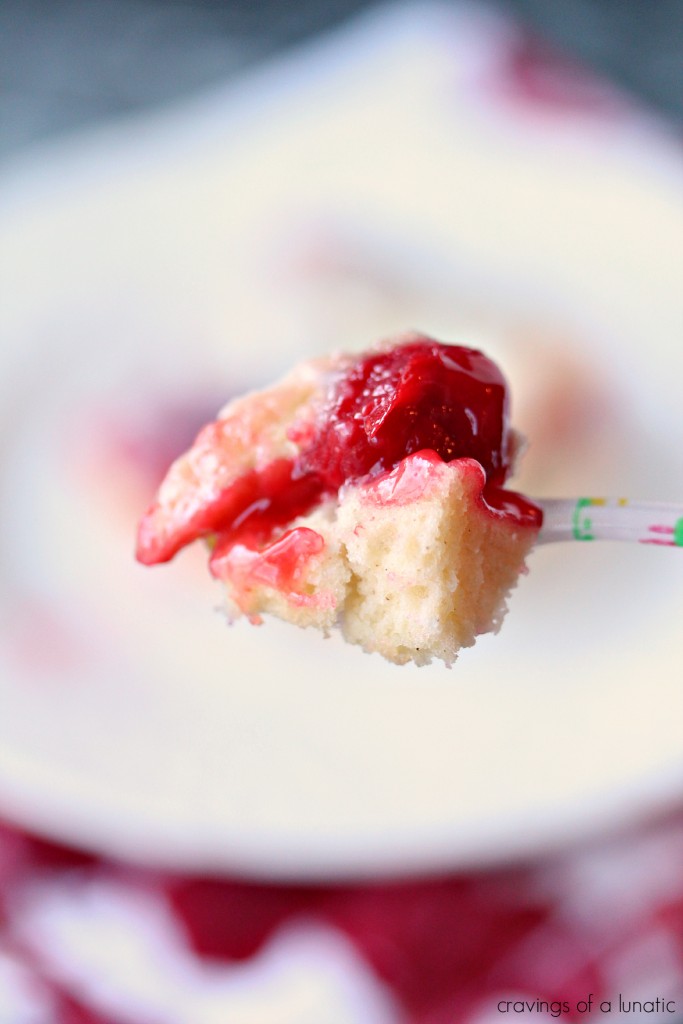 These are super easy to make. They look absolutely beautiful so they are perfect for when you have guests over. They would also be fabulous to bring to showers or potlucks.
So whip up a batch today. Whether you call them Cherry Bars, Cherry Pie Bars or Cherry Kuchen Bars, these will be a huge hit with anyone who tries them.
I could barely keep my hands off them while taking photos. They are irresistible. I hope you become as obsessed with cherries as I am.
Enjoy and make sure you follow my obsessive antics on Pinterest!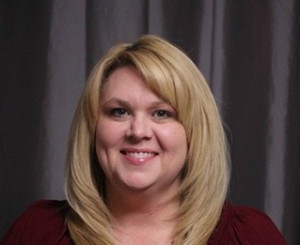 Kim – Cravings of a Lunatic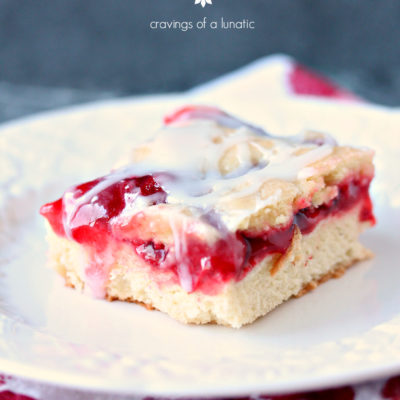 Cherry Bars
Ingredients
Bar recipe:
1

cup

butter

softened

2

cups

sugar

4

eggs

1

teaspoon

salt

1

teaspoon

almond extract

original calls for 1 tsp vanilla and 1/4 teaspoon almond

3

cups

all-purpose flour

3/4

teaspoon

cinnamon

I prefer Roasted Saigon Cinnamon (original calls for no spices)

1/4

teaspoon

nutmeg

original calls for no spices

1

can cherry pie filling

original calls for 2 cans
Glaze recipe:
1

cup

confectioners' sugar

1

teaspoon

almond extract

original calls for 1/2 tsp vanilla, 1/2 tsp almond

2 to 3

tablespoons

milk
Instructions
Preheat the oven to 350 degrees F.

Spray a pan with non-stick spray. You can use a 15 x 10 inch pan (sheet pan) or a 9 x 13 casserole dish. You just won't get the straight edges with the pan I used. Things like that don't rattle this girl.

In a large bowl combine the butter, sugar, and salt. Cream them together until light and fluffy. I used my stand mixer with my paddle attachment.

Now add the eggs, one at a time, mixing really well after each addition.

Add the extract, mix again.

Now gradually add the flour, mix on low while adding until it's all combined. Add the cinnamon and nutmeg, mix briefly by hand.

Pour about 3 cups of the batter into the prepared pan. Smooth it out.

Now take spoonfuls of the cherry pie filling and drop them randomly over the batter.

Smooth as best you can.

Now take the remaining batter and drop spoonfuls of it randomly over the pie filling portion.

Bake in preheated oven for about 30 to 35 minutes, you want the top golden brown.

Remove the dish from the oven and allow to cool completely.

In in a small bowl mix the confectioners' sugar, extract and milk.

Start with 2 tablespoons of milk, then adjust by adding more until you get the desired consistency for your glaze. Now drizzle the glaze over the bars. You can do it neatly, or messy.

Matters little in the grand scheme of things.

Serve with a big old cherry loving smile.
If you like this recipe, you are going to LOVE these!
Toasted Coconut and Cherry Hand Pies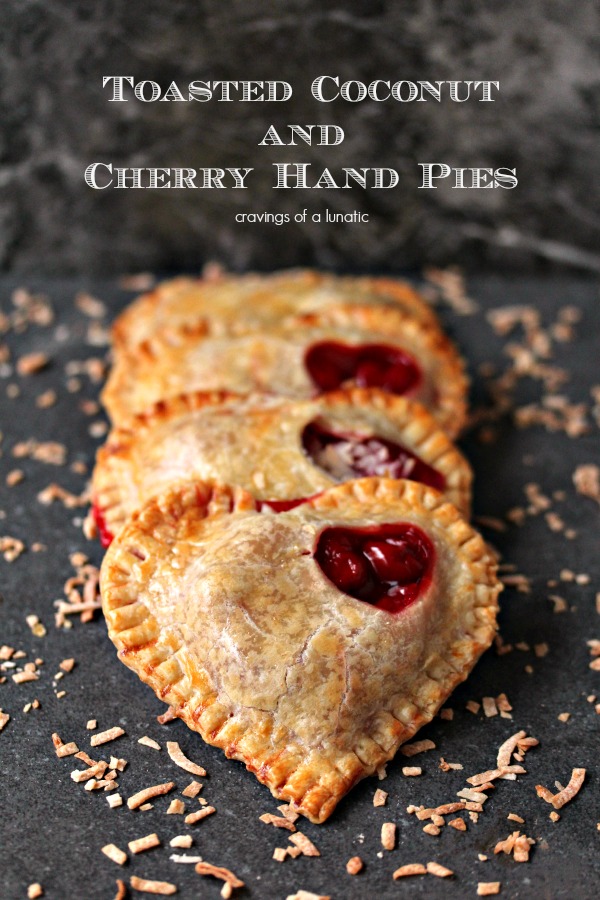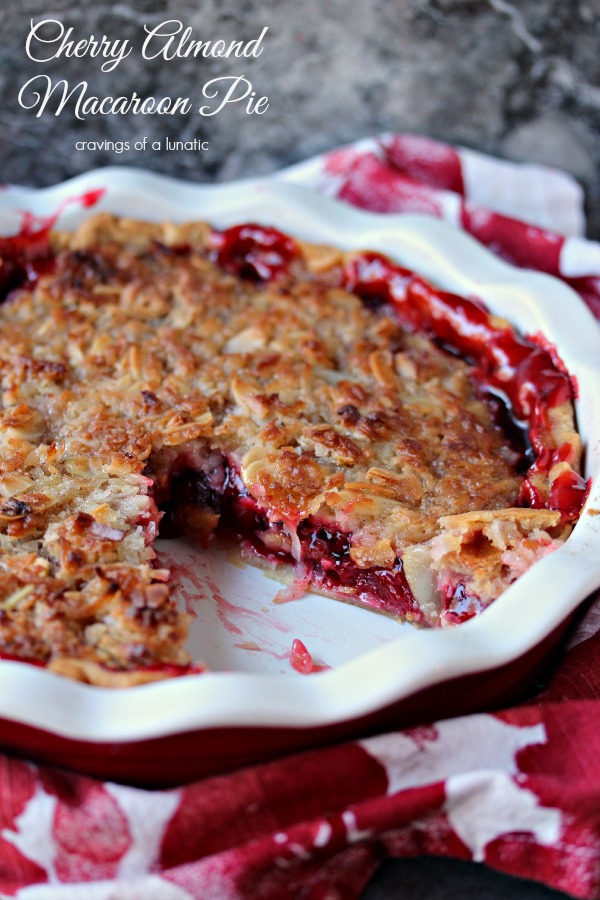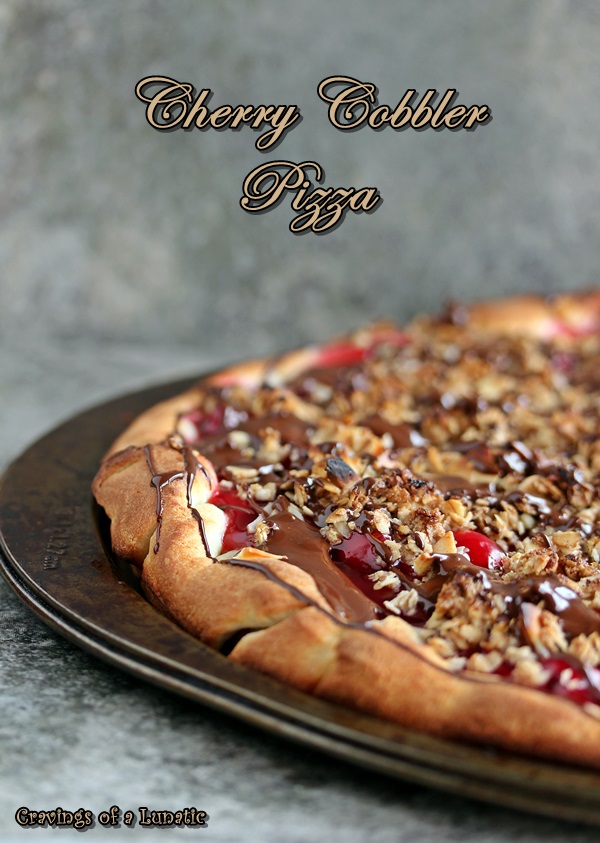 This amazing post can also be found on Whipperberry!