Super easy to make Cherry Cheesecake Dip plus an easy recipe to make your own Cinnamon Pie Dippers. All in less than 15 minutes!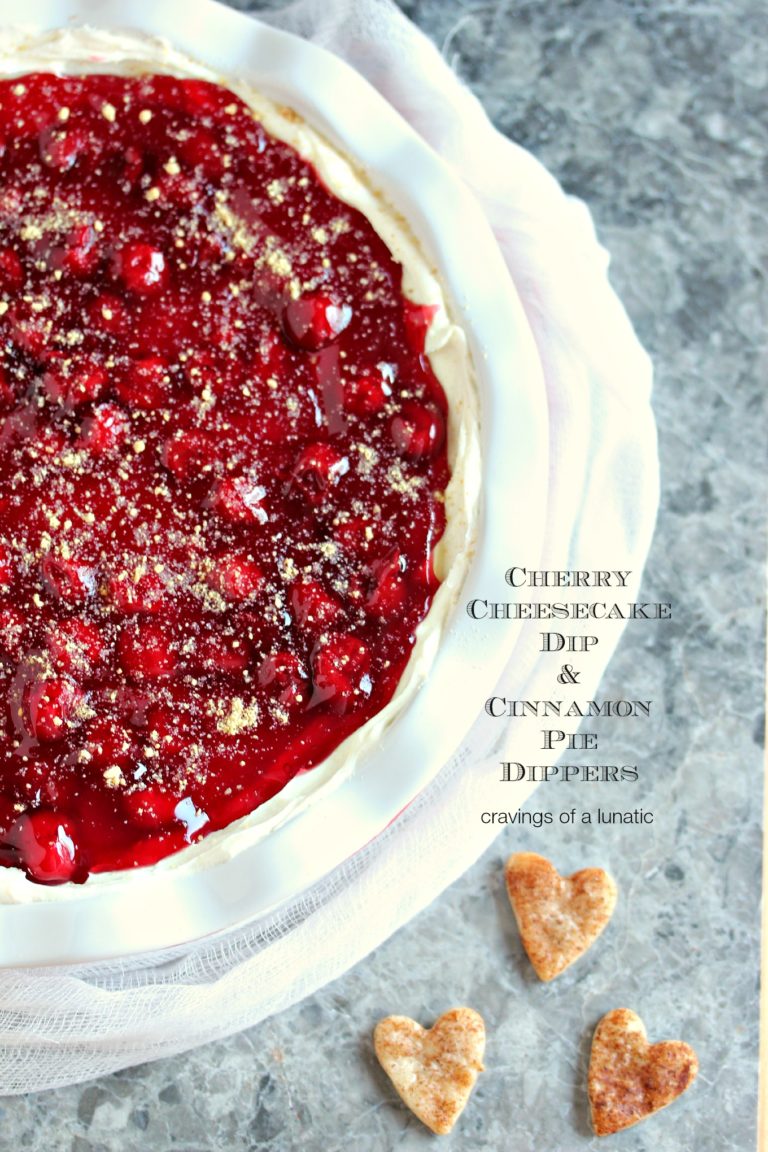 I'm back again with a fun recipe for a cherry cheesecake dip that is absolutely addictive like crazy. I also made these adorable little cinnamon pie dippers so you can dunk in style.
I have to admit I'm a total sucker for anything made with cherry pie filling. I shared a recipe for Cherry Bars a couple of months ago. They were such a big hit with my family and my readers as well.
This time I wanted to try a cherry cheesecake recipe that was a little different than I typically make mine. So I jumped right in and got carried away with the whole idea, as I often do.
One recipe wasn't enough, I figured since this is so easy I'd also share a really fun and easy idea for pie dippers too. These are something I love making when I make sweet dips.
It's so simple to make, you basically just use store bought pie dough and use cookie cutters to cut shapes. You can also use a pastry wheel to make long strips as well.
You could say it's as easy as pie. But that just wouldn't be punny at all. I know, I know. I couldn't resist.
When picking out shapes be careful to pick something appropriate. I made some bunny shaped dippers thinking how cute they would be so close to Easter. Well, when you dunk the bunny in cherry dip it's not a good look. At all. It's a bit horrifying. Just don't do it. Trust me.
Even hearts were questionable when dunking in this. But I rolled with it. I made hearts, strips, bunnies and squares. I personally liked the hearts and the longer strips the best. We're not double dunkers here so the hearts worked awesome for my ocd about germs. One dunk and you're done.
I think I demolished about half of this all my myself. I was noshing them as I took photos. The funny part is I take photos for the blogs by my front window. So I was literally standing on top of my kitchen table shoving cheesecake dip into my face. My poor neighbors. They must think I'm completely nuts.
Luckily I'm a pretty free spirit and I don't worry too much about what people think. What I do care about is scrumptious food. I am one of those cooks who is constantly tasting as I go along to ensure the flavor is perfect. Always taste as you experiment. It's so important.
I chose to try The MOMager's Cherry Cheesecake Dip for my post this month. I make my version without cool whip but I was super excited to try this version. I figured it would be super light and fluffy. I was not disappointed.
I hope you love this one as much as we did. I honestly could not stop noshing on it. At one point I just grabbed a spoon and went at it like it was dinner. I wasn't kidding when I said I love cherry pie filling. It's a serious addiction at this point.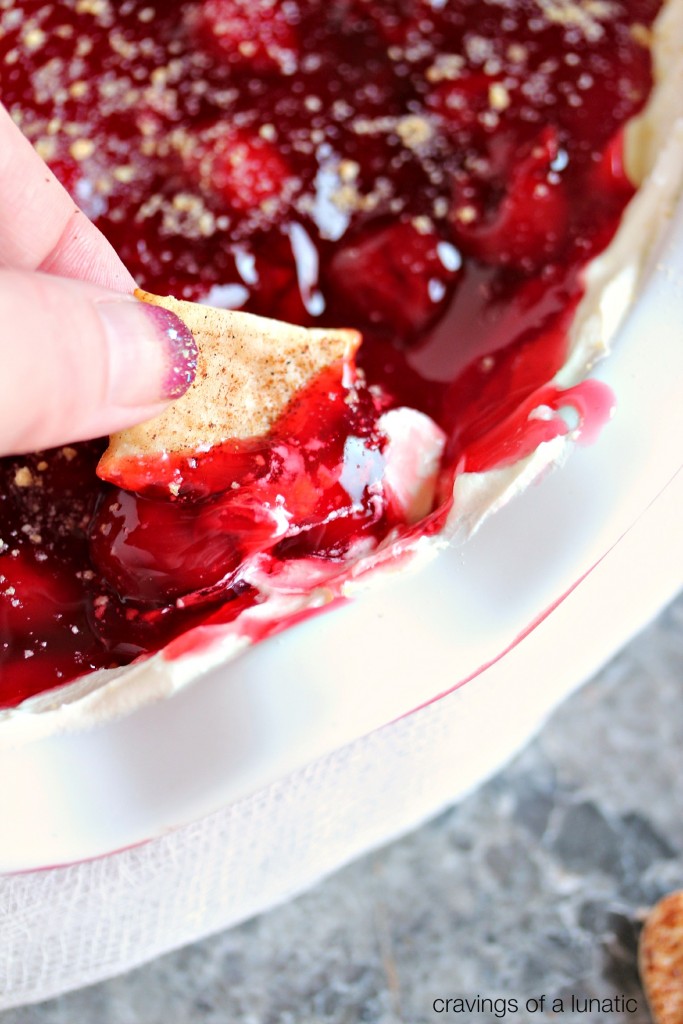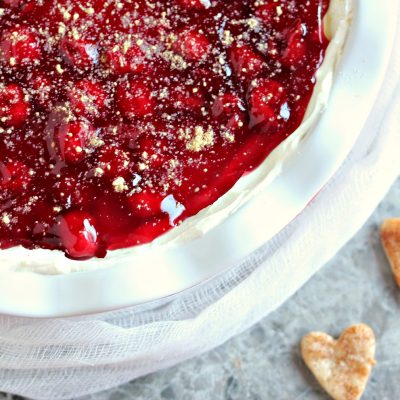 Cherry Cheesecake Dip with Cinnamon Pie Dippers
Ingredients
For the Cinnamon Pie Dippers:
1

package of pillsbury pie dough

1

egg

1

teaspoon

milk

1

teaspoon

cinnamon

1/4

teaspoon

nutmeg
For the Cherry Cheesecake Dip:
8

ounces

of cream cheese

softened

1

L

Cool Whip

198

grams

Marshmallow Fluff

540

ml

cherry pie filling

2

tablespoons

graham crumbs
Instructions
For the Cinnamon Pie Dippers:
Preheat oven to 375 degrees F. Line two cookie sheets with parchment paper. Set aside.

Roll out both pie crusts on a lightly floured surface.

In a small bowl whisk together the egg and milk till smooth and light in colour. Brush on the top side of each pie round. Then sprinkle both the cinnamon and nutmeg over top. Use more or less depending on your own taste.

Use small cookie cutters to cut shapes, or use a pastry wheel to cut strips or squares, about the size of a small cracker or cookie. Place each shape on the cookie sheets about 1/2 inch apart. They do not spread like cookies so you can place them fairly close together. Place in the oven and bake for about 8 to 12 minutes, depending on the size of your shapes. Smaller will cook for less time, larger ones will cook for a longer time.

Remove from oven and cool on a baking rack.
For the Cherry Cheesecake Dip:
Place the softened cream cheese in a stand mixer and using the whisk attachment mix until it's fluffy and smooth. Now add the cool whip and fluff to the mixer and whip on high until thoroughly combined.

Pour the cheesecake mixture into a pie dish and smooth out.

Pour the cherry pie filling over top and spread out evenly.

Sprinkle some graham crumbs over top.

Chill for an hour if you have enough patience to wait to munch on this.

Serve with a big old cherry loving smile!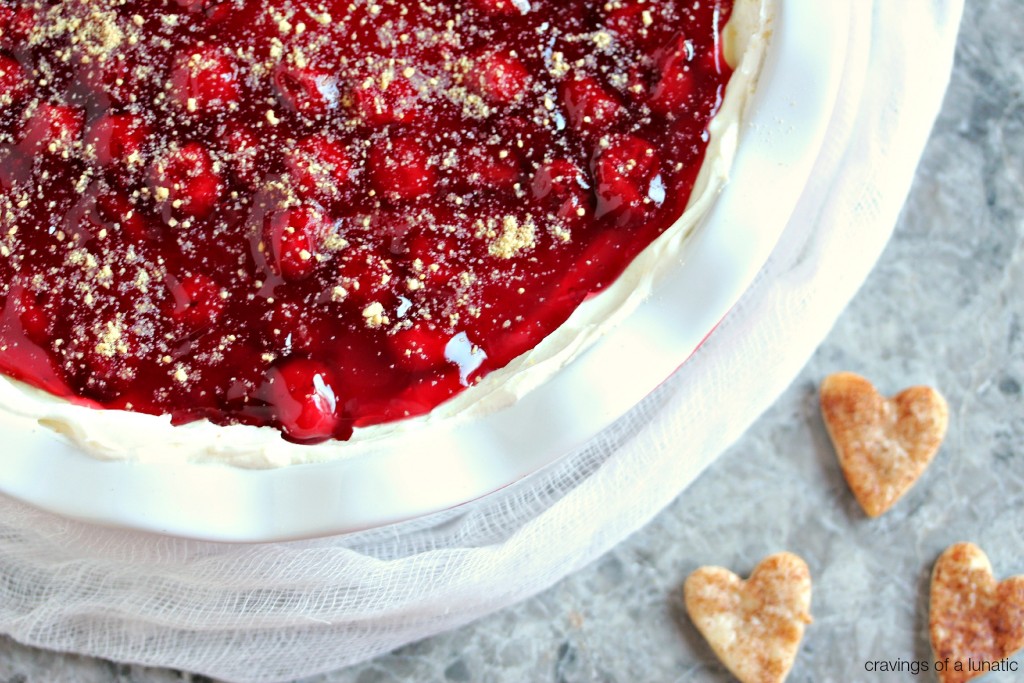 This amazing post has been shared with Living Well Spending Less and Tatertots and Jello.