Are you a hot weather or cold weather person? My husband LOVES the cold and the snow but I am a Southern California beach girl who LOVES the warmer weather. I love summer nights when it stays dark until late and we eat dinner outside in the backyard.
My husband and I have a running joke that winter is my season to complain and that summer is his season to complain. In the winter, I am allowed to complain about how it is WAY too cold and summer he is allowed to complain about it being too hot. And believe me, I am hearing him complain right now! This man is his own portable heater and emanates heat from every pore of his being. Sometimes I am ready for winter to come just to stop hearing him complain, and then I remember that when the weather cools, I get to start paying him back for his summer complaining by letting him know how cold it is outside!
But even though I like warm weather, I don't like cooking in my kitchen and getting my kitchen heated up in the summer.
Enter these Chicken Tortilla Stacks that I pinned from Damn Delicious. (Pardon my French!) Even though this recipe does need to be cooked, you only need to cook them for 25 minutes before these are ready to enjoy.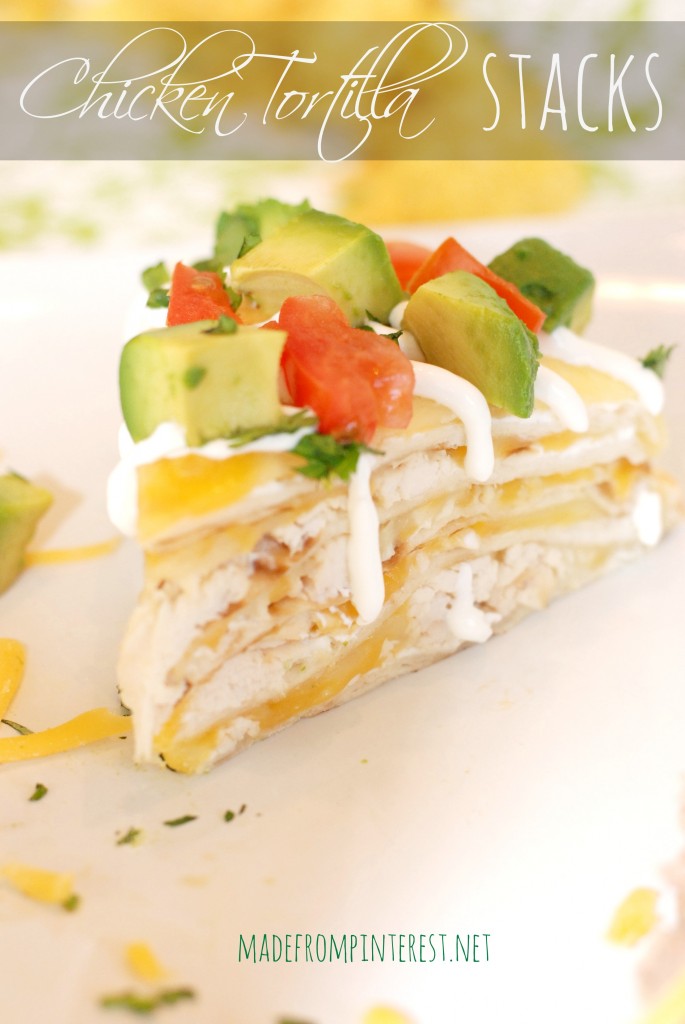 Add some avocado and tomatoes on the top for a fresh garden tasting addition.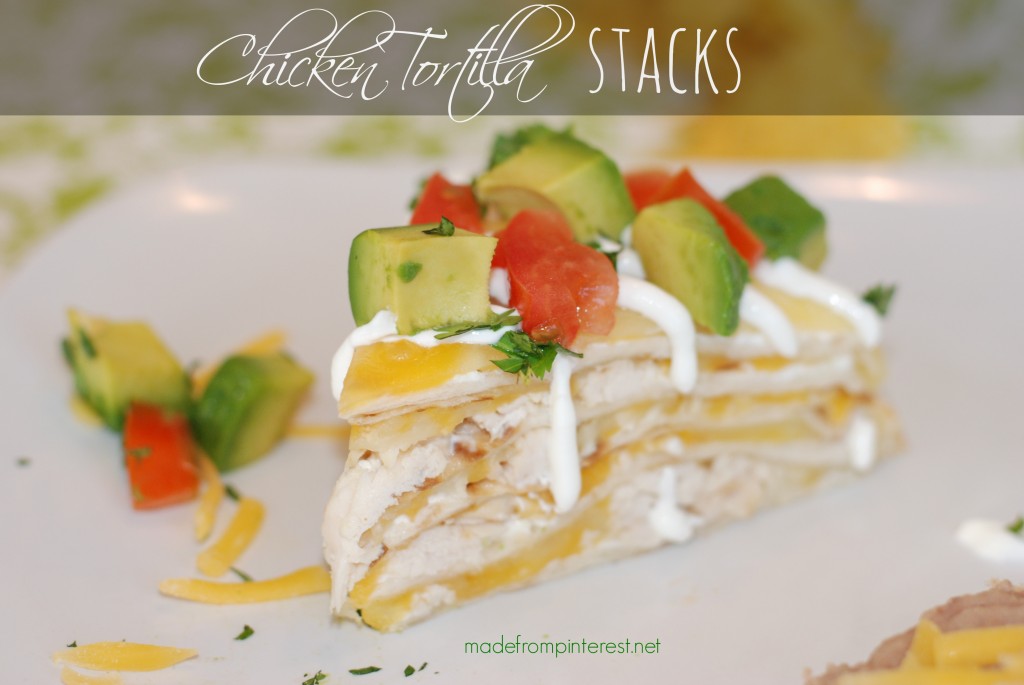 What I liked about this recipe was that it was super easy to assemble and quick to bake but also makes for a great dinner presentation. Perfect for a warm summer evening and eating outside. Even though my husband complained about the temperature outside on the day that I cooked these, he certainly didn't complain about the way they tasted and he let me know that:
This Pin Rocks!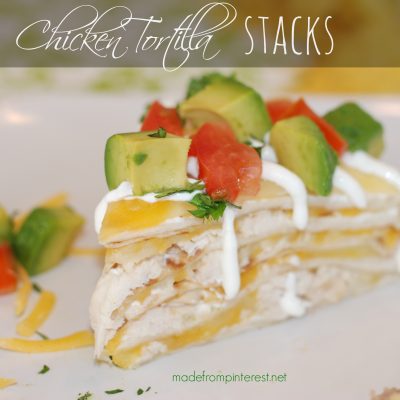 Chicken Tortilla Stacks
Ingredients
1

tablespoon

olive oil

5 9-

inch

flour tortillas

3/4

cup

sour cream

2 1/2

cups

shredded chicken

1

cup

shredded sharp cheddar cheese

1

cup

shredded Pepper Jack cheese

1

cup

shredded mozzarella cheese

1

avocado

halved, seeded, peeled and diced, for serving

1

roma tomato

diced, for serving
Instructions
Preheat oven to 400 degrees F. LIghtly coat a springform pan or a 9 inch cake pan.

Heal your olive oil in a large skillet over medium high heat. One at a time, add a tortilla and cook until crisp and lightly browned, about 1-2 minutes per side.

Place 1 tortilla on the bottom of the springform pan. Spread 2-3 tablespoons sour cream evenly over the top, followed by chicken, sharp cheddar, pepper jack and mozzarella. Repeat with 3 more layers. Top with remaining tortilla, sour cream and cheeses.

Bake for 25-30 minutes, or until the cheeses have melted and the stack is heated through.

Cut into slices and garnish with avocado and tomato, if desired.