Soft and chewy Chocolate Chip Cookie Bars made with brown butter and topped with the best 5-minute chocolate buttercream frosting.
Hey ya'll! We're Molly and Chelsea – the best friend, blogging duo behind Bests and Bites. We love health and fitness, mostly because we love dessert. And we live for pool days and trying new restaurants! Here's more about our story.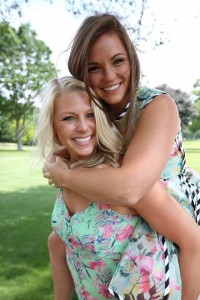 So, January is over. And we've got smoothie-making, salad-eating, and veggie-roasting out of our system. We're huge fans of eating healthy, but sometimes ya just need a good dose of chocolate (or 10).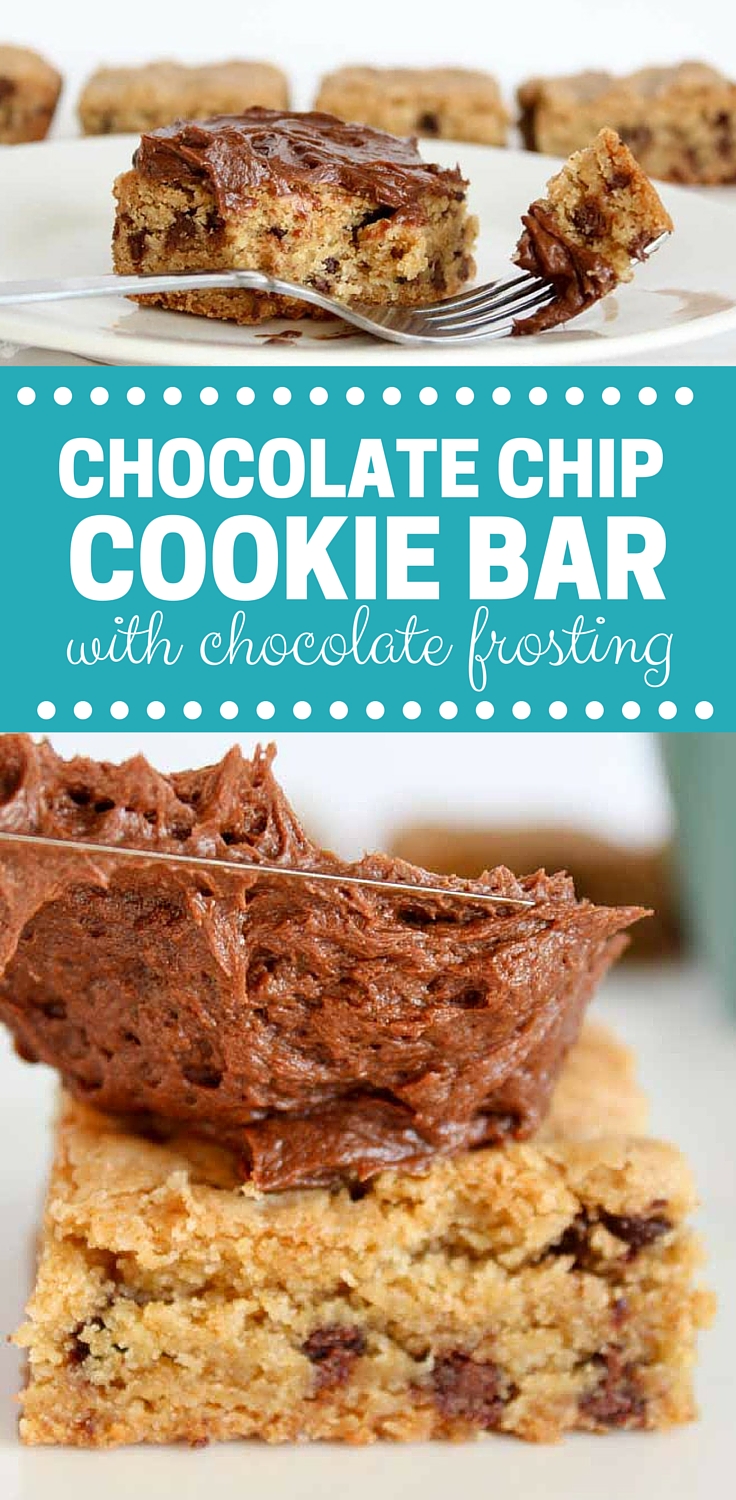 Enter February. Where all we want is chocolate-covered everything and hot chocolate served to us in bed with a good book.
With a side of chocolate chip cookie bars.
And by side we mean the entire pan. With homemade chocolate frosting.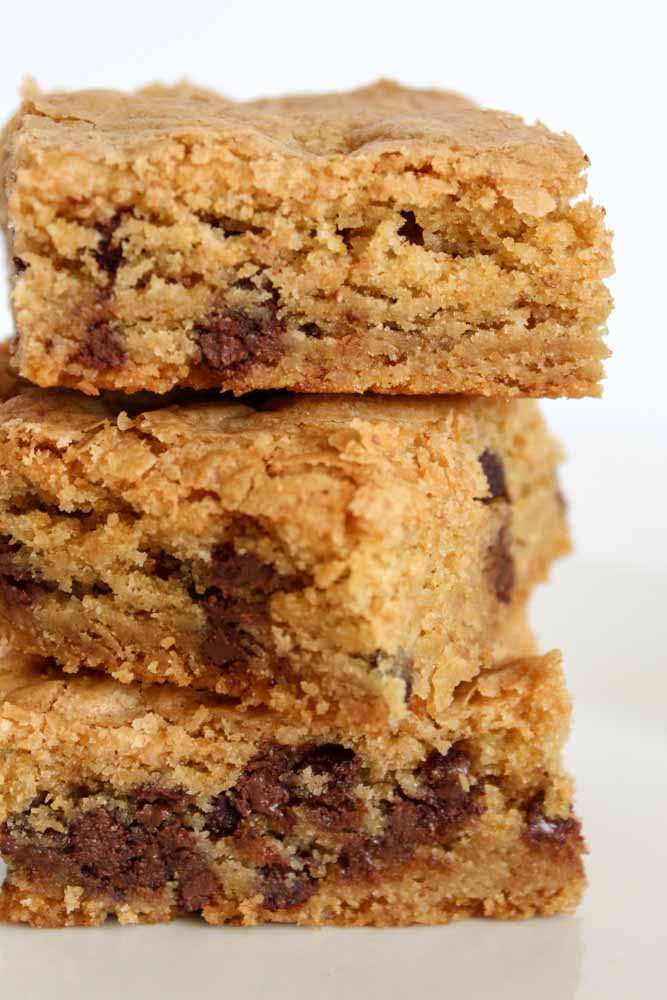 Let's start by talking about this frosting. It's just delightful. Perfectly whipped with just the right amount of chocolate. This lovely chocolate frosting didn't happen by accident! There is an art to frosting making. You can check out this post to learn three easy steps to make the perfect buttercream. Every time.
Or just scroll down to grab the instructions here!
Either way, you will not be disappointed. Especially if you put it on top of these chocolate chip cookie bars.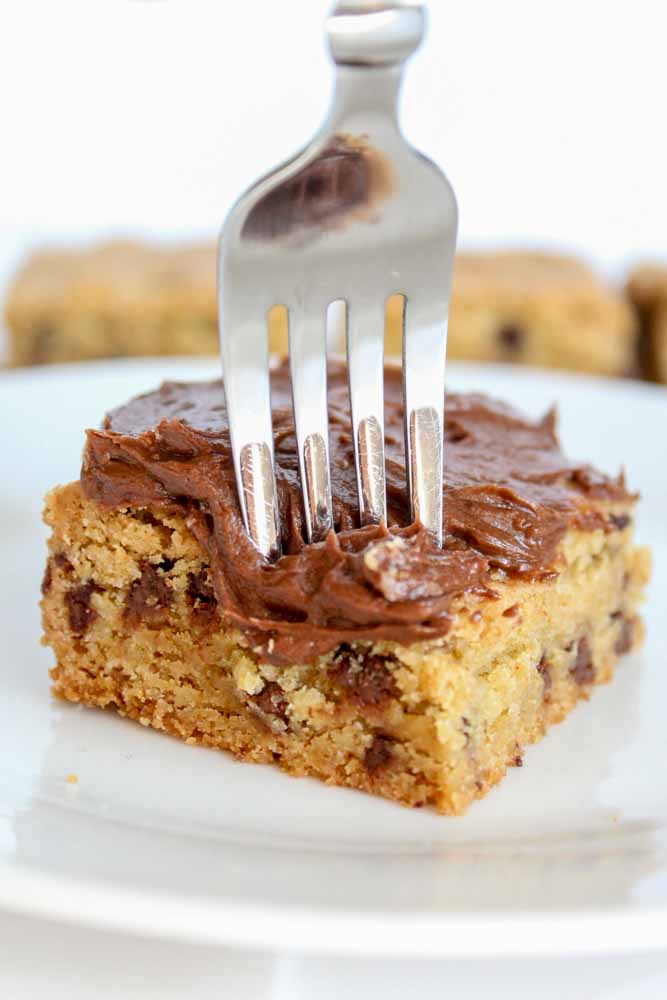 The recipe starts with brown butter. If you've never browned butter before, it's super easy. The only thing you need to watch for is browning it too long to avoid burning.
And although this recipe will work with just softened butter, the browned butter gives the cookie bars a toffee-like taste and richness you can only achieve by letting that butter get nice and melty and golden on the stove.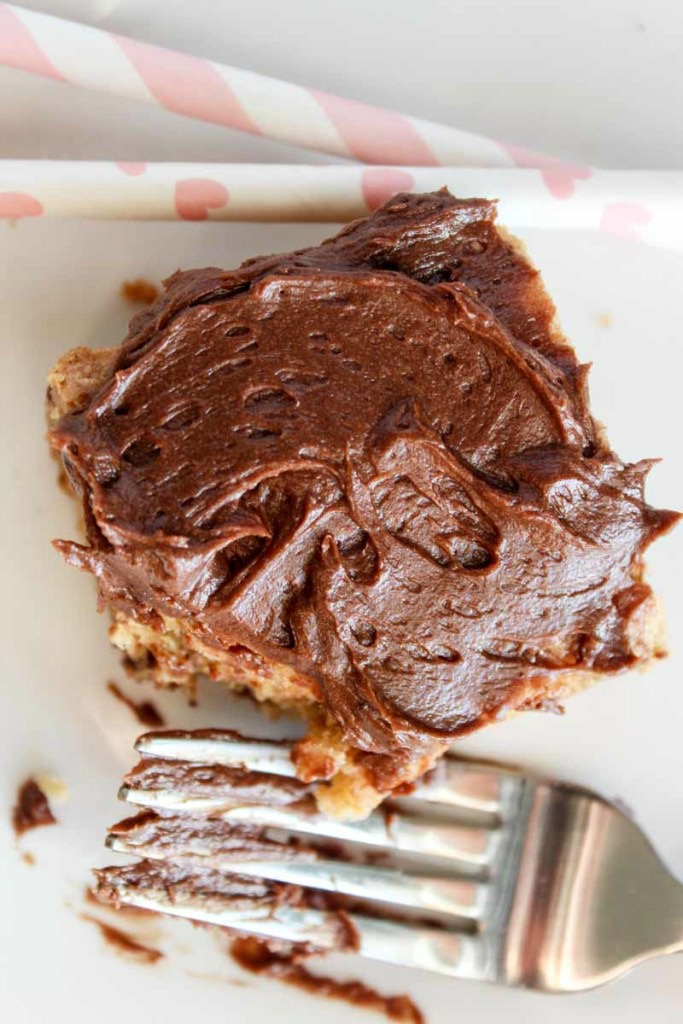 Because this recipe started with melted butter it's important you chill the dough for at least 30 minutes. Chilling allows the dough to set, and you wont end up with completely messy cookie bars.
Most melted-butter recipes require you to chill dough for hours, but 30 minutes is all it takes to make these bars and have a little bit of ooey gooey on the inside. We were inspired by these chocolate chip gooey bars and twisted it to add our chocolate frosting!
So grab a good book, a mug of hot chocolate, a pan, and a fork. Hey, no judgment here!
If you love this recipe, give us a virtual high five by following us on Insta, Twitter, Pinterest and liking us on Facebook!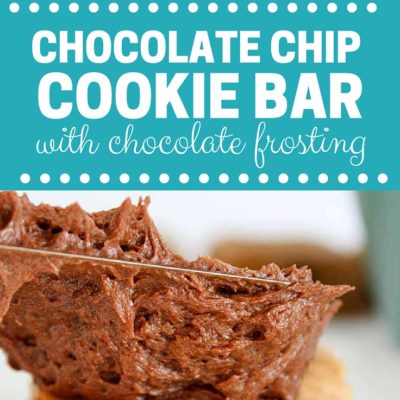 Chocolate Chip Cookie Bars
Ingredients
For the Cookie Bars:

1

cup

unsalted butter

3/4

cup

granulated sugar

1

cup

brown sugar

2

eggs

1

tbsp

vanilla

1

tsp

baking soda

3 1/4

cup

flour

1/2

tsp

salt

1 1/2

mini choc chips

For the Frosting:

1

cup

2 sticks unsalted butter, softened

3

cups

sifted powdered sugar

⅔

cup

cocoa powder

½

teaspoon

salt

6

tablespoons

heavy cream

divided

1

teaspoon

vanilla extract
Instructions
Line a 9x13 pan with foil and spray with cooking spray and set aside.

For the cookies, melt butter over medium heat, cook, stirring often, about 6 minutes until it turns brown. Once it starts turning brown keep stirring so it doesn't burn. Remove from the heat and let it rest for about 5 minutes.

Pour butter, still warm, in and electric mixer with a paddle attachment. Add sugars and mix on low until combined. Let sit and cool for a few minutes before adding eggs to avoid them cooking.

While cooling, combine flour, baking soda and salt in a medium bowl. Set aside.

Turn mixer on low again and add eggs, one at a time, mixing completely. Mix in vanilla. Add flour mixture to wet ingredients and mix until combined, about 1 minute. Stir in chocolate chips with a rubber spatula.

Press cookie dough evenly into pan, covering the entire surface. Refrigerate for 30 minutes.

Preheat oven to 350 degrees and bake for 30-35 mins.

Remove from oven and allow to cool completely.

While cooling, make the frosting. Using a handheld or stand mixer fitted with a paddle attachment, beat the butter on high speed until smooth and creamy, about 2 minutes.

Turn speed to low and slowly add 3 cups of powdered sugar, cocoa powder, and salt. Beat until well combined, about 2 minutes.

Increase mixer to medium speed and add vanilla and cream. Turn mixer to high speed and beat for 1 minute. Depending on thickness, you may need to add up to ½ cup additional powdered sugar.

Frost cooled cookie dough bars with and cut into squares.
Some of our most popular recipes: