Debbie and Tracy love Halloween. Love, LOVE Halloween! You can tell by all the posts they did with a Halloween theme, Cheese Cloth Ghosts, Halloween Countdown Calendar, Mummy Mason Jars, Graveyard Pudding Cups,, Bloody Shirley Temples. and Halloween Mason Jar Wreath.
I love Valentine's Day. Love, LOVE Valentine's Day. As soon as Christmas is over, I start looking forward to our family Valentine's dinner. We have a candlelit dinner, with Easy Chocolate Caramel Fondue.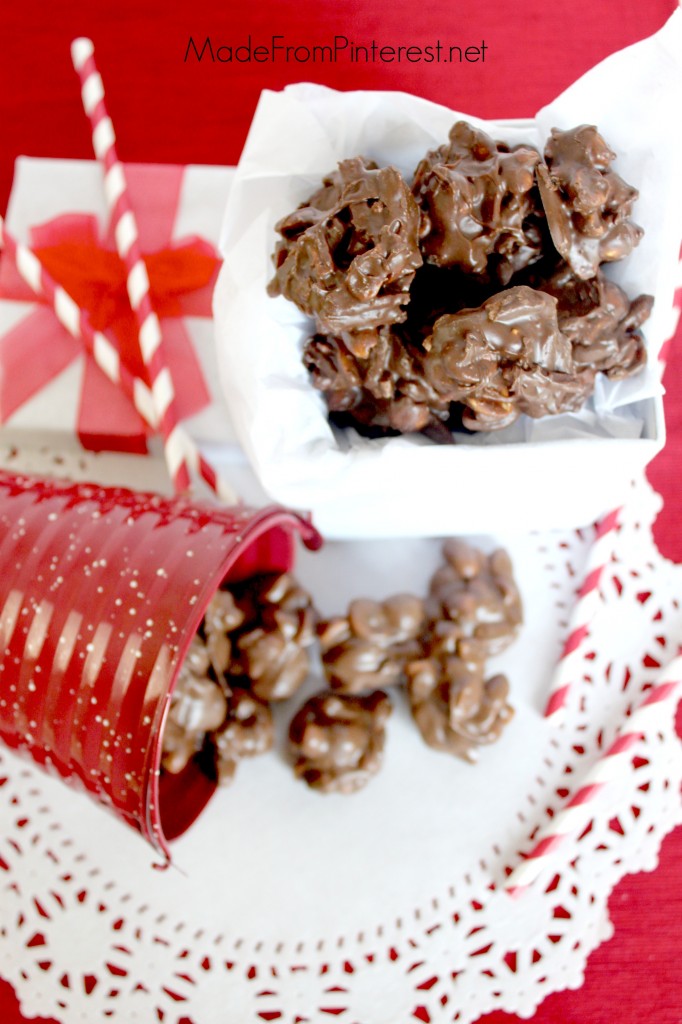 I am not that sorely tempted by Halloween Candy. But homemade candy…watch out! That does me in! I kinda made myself sick testing these two recipes, and it was totally worth it. So good. I have this silly notion that if I combine chocolate with peanuts, the protein will balance out the sugar. The theory doesn't hold, but it makes me feel better when I indulge. And indulge you will when you taste these two great recipes that will be a perfect treat for your Valentine.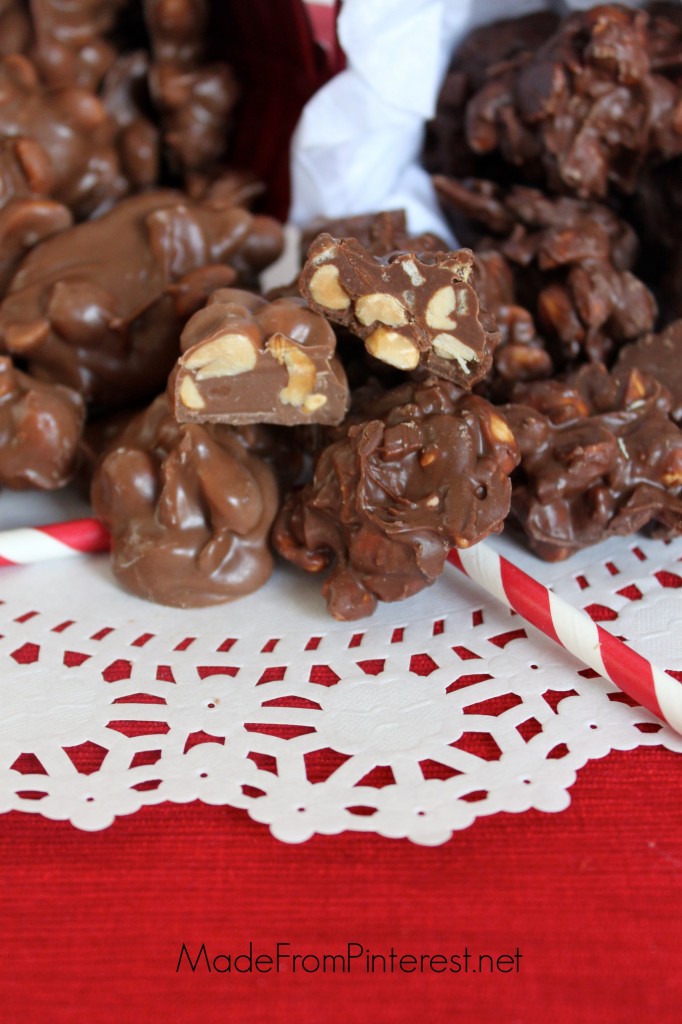 What I love about these two recipes is that you can make a big batch in the crock pot (I love my crockpot and this is the one that I love!) and have 150 or more pieces of candy ready with only an hours worth of effort. So spread the love! Let all the people you care about get a special homemade Valentine gift from you! Nothing says it better than chocolate covered peanuts, right? It all started when I saw a pin for crock pot candy. What a great idea. The crock pot will melt the chocolate and it will stay melted while making the candy. I love this method found at Just a Pinch. After trying and loving this method, I adapted one of my own recipes and loved the results there as well. So today, you get a twofer! Two recipes for one.
And guess what? They both Rock!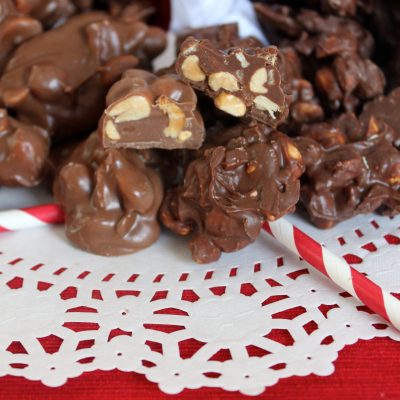 Crock Pot Candy - Original Recipe
Ingredients
2 16

oz

jar roasted

salted peanuts

1 12

oz.

package semi-sweet chocolate chips

1

bar

4ozs. sweetened german chocolate (green packaging), broken into pieces 3 lbs. (two 24oz pkgs.) white almond bark, broken into pieces. (I found this at Walmart during the holiday season - You can use vanilla candy melts as well)
Instructions
Put ingredients into a 4 or 5-quart crockpot in order as listed. Peanuts, chocolate chips, german chocolate, white almond bark.

Cover and cook on LOWEST setting for 3 hours. DO NOT remove lid! Turn to warm and allow to cool slightly. Mixture will not be melted but will be soft.

Mix thoroughly and drop by teaspoon size cookie dropper or a teaspoon onto parchment paper.

Let cool thoroughly. Makes approximately 150 – 170 pieces.
Chocolate Butterscotch Crock Pot Candy
Ingredients
4 cups roasted salted peanuts
2 (11 ounce) packages semi-sweet chocolate chips
2 (11 ounce) packages butterscotch chips
1 (6 ounce) can Potato Stix – also called potato shoestrings
Instructions
Layer ingredients in crock pot in this order: peanuts, semi-sweet chocolate chips and butterscotch chips.
Set crock pot to low for 2 hours. Do not remove the lid.
After two hours, turn crock pot to low, add potato stix and mix thoroughly.
Drop by teaspoon size cookie dropper or a teaspoon onto parchment paper.
Let cool thoroughly. Makes approximately 150 – 170 pieces.
We are happy to link this post to these great blogs: Lamberts Lately – Living Well, Spending Less – Live, Laugh, Rowe – 52 Mantels – A Glimpse Inside – What's Cooking Love