A leprechaun is a small, mischievous sprite. And they were the bane of my existence for months. It all started with a simple, fun prank my daughter's kindergarten teachers arranged. All day long, a leprechaun had pulled tricks. In the library, it had moved the books and chairs, on the playground, it had moved the playground equipment, rearranged the classroom and everywhere it went, it left gold and green confetti in it's wake. What was supposed to be fun, terrified my daughter. When she came home, she asked me about all about leprechauns. I reassured her they were tricksters, but friendly. She was not comforted. She asked if they could get in her window. I said not on the second floor. It would require too much climbing for a small sprite. She reminded me the leprechaun at school had been capable of incredible feats. Multiple questions over multiple days did not soften her fear. She wanted to know if they could watch her when she sleeps. No. Had I ever seen one? No. Could they get into cars? No. Did they live in the grass? I don't know. Why do they do pranks? To be silly. Do they hurt people? No. This leprechaun business had turned into a bit of a nightmare. In the end, it didn't make much difference what I said. She came up with all sorts of new scenarios to be afraid of. Could it hide in my backpack? No. Unbeknownst to her, I had been using a powerful anti-leprechaun spray for protection. To which she answered, there is no leprechaun spray. What!?! If she could believe so fully in leprechauns, was anti leprechaun spray such a stretch? I couldn't take it any more. I told her there was no such thing as leprechauns. I told her they weren't real. I pretty much told her I didn't believe in fairies. May Tink forgive me! I felt very Grinch like. Like I was the mother in Miracle on 34th Street. My sweet little girl said really with such hope in her eyes. Really, you are safe from leprechauns, they are not real.
Peace at last. It was over. Months of discussion and fear and worry about little green men were over.
And then she asked…
Can I squish them like a bug under my shoe? Aaaagh! What was I to do? It was never going to end. So I told her the truth. All of it. I left nothing out.
Yes! You sure can.
Forgive me, but it had to end, and f it took letting her believe that she could conquer her fear by squashing mythical creatures underfoot, I was all there.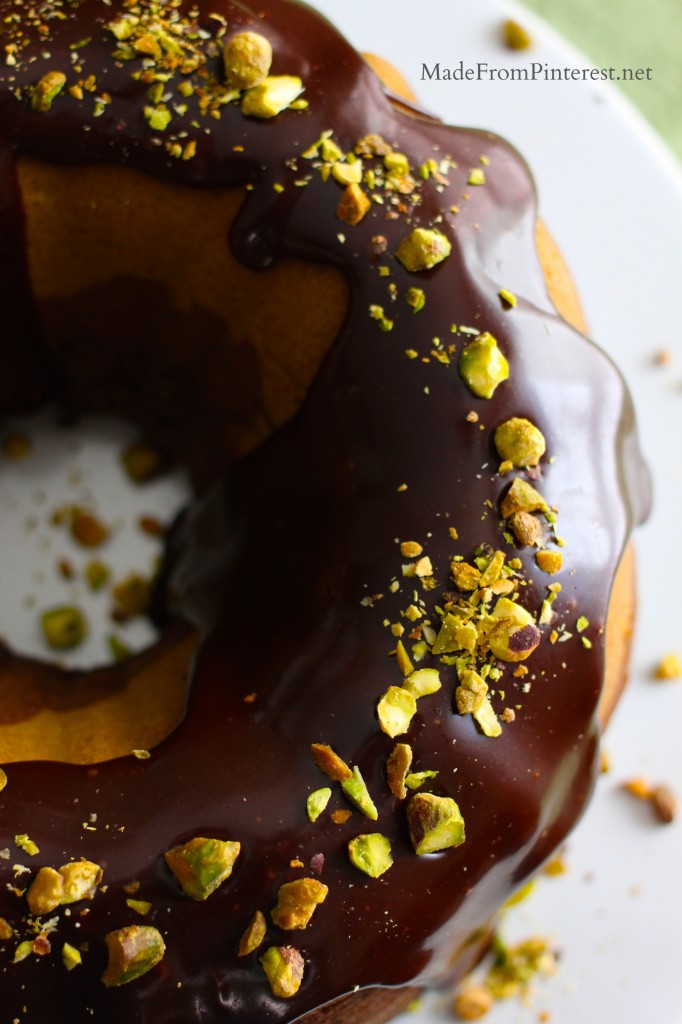 She is a freshman in high school now. Do you think it is safe for me to call this Chocolate Pistachio Bundt Cake, leprechaun cake? Don't bother answering, I am not taking that chance. But I will be eating this cake on St. Patrick's Day. It is a mouthwatering, sweet treat with a little bit of crunch. Leprechauns would love it, I am sure. They would love it so much, they would come out of hiding to get some. You have just enough time to make this as bait. Maybe you can earn yourself a pot of gold. But if not, console ourself by eating this delectable cake.
All of it.
By yourself.
It is that good.
It sort of sneaks up on you. In fact, I thought about calling it Stupid Cake. Because I can't stop eating this stupid cake!
Pinterest pointed me to this recipe from Kitty's Kozy Kitchen and I am so glad I found it because even though I haven't caught a leprechaun, much less squashed him under my shoe,
This pin rocks!
Chocolate Pistachio Bundt Cake
Ingredients
1

box yellow or white cake mix

1

small box pistachio instant pudding mix

1/2

cup

orange juice

1/2

cup

water

4

large eggs

1/2

cup

oil

1

teaspoon

almond extract

3/4

cup

chocolate syrup

Ganache topping

1

cup

semi sweet chocolate chips

3

Tablespoons

butter

2

Tablespoons

corn syrup

1

Tablespoon

water
Instructions
Preheat oven to 350°.

Grease and flour 12 cup Bundt pan.

In large bowl, combine cake mix, pudding mix, orange juice, water, eggs, oil and almond extract.

Beat until well combined.

Pour 2/3 batter into Bundt pan.

Add chocolate syrup to remaining batter.

Pour chocolate batter over the batter in the pan.

Run a knife through batter to marble it.

Bake for 1 hour.

Cool 15 minutes.

Top with Chocolate Ganache and chopped pistachios.

Ganache:

In small saucepan, combine butter, corn syrup and water.

Cook over low heat, stirring constantly until morsels are melted and mixture is smooth.
Notes
Green food coloring may be added for brighter color.
We are sharing this delicious idea with:Tatertots And Jello, The Country Cook, Flamingo Toes, Chef In Training, Mandy's Recipe Box, Hun What's For Dinner,Living Well Spending Less, Lamberts Lately, What's Cooking Love,Tatertots And Jello, Whipperberry, Sunny Simple , The Country Cook