So…..fudge. With or without nuts?
My dad has been gone for ten years this year and I especially miss him around the holidays. One of the little things that I miss about him during this time is a little off color so if you think you might be offended stop reading now.
Well, you must have the same sense of humor that I do or are just plain curious because I see that you're still reading. Thanks for hanging in there! haha
So when I was growing up, one of the traditions in our family was that the day after Thanksgiving my mother would make her award winning fudge. My dad would GORGE himself on this fudge until he made himself sick. My father would always tell my mother "Vel, let me know when the little boy fudge is ready!" I would always giggle, not really knowing what he meant but thought it was funny that he was calling mom's fudge "little boy fudge".
It wasn't until I was a teenager that I finally asked my mom what dad meant by "little boy fudge".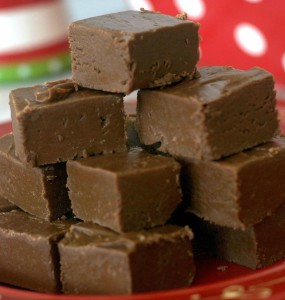 You see, my mother would make plain fudge and also a batch of fudge with nuts. And it was then that my mom confided to me that "little boy fudge" was the fudge with nuts!
Ahem. Being a teenager I was actually kind of embarrassed. Dad! I mean…really? But now that I am older and my dad is gone, it is an endearing memory.
Lucky you, because today you are going to get the recipe for Mom's Award Winning Christmas Fudge and it will be your choice whether to make it "little girl" or "little boy" style!
This fudge sets up so nicely and is ultra smooth and creamy because it is actually blended with a mixer. Check out the recipe below!
Christmas Fudge
Ingredients
2

cups

sugar

3/4

cup

butter

2/3

cup

evaporated milk

12

oz

bag semi sweet chocolate chips

1/3

of a 12oz bag of milk chocolate chips

4 oz

7

oz

container of Kraft marshmallow creme

1

tsp

vanilla

1

cup

chopped walnuts

for little boy fudge!
Instructions
For this recipe, you will need a good size pot that you can use a mixer in.

Spray a 9x13 pan with Pam and set aside

In your pot, combine sugar, milk and butter. Stirring constantly, cook over medium heat until you get to the soft-ball stage (238 degrees) NEVER SCRAPE the sides of the pan while stirring. Drop just a drop of this mixture into cold water. It should make a little ball and then you know the mixture is ready. If it bleeds into the water, it hasn't been cooked enough.

Remove from heat but leave in your pot. Add all chocolate chips, marshmallow creme and vanilla. Beat with a hand mixer until smooth and creamy.

If desired, stir in the nuts with a large spoon.

Pour into your sprayed 9x13 pan. Let cool.

Cut into serving size pieces and enjoy!
So….fudge. Which do you prefer? With or without?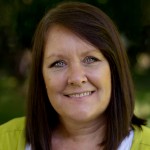 You can also find this post on: Living Well Spending Less