I was home minding my own business cooking when a knock came to the door. I was in the throes of making this delicious Cocoa-Nut Almond Butter and tried to pretend I wasn't home–but with the loud food processor spinning, it was sort of hard to pretend I wasn't. Whoever was at my door was being insistent and persistent. knock-Knock-KNOCK!
Grrrr. Okay, okay, I'm coming. I figured the way they were knocking it was an emergency! I dried off my hands and charged down the stairs to open the door to a solicitor. I really hate solicitors. Is anybody with me? They seem to come at the wrong time (is there ever a good time for solicitors?). I explained that I was in the middle of cooking and couldn't talk. He looked at me like "ya, right, I hear that all the time." "No, really, I'm cooking."
Why is it when you tell them you can't talk or you don't want what they are selling that they keep on trying to sell you? I get it that they have a quota, but I sort-of watch too many murder shows that I begin wondering if they are the next ax murderer incognito trying to edge their way into my home. Know what I'm saying?
I did get him to go away and I narrowly escaped being the next Ted Bundy victim and so I celebrated my narrow survival with this Cocoa-Nut Almond Butter, which is also a healthier twist to satisfy my chocolate craving!
This spread is amazing on fruit. Spread it on bananas, apple slices, pretzels, and even graham crackers.
Thank you Debbie, Sharri, and Tracy for the opportunity to share some chocolate/coconut love with your readers today.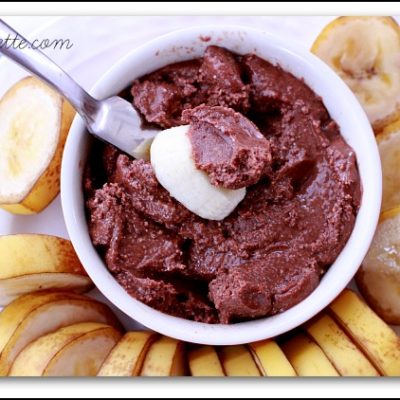 Cocoa-Nut Almond Butter
Ingredients
1 1/4

cups

roasted

unsalted almonds

2

tablespoons

cocoa powder

2

tablespoons

unsweetened coconut flakes

3

tablespoons

coconut sugar or granulated sugar

1/8

teaspoon

kosher salt
Instructions
In the order listed, add ingredients to a food processor and process until smooth and creamy.
Nutrition
Serving:
2
g
Calories:
180
kcal
Carbohydrates:
11
g
Protein:
6
g
Fat:
14
g
Saturated Fat:
2
g
Sodium:
20
mg
Fiber:
4
g
Sugar:
7
g
Recipe adapted from Blendtec
If you love this snack, you might also like these other snacks at Bakerette.com. Just click on the pics for the recipes:
We are sharing this yummy recipe with:Lamberts Lately, Living Well Spending Less, Tatertots And Jello, Flamingo Toes, Mandy's Recipe Box , Inside BruCrew Life, Hun What's For Dinner, The Recipe Critic, A Bowl Full Of Lemons