So, yesterday it was New Year's Eve and we were setting goals and making resolutions. Now suddenly it's March and Easter is peeking its cheery head around the corner! It's time for flowers, bunnies, chicks, and eggs! I've made these Colored Deviled Eggs several times before, but never posted them on my blog for some reason. <insert shameless plug for 365(ish) Days of Pinterest here> Come on over for a visit! 😉 Anyway, these eggs are so easy to make and my kids thought it was so cool to play with the colors.
We don't normally color eggs for Easter. It's just SO much work and then no one actually eats them. Plus, eggs are expensive right now! But coloring the egg whites themselves is simple to do, doesn't make a huge mess, and you end up with a plate full or gorgeous deviled eggs.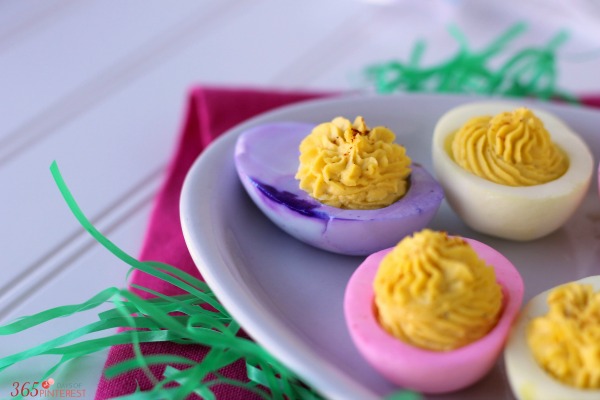 Colored Deviled Eggs
Hard boil one dozen eggs
Don't laugh, but I've ruined hard boiled eggs more times than I'd like to admit. I think we'd been married for 12 years before I made an egg I was happy to feed to my husband! So in case you are like I was, here's a quick how-to for great boiled eggs:
Place eggs in a large pot and cover with 1″ of cool water
Cover, bring the water to a rolling boil
Allow to boil for 1 minute, then remove from heat
Leave covered and let them sit for 12 minutes
Shock in cold/ice water to stop cooking
Peel the eggs, cut them in half lengthwise and scoop out the yolks into a bowl
Prepare the egg dye according to the instructions on the package
I used gel coloring, so it was 1/2 cup hot water, 1 tsp vinegar and 1 tsp of dye. Let the egg whites sit in the bowl for about 4 minutes and then sit them on a rack to dry for 15 minutes. I love the speckles and streaks!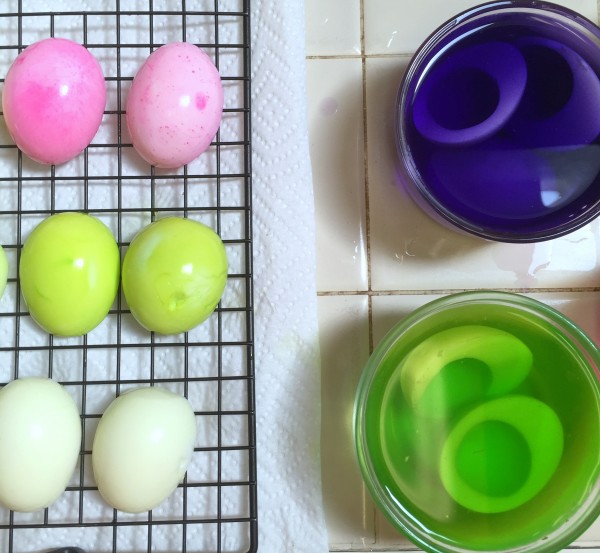 While the egg whites are soaking, mix up the filling in a small bowl
12 cooked egg yolks
1/4 cup mayonnaise
2 tbsp mustard
salt and pepper to taste
Once the dyed eggs are dried, fill the centers with the yolk mixture (I used a piping bag, but a spoon works just as well)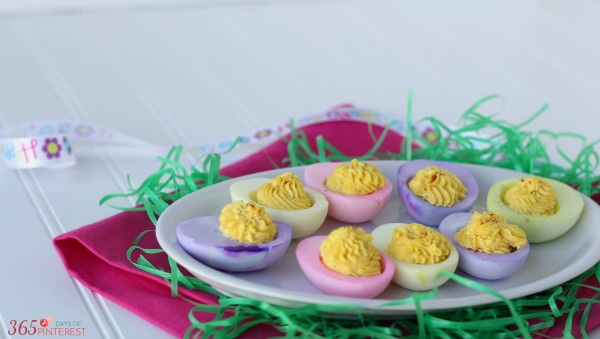 Aren't they pretty? It's a little bit of spring on a plate. Happy Easter!
More great Easter recipes from 365(ish) Days of Pinterest: