Last August my son got married and then the Saturday before Christmas my last child/daughter got married. Yes. Two weddings in four months! It definitely made for exciting times and we look forward to having all of our kids coming home with their new spouses for some fun family get togethers.
Before my children were married though, we used to host themed Sunday dinners and they would invite their college friends, roommates and current heart throbs. We had so much fun and loved the energy that arrived the moment they walked in the door. Some of our dinners were Italian Night, Chinese New Year, Academy Award Night and our famous Halloween Dinner. One year we also had a Valentine's dinner and while these starving college students were waiting for dinner to be served we had a Conversation Hearts Activity.
I originally saw the idea from a pin that I pinned from Room-Mom101 where she suggested to use the words on the hearts to create sentences. I gave everyone a box of their own Conversation Hearts and had a contest of who could make the longest sentence with the hearts and also who could make as many sentences with the most amount of their hearts but the sentences had to make sense. Boy were these guys creative!
I am contemplating having another Valentine's Dinner this year and so on my way home from work, I stopped off and grabbed some Conversation Hearts.
Would you like to see what I came up with? Promise not to laugh? My brain isn't quite as fresh as the young adults in my family but here goes!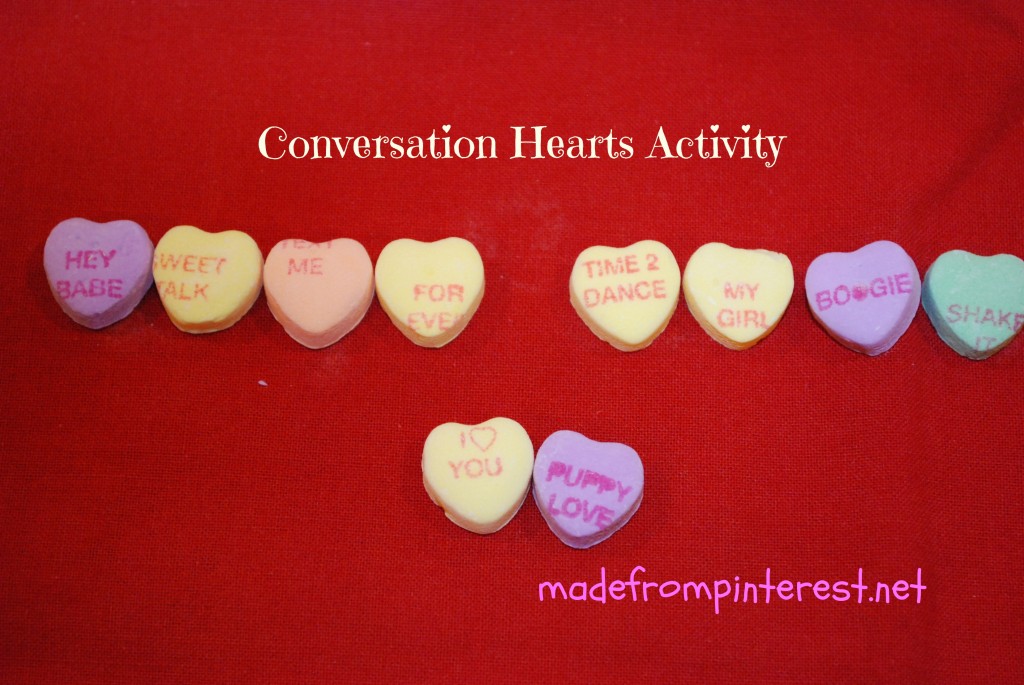 "Hey Babe, Sweet Talk Text Me Forever." (my personal favorite) then "Time to Dance My Girl – Boogie, Shake it" And finally. "I love You, Puppy Love. "
Okay, or how about this?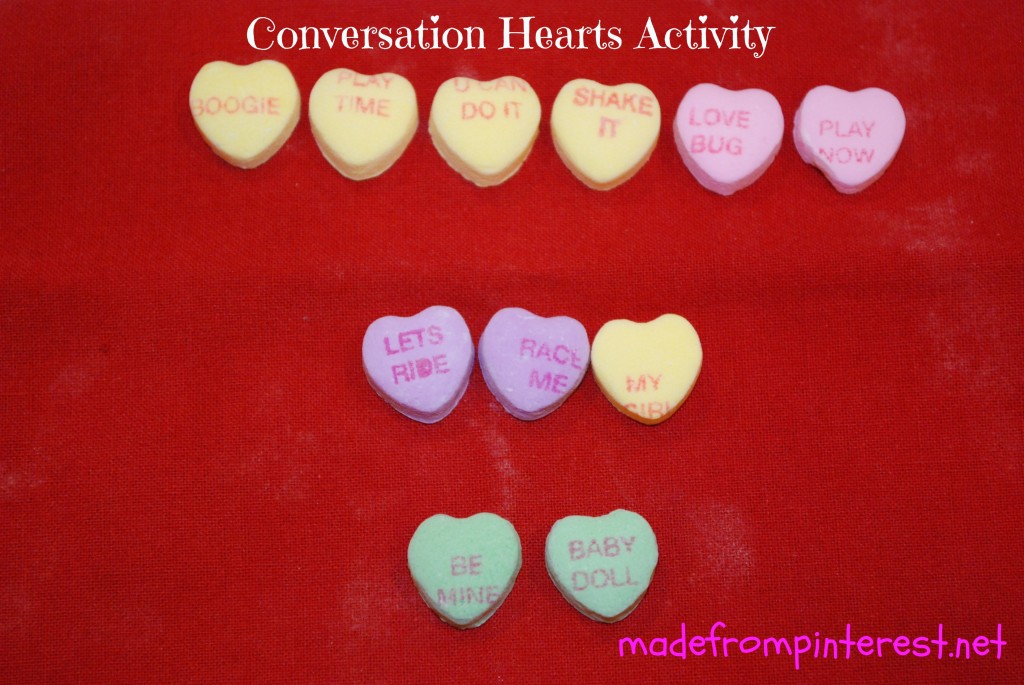 "Boogie Play Time – You can do it. Shake it Love Bug, play now." How about "Let's Ride – Race Me My Girl" and finally "Be Mine Baby Doll"
The possibilities are endless and I promise that all ages will enjoy making their sentences!!
Make sure to include this Conversation Hearts Activity if you are hosting a Valentine's Dinner this year. Your guests will love it.
This Pin Rocks!
We are excited to be linking up with these terrific sites today!