Is fall in the air where you live? It just has started to feel like fall here along the beautiful Wasatch Mountains in Utah. This is my FAVORITE time of year! I love the colors, the change of weather and especially the smells that come with autumn things. How can you think of fall without thinking of apples and cinnamon? YUM!
So on the agenda last weekend was to try and make some homemade crockpot applesauce that I had pinned on Pinterest. Sounds easy enough. And only four ingredients. 8 apples, brown sugar, cinnamon and nutmeg. It couldn't be that hard, could it?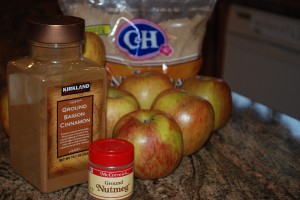 Well, maybe for you it wouldn't be hard, but for me, I should rename this recipe to the 24 hour crockpot applesauce! Geezo Peezo!
IN MY DEFENSE…crockpot temperatures vary, wouldn't you agree? Well, more on that in a moment.
First to peel and cut my apples.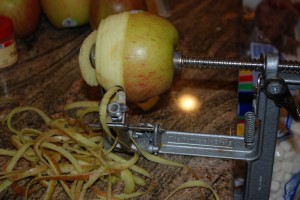 Do you have one of these babies? These are slick! I think I might even be willing to eat a whole week's worth of Kraft Macaroni and Cheese so that I could afford one but luckily I already have one. No offense Kraft.
Peel then cut 8-10 apples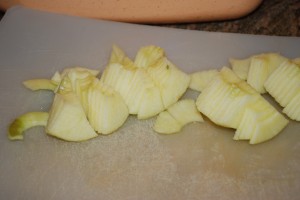 Dump into crockpot. Add 1/4 cup water, 1/2 cup brown sugar, 1 tsp cinnamon and 1/2 tsp nutmeg. Still easy right? Keep reading….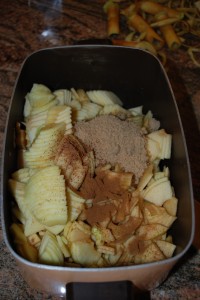 Stir to coat your apples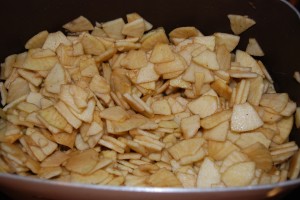 It almost looks like they belong in a pie don't they?
I had started this on a Saturday night and the recipe said you could cook it on "low" for 8-10 hours so figuring I would wake up to warm, gooey, cinnamony applesauce, I put the lid on my crockpot and sent these precious little babies off to bed and I went too. Nighty Nite!
The next morning, with anticipation of an autumny breakfast oozing from my mouth, I woke up to this: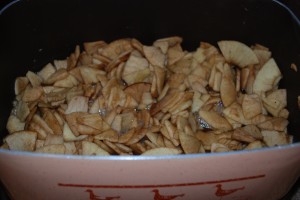 Do you see any difference? Yeah, me neither! Remember the aforementioned statement that crock pots have varying temperatures? Apparently the "low" on my crockpot is extremely LOW! The apples were barely lukewarm and had not broken down during cooking.
So instead of having this for breakfast, I determined to have it for dinner. I turned up the heat, put the lid back on and tried not to peek during the rest of the day.
Right before dinner, I checked and to my delight found this: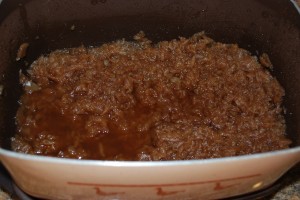 I did need to mash the mixture just a teeny bit but it was the perfect texture and satisfied my craving to eat something "fall-ish".
Applesauce anyone?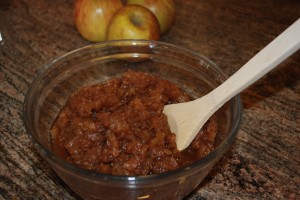 Here is my favorite Crock-Pot that I use to make this dish!