This past week has been bittersweet for our family, we were saddened by the unexpected passing of my father-in-law. It is times like these when families come together to get through tough trials. Monday morning my husband emailed our children sharing the news about his father 's passing.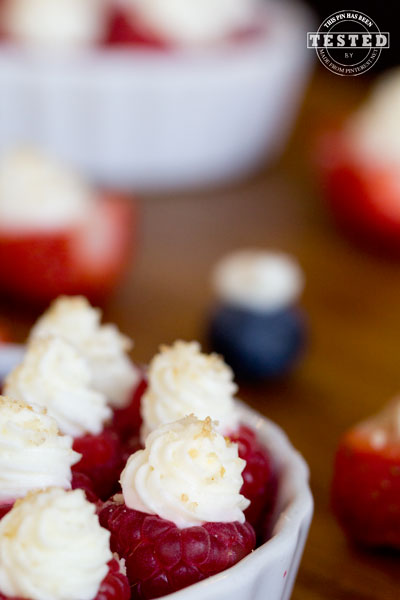 Our two oldest children live out of state, they decided to come into town on Wednesday and stay to attend the memorial service on Saturday. The thought of the kids coming home immediately lifted my husbands spirits.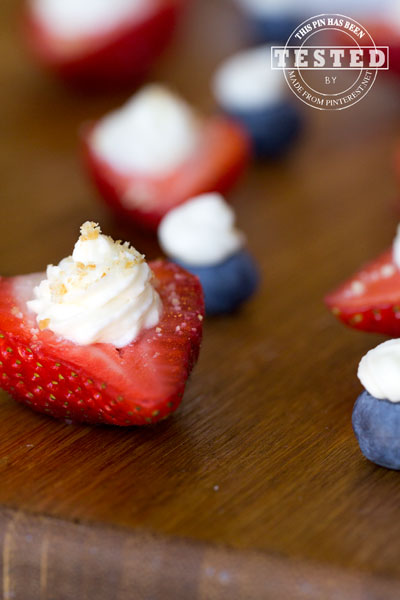 Tuesday morning I woke up, got the kids out the door to school and made my large to do list of all the things I needed to get done before the memorial. I had just finished my list when I heard a door open and wondered who was walking in the house this early in the morning.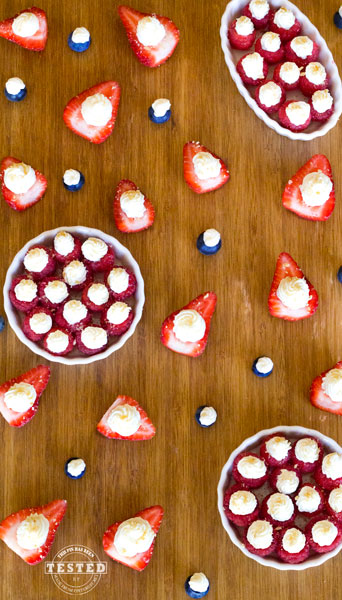 Then I heard the little voice of my darling 15 month old granddaughter. Our two oldest children decided to surprise us by coming home a day early. It was just what we needed to brighten our day and lighten our load.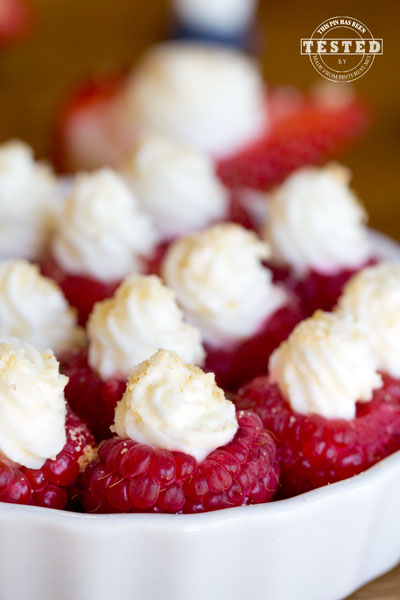 The next few days were spent getting things in order for the memorial service, all of our children pitched in helping where ever help was needed. My granddaughter kept her self entertained by chasing around our 2 kittens. Hearing her laughter when she discovered where the kittens were hiding made everyone smile.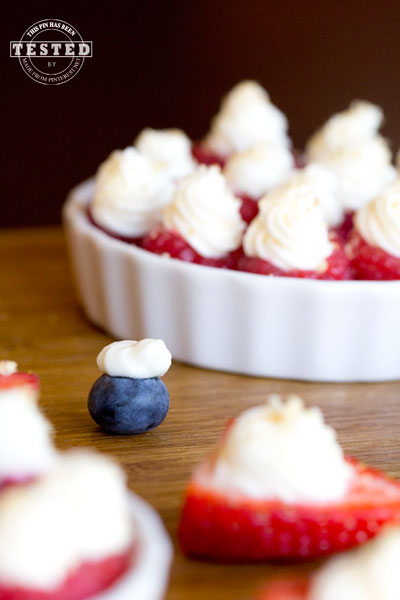 There are many things that can bring comfort at times like these. My husband wanted to have as much time as possible visiting with the family and friends who took the time to attend his father's memorial. Inviting everyone who attended to stay for dinner was the perfect solution. I made sure we had more than enough food for all of us. I would rather send people home with food than have to worry about running short by even one serving. I also made sure the menu included plenty of delicious comfort foods. What was the one dish that was gone early in the evening? These deviled berries, combining fresh berries with this cool, light and tangy fruit filling was a hit with everyone. Thank you Teri and Jenny from Spoon Fork Bacon for the wonderful recipe, everyone agreed…….
This Pin Rocks!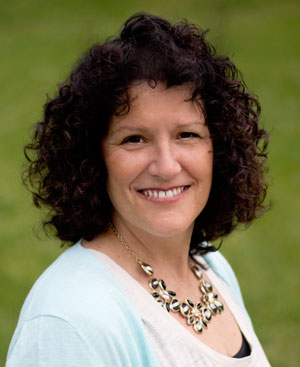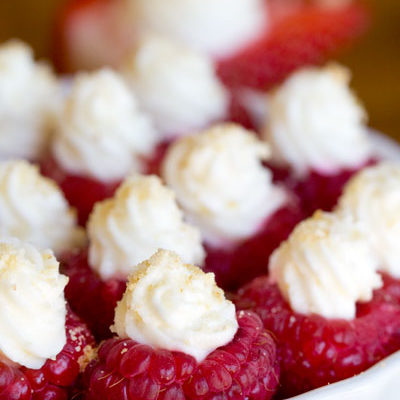 Deviled Berries
Ingredients
1

8 ounce package of cream cheese, softened

2/3

cup

plus 2 tablespoons superfine sugar

1/3

cup

sour cream

1

lemon

zested

1 1/2

tablespoons

fresh lemon juice

1

teaspoons

vanilla extract

1 ¼

cups

heavy cream

16

large strawberries

tops cut and split in half lengthwise

1/2

cup

graham cracker crumbs
Instructions
Place room temperature cream cheese, sugar, sour cream, lemon juice, zest, and vanilla in a medium mixing bowl. Beat together with an electric mixer, until smooth.

Scrape down sides of the bowl and set aside.

In another chilled mixing bowl with use an electric mixer to beat the cream until stiff peaks form.

Fold the whipped cream into the cream cheese mixture until fully incorporated.

Slice the backs of each strawberry, every so slightly, so they sit up straight. Using a small measuring spoon or melon baller, carefully hollow the inner center of each strawberry.

Fill a piping bag or Zip Loc bag (fitted with a star tip) with the cream cheese mixture and pipe into each cut strawberry, raspberry and blueberry.

Finish each with a sprinkle of crushed graham cracker crumbs and serve.
This post is linked to Keeping It Simple, Skip to my Lou, and Making the World Cuter