Happy Summer to all my favorite Made From Pinterest readers! This is Carole from My Kitchen Escapades and I am so excited to be back visiting again this month to share another great recipe with you.
You see this cutie patootie? This is my baby girl who is 4 years old and she has the greatest hair! It is long. It is thick. It holds any style you put it in. It is everything I always wanted my own hair to be but I guess she was blessed with the rockin' hair genes and I was blessed with something else in the gene pool. I'll have to get back to you on exactly what that blessing is because I'm struggling at the moment to come up with something 🙂
Even though she was blessed with amazing hair, she was not blessed with the patience to have it brushed out on a daily basis. I have to keep her distracted by letting her watch Frozen on my iPad while I work through her hair every morning. I also lay on the compliments really thick such as, "You have really beautiful hair just like Elsa's!" That gets her every time 🙂
My other trick I use to get her hair brushed out is this amazing detangle spray. I used to buy it by the case because with three girls, I needed A LOT of detangle spray in the Jones household. About a year ago, I got tired of paying so much for something I knew I could make for myself. After a few different versions, this is my no-fail recipe for detangle spray!
Simply use an empty spray bottle and fill it 1/4 of the way full of hair conditioner. The cheaper the conditioner, the better. Slowly add enough hot water to fill the bottle half way. Screw on the lid and gently shake the bottle to dissolve the conditioner into the water. Add more hot water to finish filling the bottle. Done! Just shake it well before using it and you just saved yourself a ton of money 🙂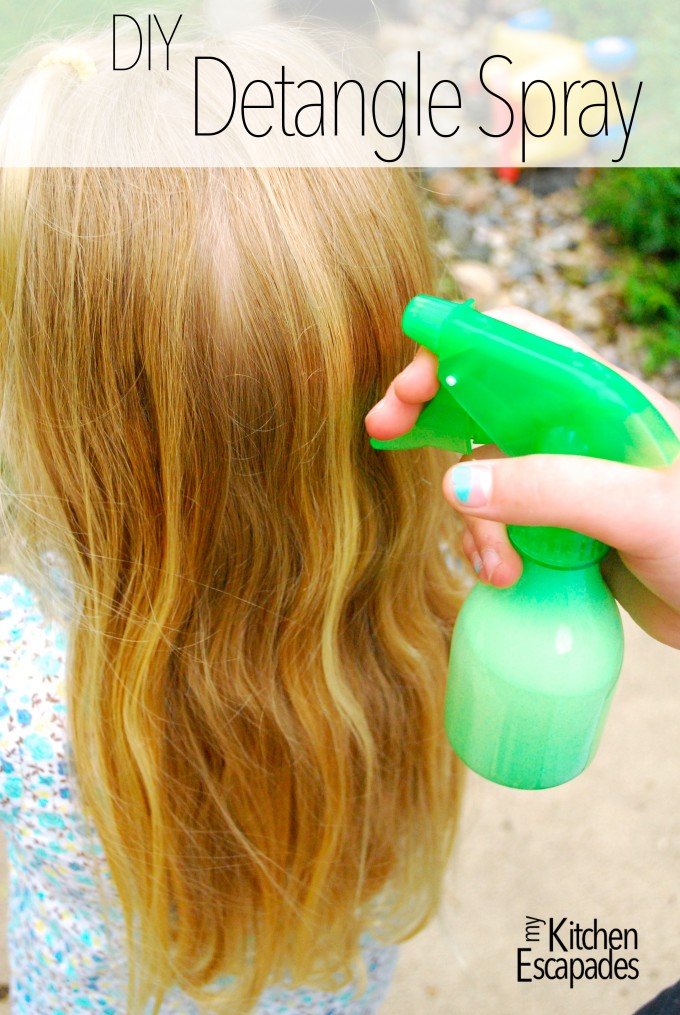 Follow Carole from My Kitchen Escapades on Pinterest, Twitter, Instagram or Facebook!
We're sharing this post with: