This project proves that April showers bring May flowers. The beautiful roses in my vase came from the rose bushes in my back yard. I have three rose bushes: white, yellow and pink. Each bush is in full bloom. Not only are they beautiful, but my kitchen smells wonderful! I was looking for a project that would use my roses and be a great last minute Mother's Day craft project. Since we are so close to Mother's Day I knew I needed something that would be quick and easy. I found the pin I was looking for from Rachel at 52 Weeks Project.
Rachael used Vitrea 160 glass paint. This gave her vase the look of stained glass. When I went to my Hobby Lobby they did not carry the Vitrea 160 line of glass paint. The line of glass paint they carried did not have the colors I wanted. I spoke with the department manager and he told me that I could use any Acrylic paints on glass. I would not end up with the stained glass look, but I would be able to have a wider range of colors to choose from. I went with Delta Acrylic paints. They worked great and even though I didn't get the stained glass look I love the results.
*Please note that if you decide to use the Vitrea 160 glass paint, it will be necessary to let your project dry for 24 hours and then bake for 40 minutes at 325 F. This step is not required if you use Delta Acrylic paints.
Supplies
Glass vase $4.99
Acrylic Paints $1.39- I used 3 colors $4.17
Wooden Skewers – I already had some on hand.
Rust-Oleum Clear Gloss Spray (optional), You can use this to seal your dots. Using this, your vase will go from a clear glass appearance to a slightly frosted glass appearance. I had a can left over from another project.
Total Cost: $9.16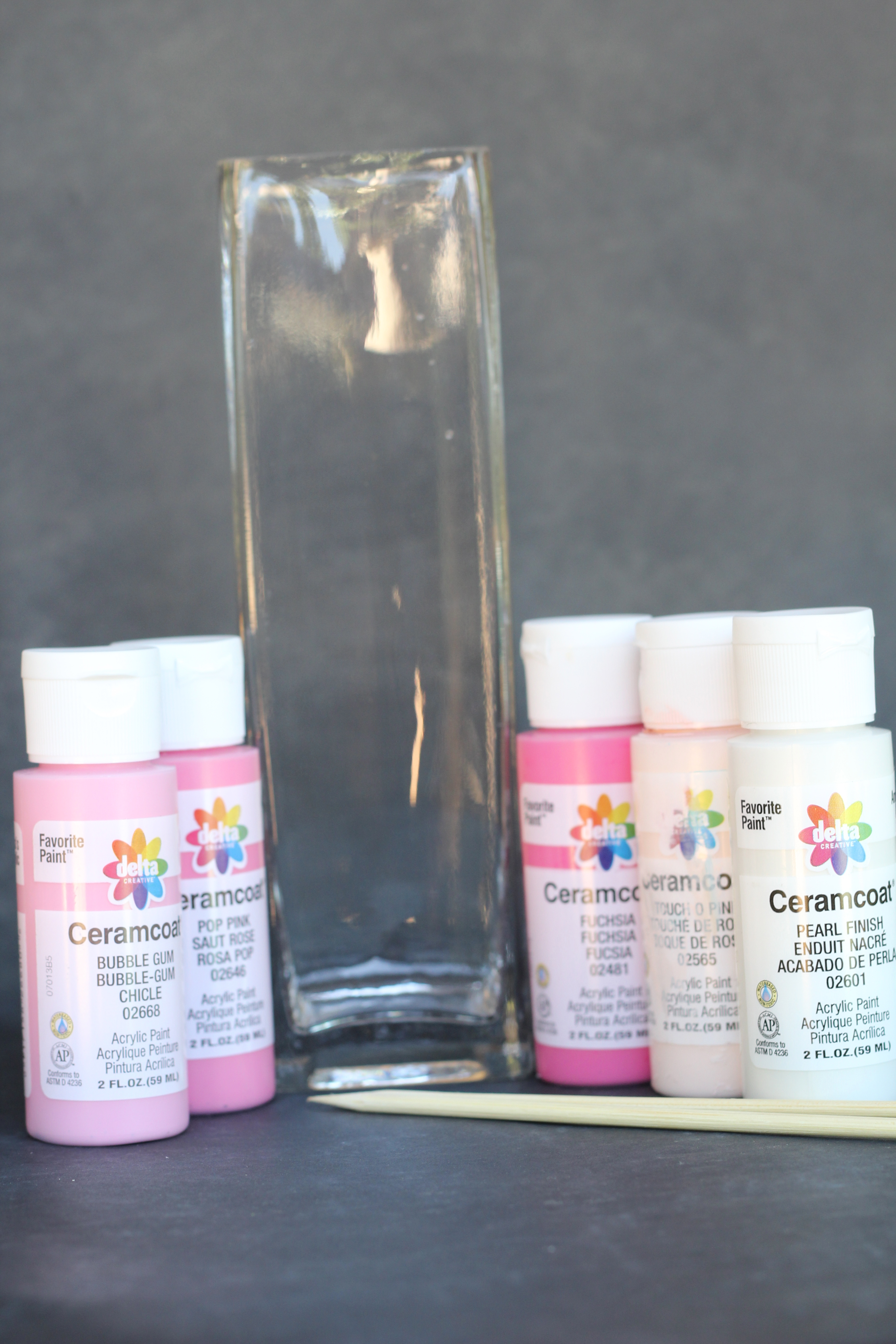 Dip the large round flat end of your skewer into the paint color of your choice and make some wide spread dots. Don't do too many dots or place your dots too close together. You want to leave plenty of room for additional dots in different colors. If it is too sparse you can always add more later.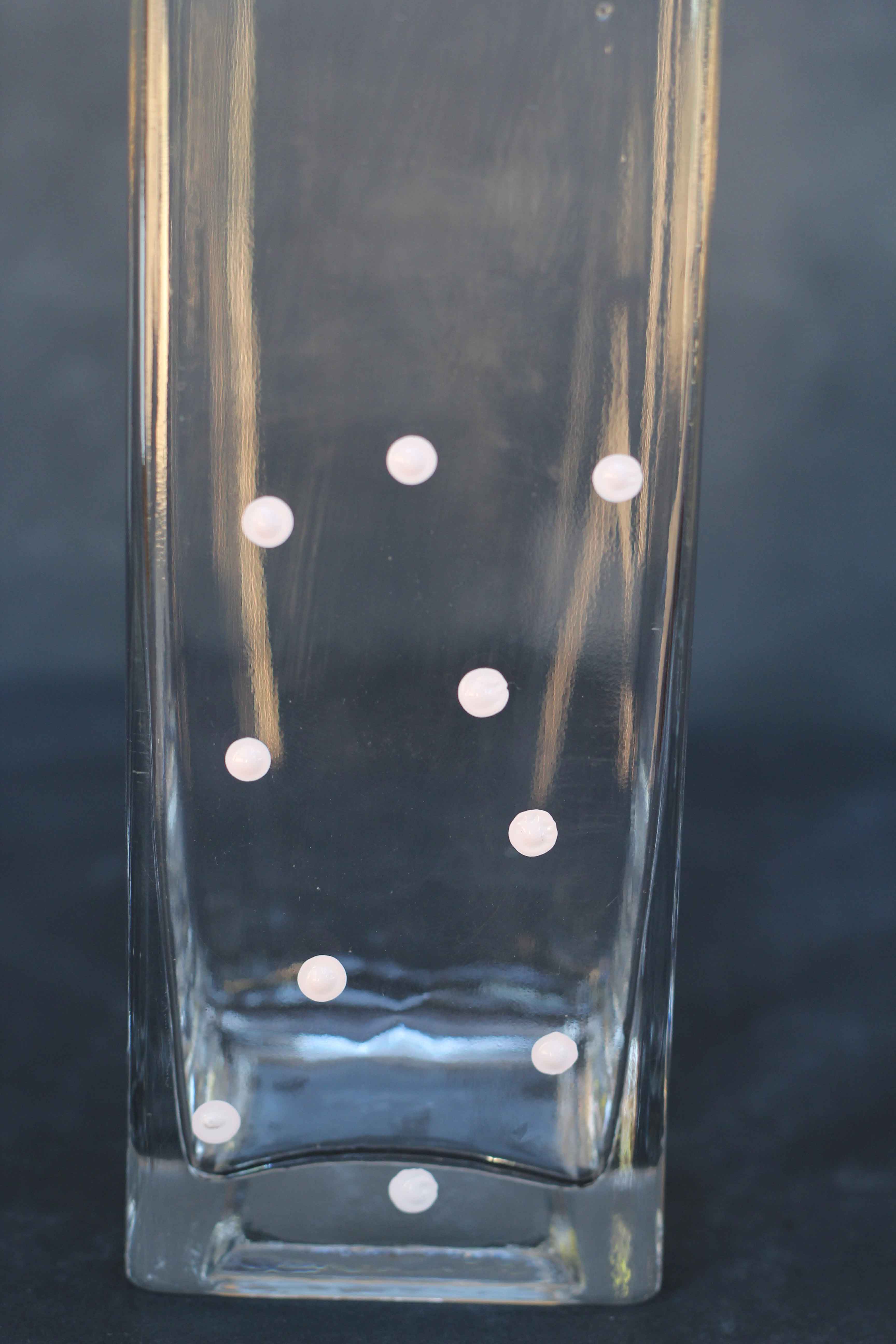 Use the large flat end of the skewer to add more dots with your second color.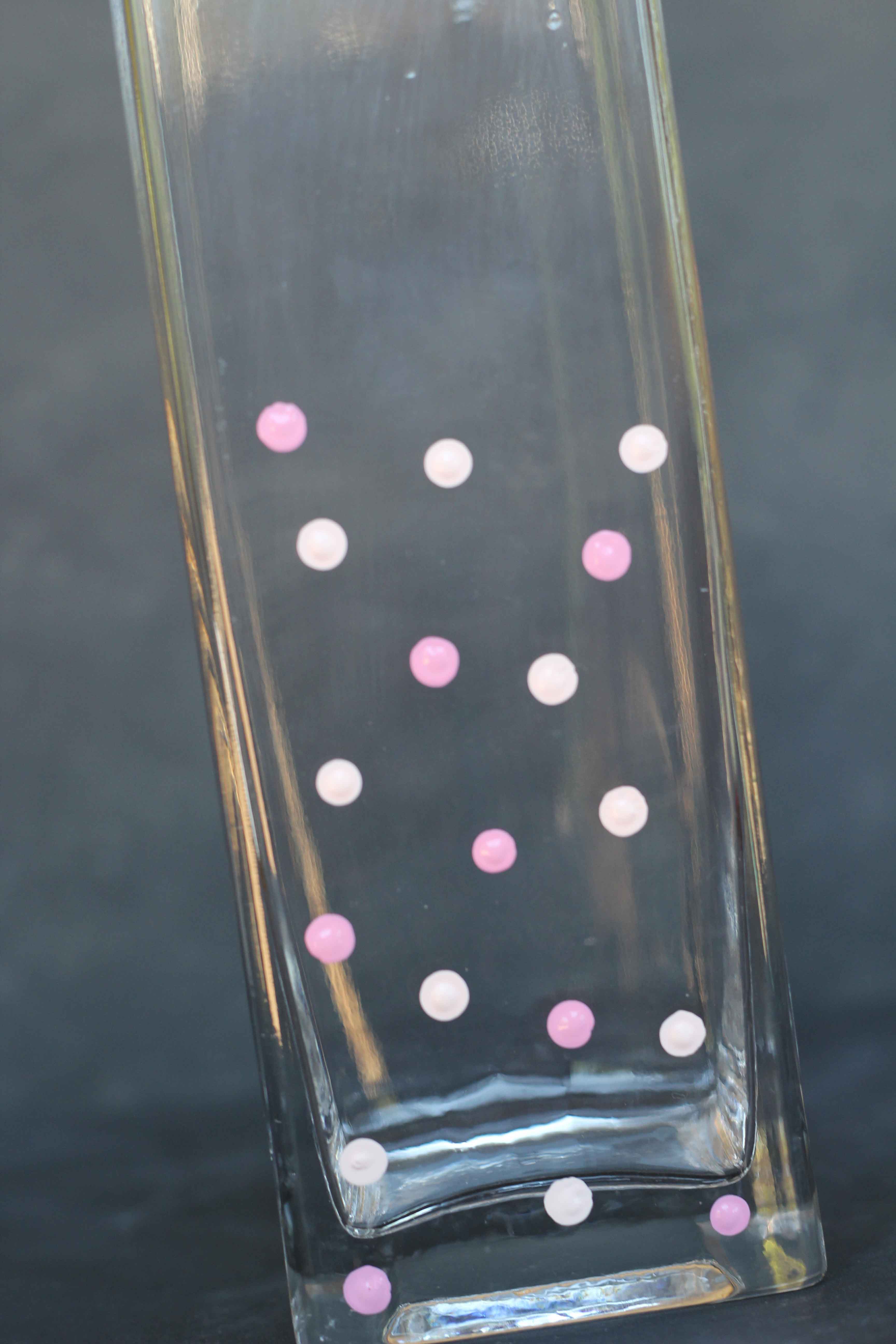 Using the pointed end of your skewer, make smaller dots in between your larger dots until you get the look you want. Allow your project to dry for at least 3 hours. You then have the option of adding a coat of clear gloss spray. This will give it the frosted glass look.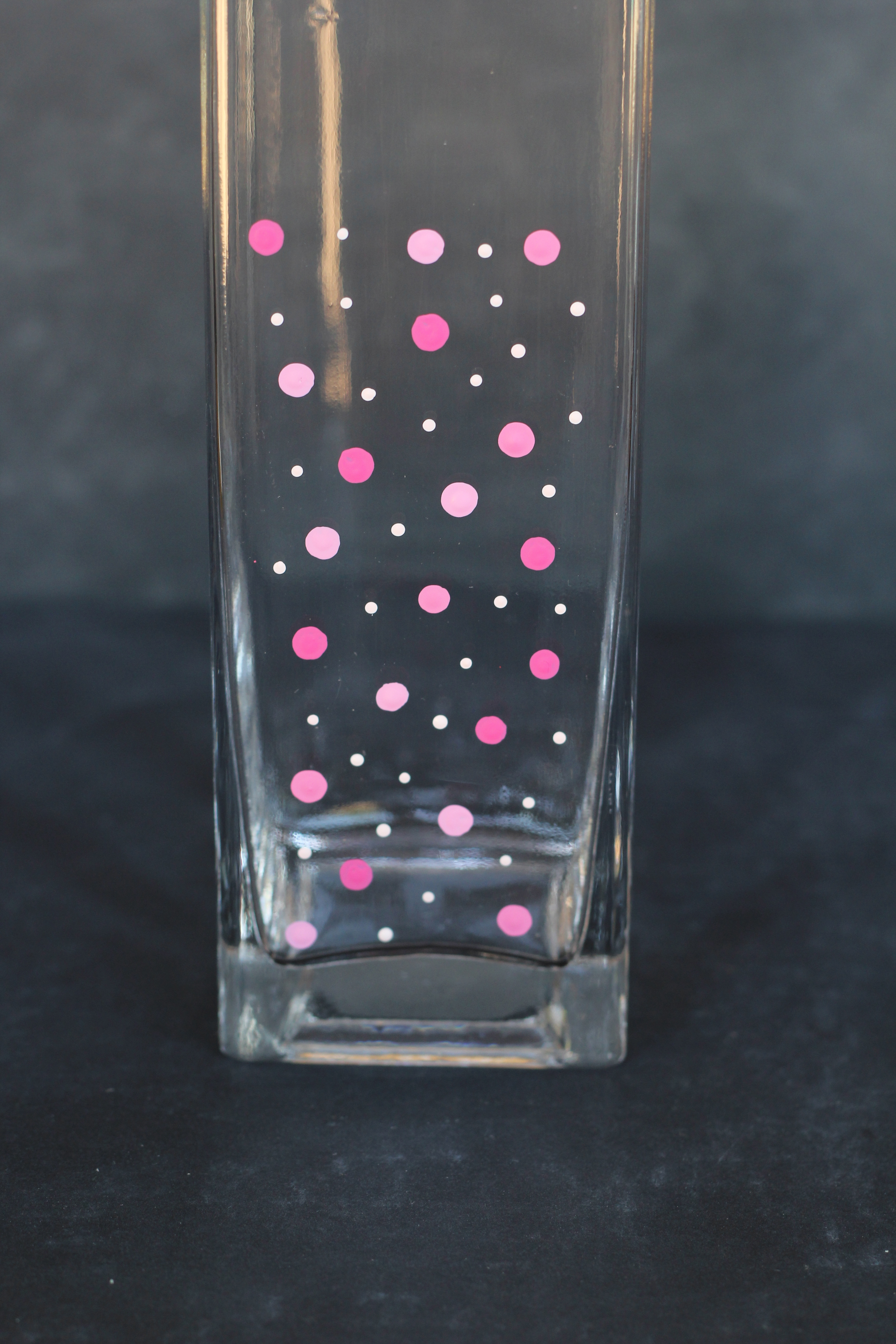 Here is a close up of how it looks when finished. If you do not use the clear gloss spray to seal your dots, it will not be dishwasher safe. Be sure to always hand wash gently.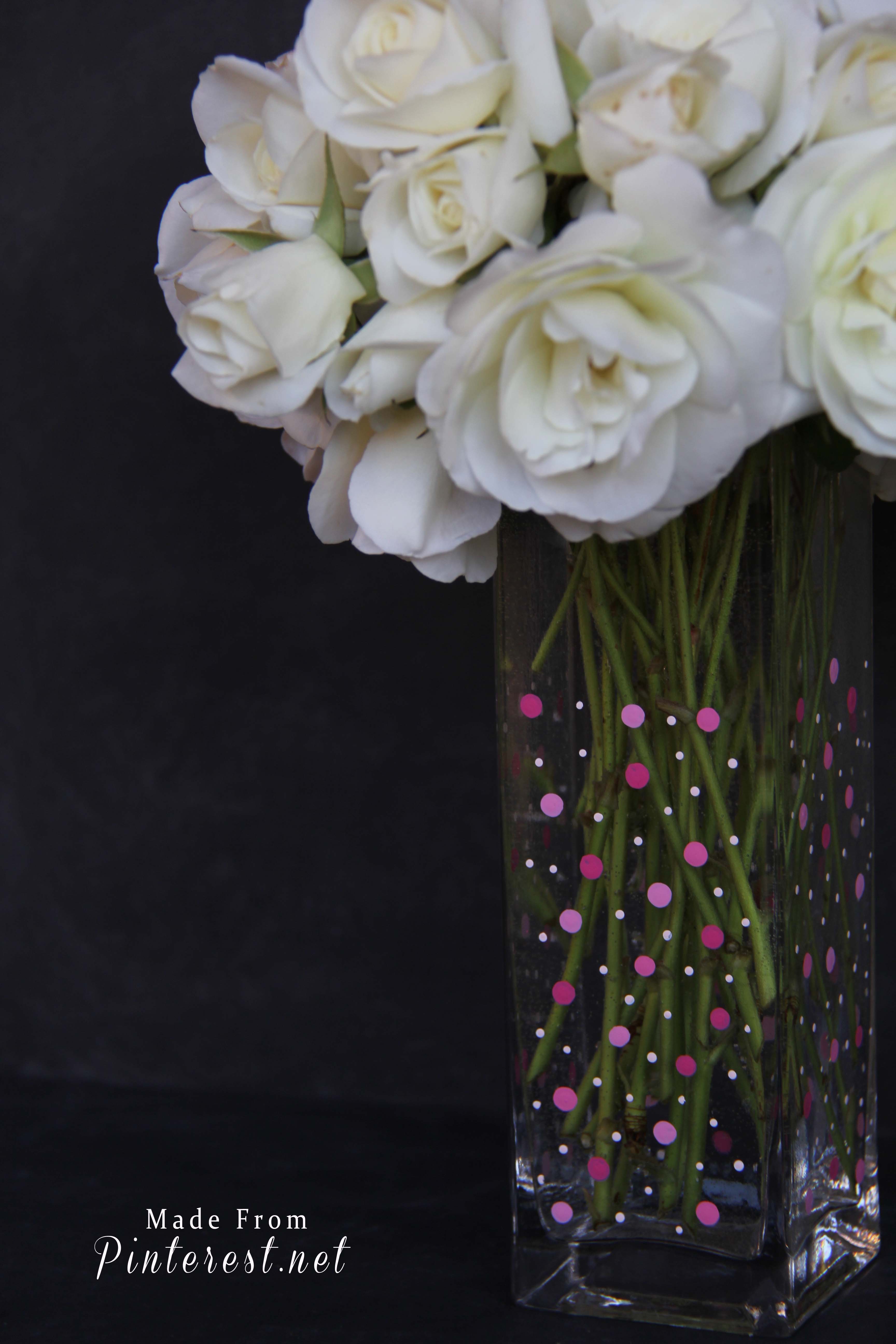 This only took 20 minutes to make, and I'm in love with the results! These would be fun to make for holiday centerpieces. I'm thinking of orange, black and purple for Halloween, browns, yellows and deep reds for Thanksgiving. The possibilities are endless!
Yup, This Pin ROCKS!
Love to link with: Conerstone Confessions, Reasons to Skip the Housework, Mandy's Recipe Box, Skip to my Lou, A Pinch of Joy, Flour Me With Love, I Should Be Mopping the Floor,