Here in Florida, it's 94 degrees outside with no sign of reprieve for a few months yet. Even so, I've flipped my calendar to September and it just seems that fall should be poking its frosty nose around the corner any minute now. Well, maybe for you folks up north. Me? I will just be dreaming of changing leaves and cooler temperatures. Part of that dreaming means means putting up a few decorations that celebrate fall — even though it doesn't exactly look like it outside! This DIY Fall Leaf Bowl will be the perfect addition to put on the table and do a little wishful thinking.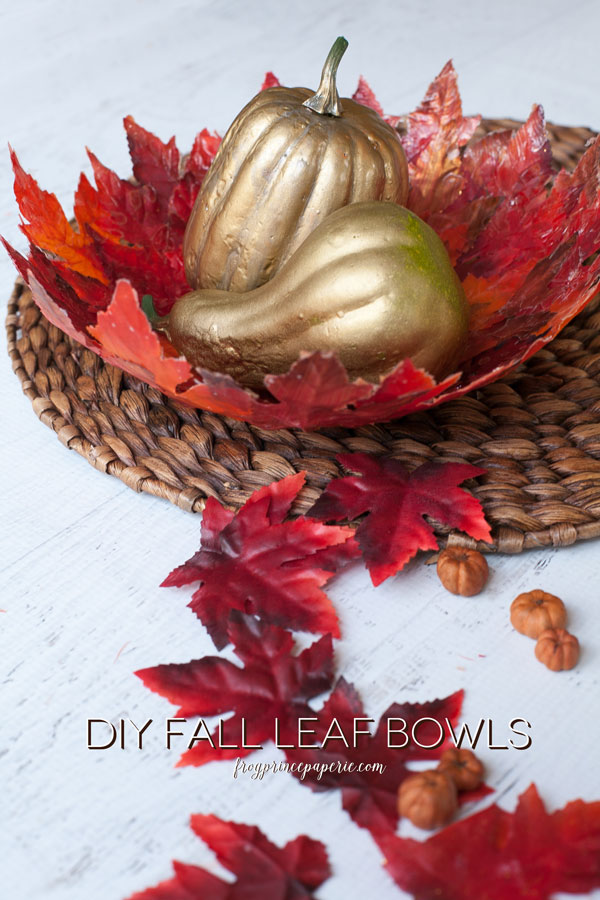 Now, when I got to thinking about a fall craft I saw this DIY fall leaf bowl in so so many Pinterest posts that I had to go explore the project. I figure when more than one crafty gal has made an attempt at a project it must be good, right? That is until I started reading the comments on these posts…so many fails! I was a bit leery about trying it myself, but with the small material investment these need and a forearmed with a lot of reading on best methods, I took the plunge! When my DIY leaf bowl came out just perfect, I was more than happy with the results, and I'm thrilled to be able to pass this how-to on.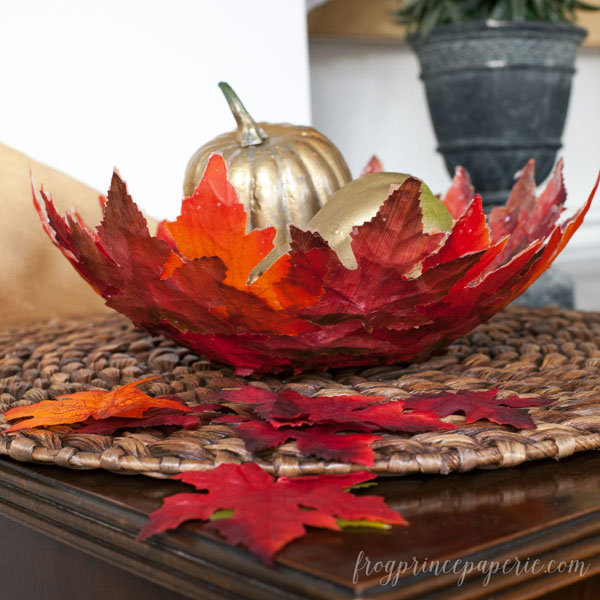 Materials:
Plastic wrap

50 or so fabric leaves (purchase at the Dollar Store for best value)

Fabric Stiffener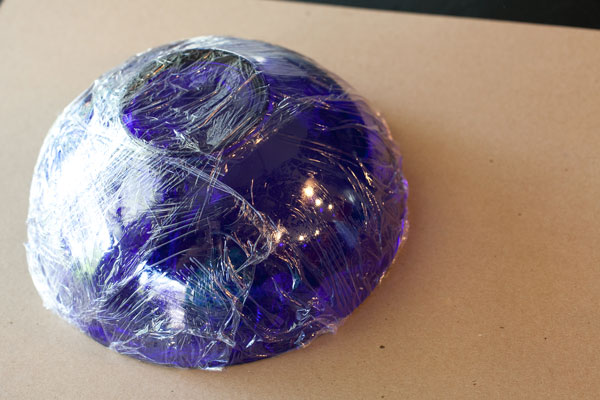 Find a nicely shaped glass bowl that is a fairly good size in your cupboard and cover the outside in plastic wrap.
We'll start making the bowl in a minute, but one step you really need to take to get your leaves to stick flatly to the bowl is to iron them all as flat as you can. If you've bought some leaves with a plastic stem, take that part off entirely, then iron them out. Even the Dollar Store ones that come without plastic pieces will need ironing. They aren't going to go entirely flat, but do as much as you can! For the record, I bought two bags of leaves and just sorted out the red to red-orange leaves that I liked most to use.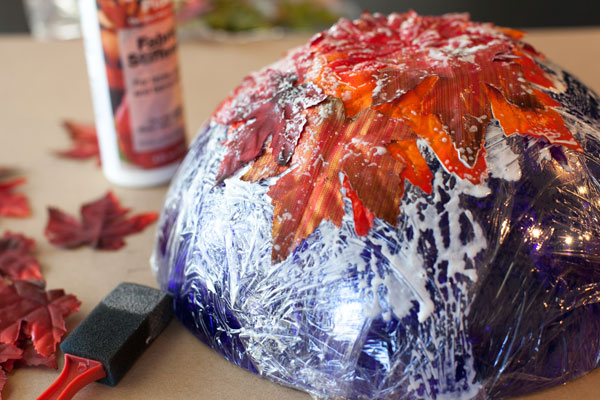 Now we start making our bowl. I read a lot of tutorials that used Modge Podge instead of fabric stiffener. If that's all you have, it does work, but there were a many more people with bowls that didn't work out with it. Fabric stiffener is really inexpensive and you could easily make 9 or 10 bowls with what comes in a small bottle.
I painted a layer of fabric stiffener onto the plastic wrap before I started laying on my leaves. Looking back, I don't know if that was necessarily needed, but it helped keep them in place as I added them to the bowl. Place your leaves around the bowl so they overlap, painting the back of each one with fabric stiffener and adding leaves until you cover the bowl. For mine, I made sure all the bottoms of the leaves pointed to the bottom of the bowl so when it was un-molded all the leaves would prettily point up and out. For good measure, I spread an extra coat of stiffener over the leaves once everything was in place.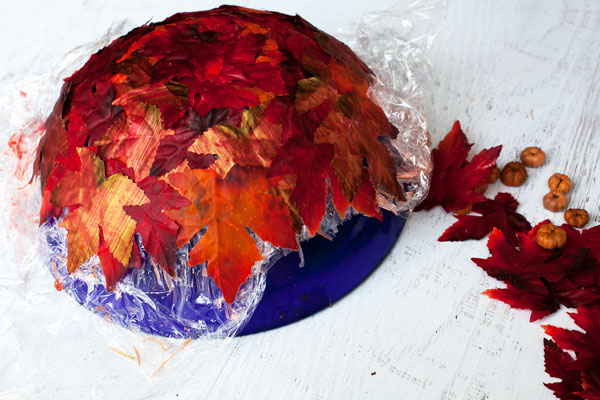 Let your leaf bowl dry completely. I left mine overnight so there was no question as to its level of dryness. Take the plastic and leaves carefully off you glass bowl. It *should* come off fairly easily. Gently coax it off if it gives you any trouble. Everything is going to be one solid sheet of flexible leafy glue, so you'll be fine bending it around a bit if you need to.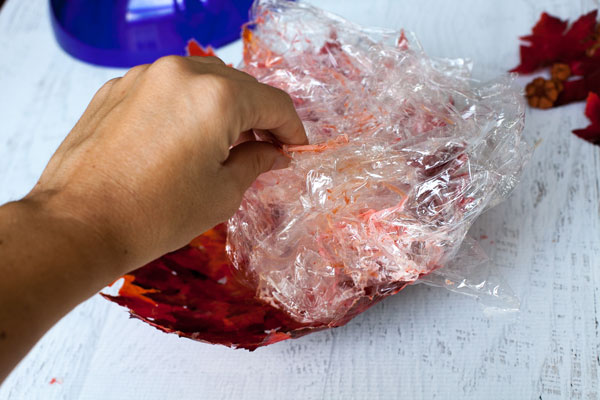 Once the leaves are off the bowl, carefully peel out the plastic. There were a few little pieces of extra glue I had to pick off the tips of my leaves, but after that, you'll be ready to make your DIY Fall Leaf Bowl a pretty decoration for the season!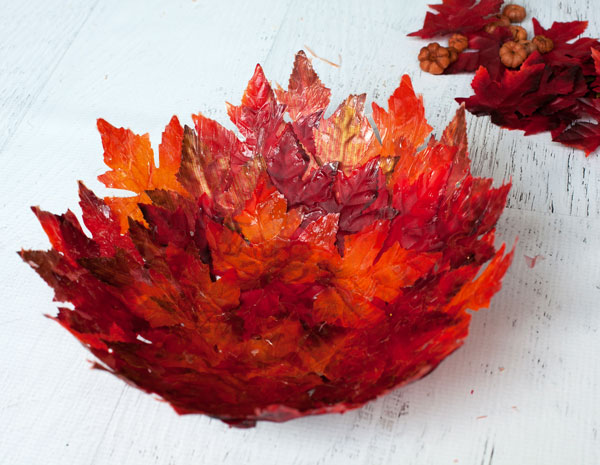 The bowl is fairly light weight, so it won't be as sturdy as a glass bowl, but it will certainly be able to handle a few pine cones or faux pumpkins!
Thanks again to MFP for asking me to be a regular contributor! I'd love it if you'd stop on by Frog Prince Paperie for party inspiration, and maybe find some tutorials and recipes for a few other holidays, too! You can also find me on Facebook, Pinterest, Instagram, Twitter and Google+.
A FEW OF MY MOST POPULAR POSTS: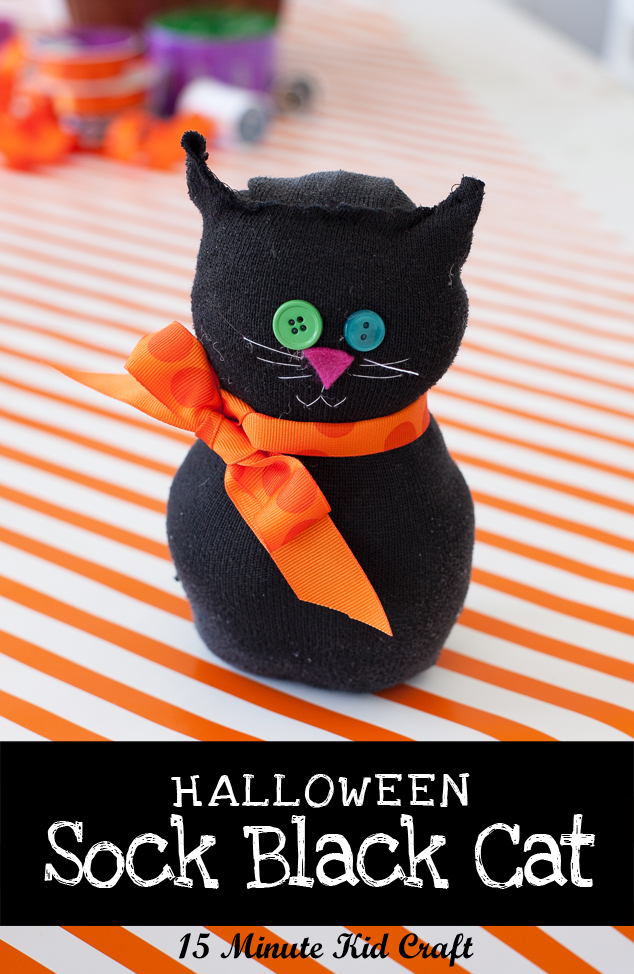 Halloween Sock Black Cat – a 15 minute craft perfect for kids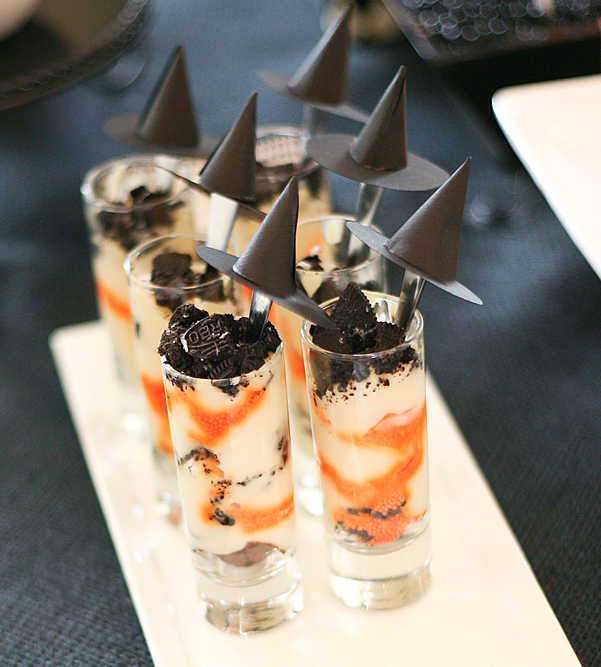 Bewitching little Perfectly Poisonous Parfait recipe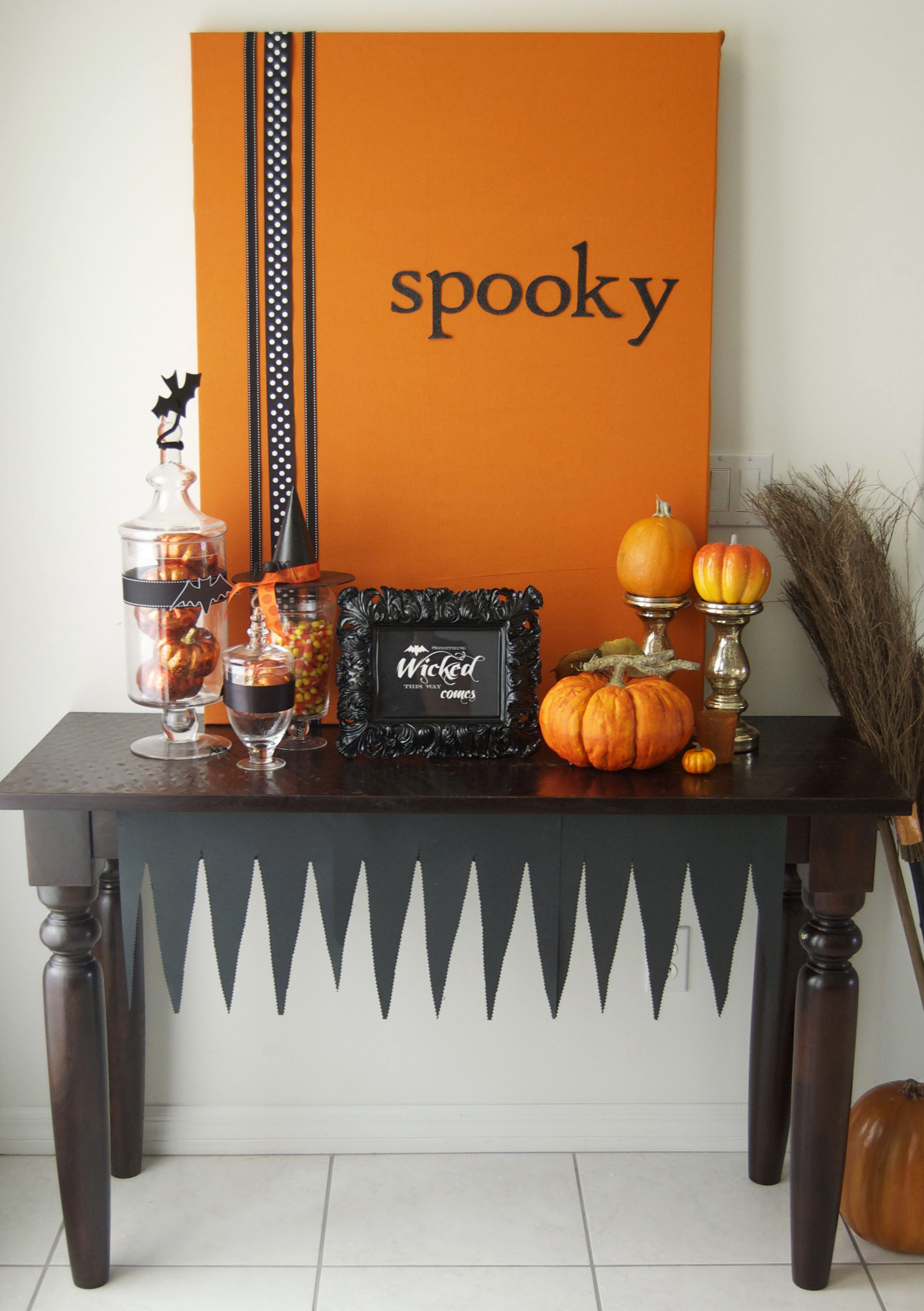 Hallway table display and Free Printable "Something Wicked this way Comes" Picture