Hey there! It's Mandy from Mandy's Recipe Box and I'm back with such an easy meal. It says it right in the name: Easy Mini Meatloaves. These are so simple to make and my kids loved eating them like cupcakes with their hands.
The bottoms are biscuits from a can and then topped with meatloaf, cheese, and ketchup. You could change it up and add barbeque sauce instead, which would be delicious! That's how my dad would make meatloaf. With BBQ sauce. I love it that way. These only take 30 minutes to bake and dinner will be ready in no time!
Ingredients
10 refrigerated biscuits
1 lb ground beef
1 cup ketchup or BBQ sauce, divided
1/2 cup onion, chopped
1 egg
1/4 cups quick-cooking oats, uncooked
1 cup shredded cheddar cheese
Directions
Divide and press biscuit dough into the bottom and up the sides of 10 greased muffin cups. Set aside.
In a bowl, combine beef, 1/2 cup ketchup, onion, egg, and oats; mix well.
Shape into 10 balls and place one in each muffin cup. Spread remaining ketchup on top and sprinkle with cheese.
Bake uncovered at 350 degrees F. for 30 minutes, until done.
You may also like these recipes: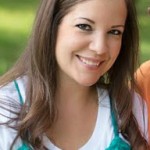 Connect with me…
Thanks so much Mandy for a great summertime dinner!
We're sharing this post with: