There have been a few times when I have been disappointed with the gifts my husband has given me. One year for Mother's Day he gave me a storm door. Not romantic. Don't remember that among the many hints I threw his direction. I tried to drum up excitement.
Turned out, it was an awesome gift! My husband noticed that I like to have the windows and doors open as often as possible. So he bought me a storm door, so that I could have the door open. The glass even slid down on the top half and pulled down a screen, so I could even get fresh air in the nicer weather.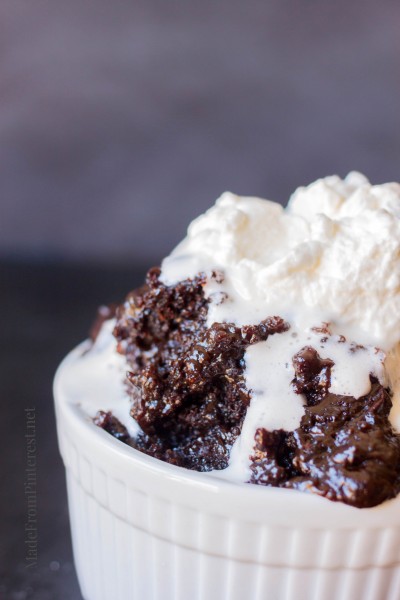 This makes me seem ancient, but another gift from him I thought I didn't want was a CD player that could hold 60 CD's (Loving my iTunes these days!). Wasn't on my wish list. He noticed that I have music on all the time, so thought I would enjoy the continuous music. He was right. It was perfect! I used that thing every day until technology made it obsolete!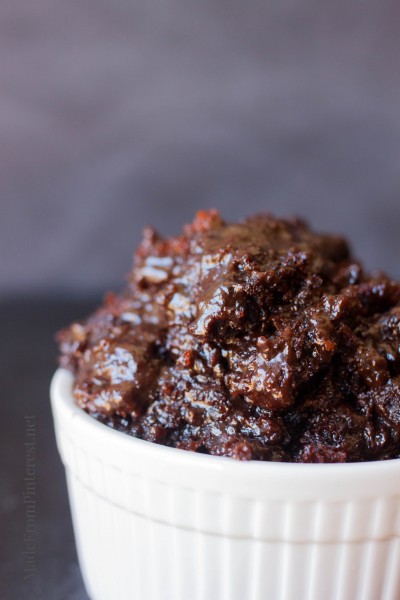 When I was approached by Crock Pot to see if I would like to try out their new web enabled slow cooker which allows you to adjust the settings from any smart device, I thought, I could use a new Crock Pot. Don't know why I would need the web. I mean, the best part about crock pot cooking is that it is so easy. You set it and just forget about it. And forget about it is what I did.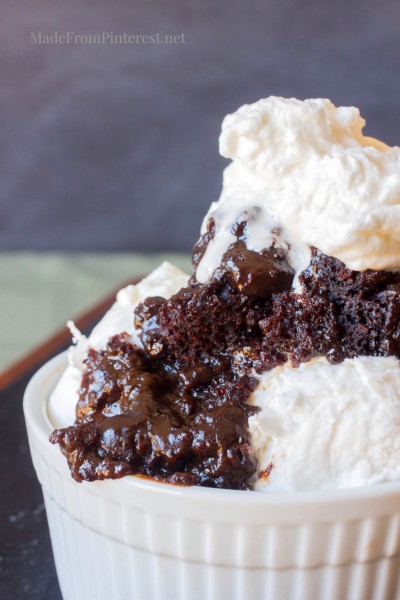 I threw everything together for this Easy Molten chocolate Lava Cake and put it into my fancy new Wemo Crock Pot. And as I drove away to take my daughter to school, I realized I had forgotten to start the Crock Pot. No worries, I handed her my phone and while I drove, she used my phone to set the Crock Pot to low and set the timer for three hours. Phew! This chocolate comfort food was still going to be ready when we got back from practice.
But, practice took longer than I thought. My hubby called to say that the cake looked done and with a touch of panic in his voice said, "What do you want me to do?" Since I already had my smart phone in hand, I told him, "Don't worry, hon. I got this."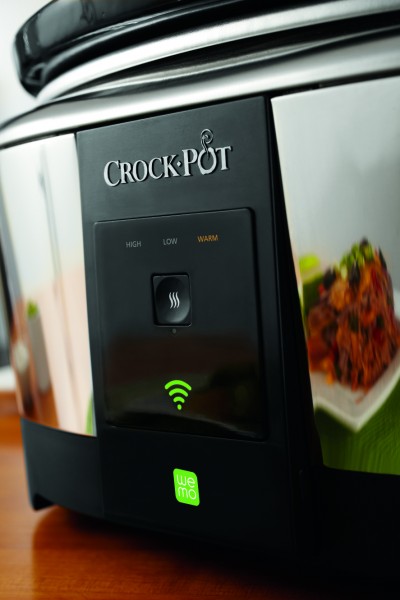 Once again, it turned out that something I thought I wouldn't use, is pretty darn convenient! It is easy to set up too. Just download the app to any smart device and follow the instructions. Once it is set up, you can adjust your Crock Pot to suit your changing schedule, or save the day when you forget to start it in the first place! And it gives you a count down and tells you when dinner (or in this case, dessert.) will be done.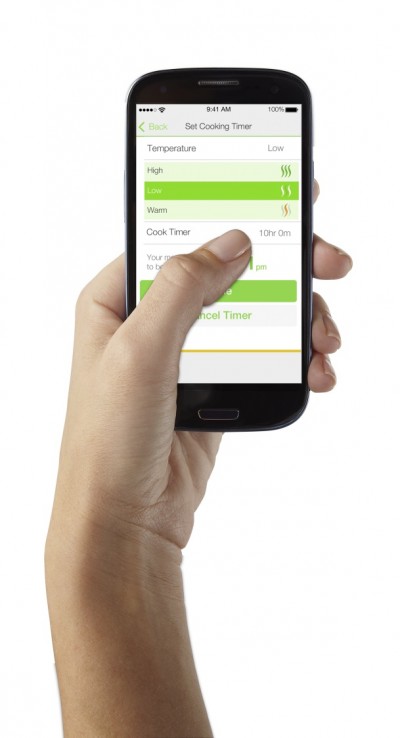 When you get yours, I recommend your first recipe be this Easy Molten Chocolate Lava Cake. It is made of chocolate, chocolate and chocolate! Chocolate cake, chocolate pudding, and chocolate chips. Triple chocolate threat is my kind of Crock Pot cooking! I recommend lining your Crock Pot with either parchment paper or Crock Pot liner for easy cleanup.
This cake I found at the Crockin' Girls makes its own chocolate sauce, it's that good! Its like magic, the way the cake batter starts on bottom and rises to top. When it is done, there will be little tunnels of bubbling chocolate lava bursting through the top layer of cake. Rich and ooey gooey it is best over ice cream and topped with fresh whipped cream.
This pin rocks!
Want to win a Wemo Crock Pot for yourself? We are running a giveaway exclusively for our

Instagram

followers. Join us on Instagram and tag a friend to our Crock Pot photo by Tuesday September 22 to enter. You may enter as often as you like. This Crock Pot is not yet available in stores. You can be the first!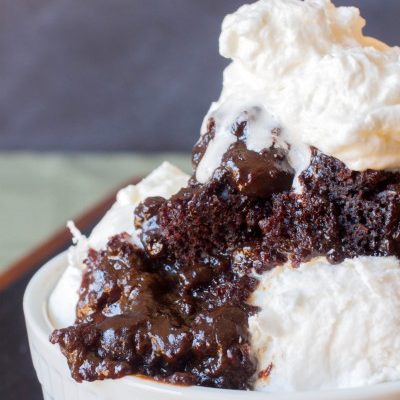 Easy Molten Chocolate Lava Cake
Ingredients
1

box chocolate cake mix

eggs

oil, and water according to box instructions

2

cups

milk

1

small box instant chocolate pudding

1

12 ounce package semi-sweet chocolate chips
Instructions
For easy cleanup, line Crock Pot with parchment paper or slow cooker liner found near ziploc bags in the grocery store.

Prepare cake batter according to cake mix instructions on the box and pour into slow cooker.

Whisk milk and chocolate pudding mix until thoroughly combined. Pour over cake mix.

Empty the bag of chocolate chips over the cake and pudding.

Set Crock Pot to low for 3 hours.

Cake is done when top is just barely set and there are tunnels of bubbling chocolate sauce breaking the surface. May require more time based on temperature ands size of your Crock Pot.
This is a sponsored post. I received a free Wemo Crockpot as compensation. I do not recommend any product that I do not truly love, and this is really rather nifty!
This post has been shared with: Tatertots and Jello, Whipperberry, and Living Well Spending Less