Fresh Blueberry Hand Pies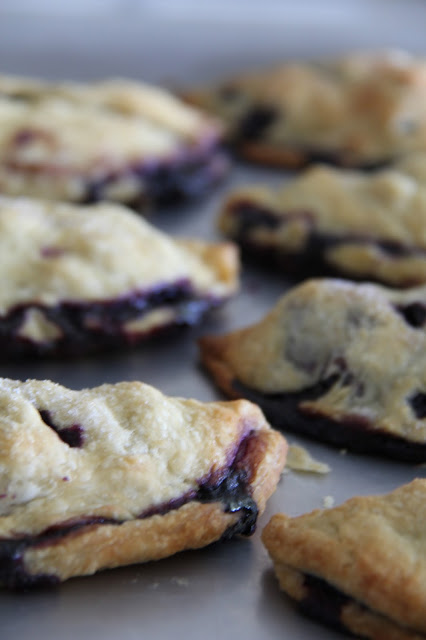 It's July. Hooray for the Red, White and BlueBERRIES! Is there anything better than fresh blueberries? I love handfuls on my morning yogurt, cereal and in smoothies. There's never a better time to enjoy a fresh fruit pie than in the summer months. My hubby's favorite pie- anytime of the year is my Bountiful Blueberry Pie. I wanted to surprise him last week, so I made these cute little Fresh Blueberry Hand Pies.
Who doesn't love a hand pie? All you have to do is say "hand pie" to get someone's attention. Try it. I guarantee people will stop what they are doing and listen 🙂 You know that old saying – The best way to a man's heart is through his stomach? Absolutely true.
Especially when you're making his favorite dessert.
I used my all time favorite crust in this pie. If you've never made home made crust, this is the one to try. It's simple and very forgiving. So easy to work with. Here's a step by step tutorial (for a homemade apple cranberry pie) that will walk you through and show you crust and pie assembly. If you make yourself familiar with crust making now, you'll be a pro by holiday time! These hand pies are the perfect way to start out. Read the whole recipe first, and the tips following the recipe. I've posted oodles of pie recipes on A Bountiful Kitchen, each one with tips to help you become a master pie baker! Come by and take a look.
Hope to see you soon!
Si from A Bountiful Kitchen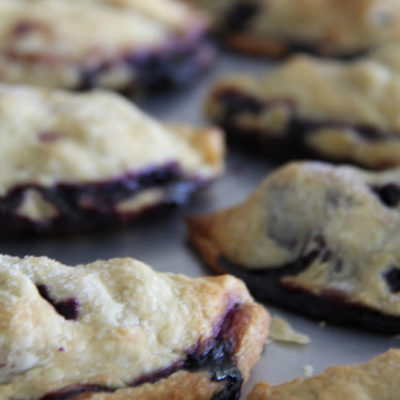 Fresh Blueberry Hand Pies
Ingredients
4

cups

or 2 pints fresh blueberries

washed and drained

1

cup

sugar

2

tablespoons

fresh lemon juice

and grated zest from lemon

1

teaspoon

almond extract

optional

3

tablespoons

Tapioca

dry

sugar for sprinkling on top

granulated or raw

one egg

beaten (optional)

Pie Crust- recipe below
Instructions
Place 1 cup of fresh berries in a medium saucepan. Bring heat to medium high, add sugar. Smash the blueberries with the back of a large spoon, or a potato masher to break berries. Mix the berries with the sugar, fresh lemon juice, and lemon zest. Cook until all of the berries burst or are smashed and the mixture bubbles a bit, about 5 minutes. Continue to stir during cooking so berries and sugar do not burn. Turn off heat. Add almond extract, dry tapioca and remaining berries to cooked mixture in pan. Mix well. Let sit in pan for about 5-10 minutes while making crust. It is fine to let this sit in pan the entire time you are preparing the pie crust.

Meanwhile, prepare crust. Follow directions for pie crust recipe.

Lightly grease two jelly roll or baking sheets.

Preheat oven to 425 degrees.

Generously flour clean counter top or surface. Using a round lid ( I used a 6 inch diameter lid) roll out half of the dough to about 1/8 inch thick. Press the lid into the dough to make 3-4 circles.

Spoon about 1/4 cup of filling into the center of each circle. Fold over the circle to meet the opposite edge and crimp edges firmly to seal. Gently place on baking sheet. Brush with beaten egg wash if desired, cut small slits for steam to escape and sprinkle with sugar. I bake about 4-5 hand pies per baking sheet. Repeat with remaining dough and filling. Bake hand pies for about 15-18 minutes or until golden brown.

Remove from oven. If some of the sugars from the filling have seeped out, use a spatula and carefully remove the pie from the baking sheet to another surface to cool immediately after finished baking. This will prevent the hand pie from sticking to the surface of the baking sheet as it cools.

After the pies are cooled, sprinkle with additional sugar.

Yield: about 8- 6 inch hand pies
Notes
Tips:
-You may use frozen blueberries, if using frozen do not thaw before using.
-Depending on the juiciness of the berries, you may end up with (up to) 1/2 cup of liquid in the pan after cooking the berries. If so, make sure to mix all of the ingredients well in the pan before spooning onto the crust. The sugar will dissolve and the tapioca pearls will settle to the bottom of the mixture, so make sure to get to the bottom of the mixture each time you spoon fruit onto the round of pastry. If you end up having a bit of liquid leftover in the pan, no worries. I used a slotted spoon to remove the fruit from the pan, which worked well because my berries were quite juicy.
-The tapioca will not dissolve completely before baking. You will still be able to see the little specs of tapioca as you spoon out the fruit onto the dough. They will dissolve as they are baked.
-I have dry food storage and used a large white lid from one of my cans for the template to cut out my hand pie crust. You could also overturn a bowl and run a knife edge around the edge of the bowl for a template.
-The best way to store any leftovers is on a plate uncovered in a dry climate. If you are in a humid climate, cover with foil or Saran Wrap. Best eaten the day they are made!
-For tips on making pie crust, read original post on Best Flaky Pie Crust.
Best Basic Flaky Pie Crust
Ingredients
2 cups flour
1 teaspoon salt
1 cup shortening
½ cup very cold water
Instructions
Mix flour and salt. Cut in shortening with pastry blender or knives. Add water. Stir with fork until flour is absorbed and dough comes together.
For more great recipes from A Bountiful Kitchen, check these out!