This is a Sponsored post written by me on behalf of Honeywell International Inc. for SocialSpark. All opinions are 100% mine.
A few months back, I posted about the upcoming opportunity to try out an amazing new product, the Honeywell Wi-Fi Smart Thermostat with Voice Control. Well it has arrived and I have been giddy ever since!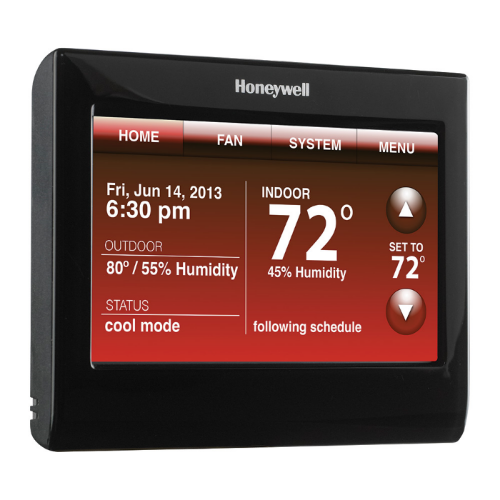 The Honeywell Wi-Fi Smart Thermostat with Voice Control is a hoot to use! It installed in minutes and was connected to the internet in minutes also. Then the fun began! After testing it out a little bit, even my electrician said that he wanted to get one!
If you are close to the thermostat all you have to do is say "Hello Thermostat" and the thermostat responds with "Hello. Please say a command"
Wouldn't it be great if our kids responded that way?
Hello Mom. Please give me a command.
Sigh….we can only wish!
But back to the thermostat! Next you can instruct the thermostat to make it cooler or warmer and can even determine by how many degrees.
"Make it 6 degrees warmer" And boom. It's done.
But my husband wants to know why it doesn't respond to his voice. Do I REALLY have to tell him how this thermostat works? Cause I kinda really love being in charge of this device!
Here are some of the features that I think are super cool:
(1) Voice Control: Pre-programmed voice commands allow you to tell the thermostat to raise or lower temperature.
(2) Control from anywhere through Honeywell's highly-rated and free iOS and Android mobile app.
(3) Smart Response that learns your heating and cooling cycle times to deliver the right temperature, right when you want it. This is great! I went to change the temp and found that it had already been changed because of their Smart Technology
(4) Simple setup
(5) Easy-to-read color touchscreen can be customized to fit your mood, match your paint, or support your favorite team. My favorite color is green. Guess what color our thermostat is set to? Do I REALLY have to show my husband how to work this??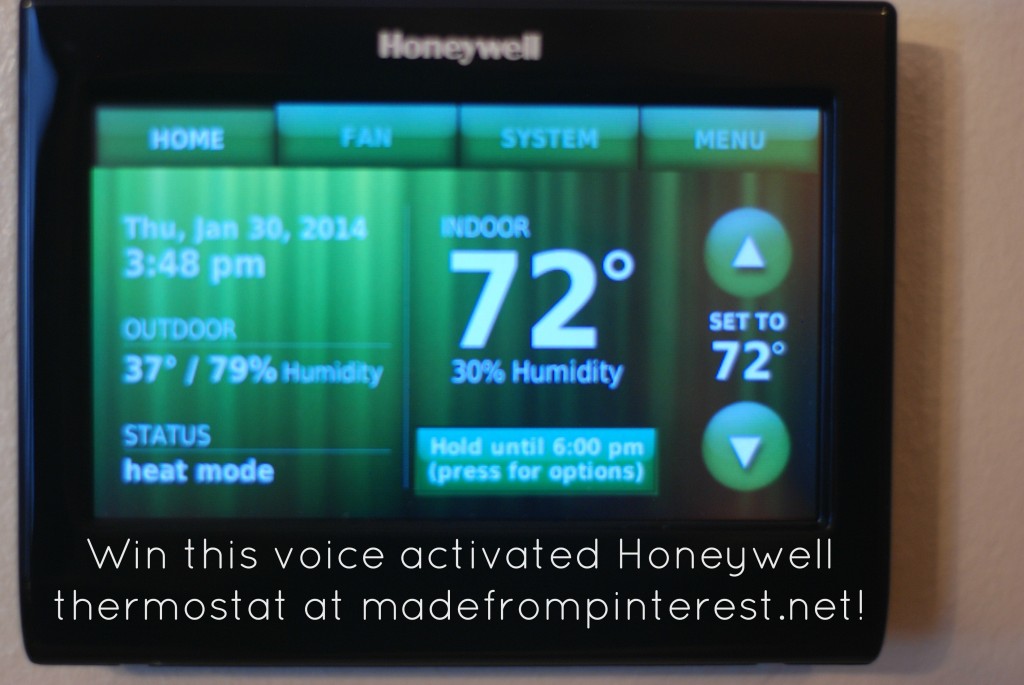 What else is super cool is that I get to give one of these thermostats away to YOU!
Wouldn't you want to win the Wi-Fi Thermostat that listens, learns, saves – the Honeywell Wi-Fi Smart Thermostat with Voice Control?
Once you get it and use it, you too will know why The Honeywell Wi-Fi Smart Thermostat with Voice Control was named Best New Product of 2013.
Yeah. It's THAT cool.
Just leave a comment stating which feature you think would be your favorite feature. Would it be the color customization? Or that you can change the temperature via your laptop or mobile phone? Let me know!
This giveaway will last for a week and the winner will be notified by email.
Good Luck Everyone!