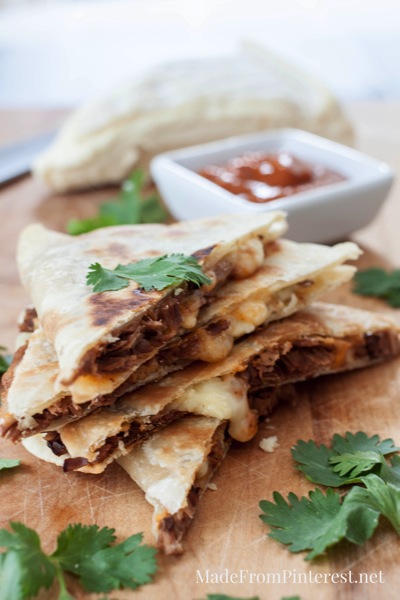 One of my favorite things about growing up in Southern California was all the good Mexican food. My favorite places to get good Mexican food were always hole in the wall places. They seemed to be the most authentic. I had my own personal criteria for what made an authentic Mexican restaurant. Criteria number 1 was that beef was shredded, not ground. Maybe it is just my personal preference, but never have I been to a really great Mexican restaurant and been served any dish with ground beef in it. My second criteria was freshly made tortillas. If they came out of a plastic bag, I was out of there.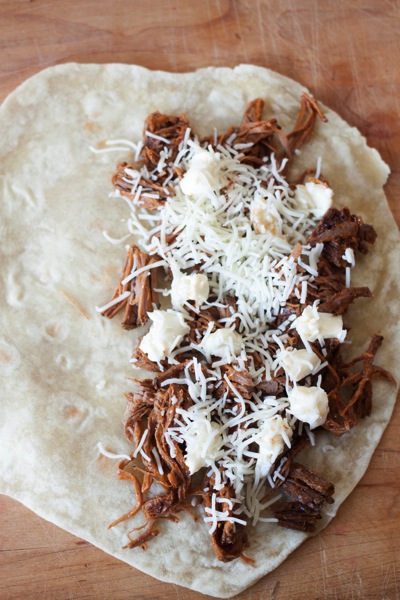 On a recent road trip through Idaho, I was using my smartphone to find someplace to eat. I found a Mexican place that got great recommendations on Yelp. I decided to give it a try. When we walked in, I found that this little hole in the wall met criteria number 3. When I walk in, I want it to feel like I just crossed the border. From the decor, to the menu and especially the customers, these are key indicators to me of authenticity.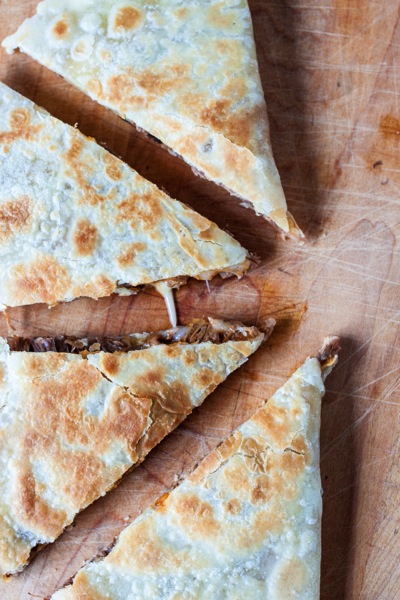 So now I bring you this recipe. Mango BBQ Brisket and Brie Quesadillas. Criteria number 1, no ground beef. Beef should be shredded. Criteria number 2 was met by making my own tortillas. Our recipe for tortillas is amazing and way easier than you think! Other than that there is nothing authentically Mexican about this Quesadilla. Mango and Brie? Sorry, but I gotta keep it real. Still, when I saw this from Smells Like Home on Pinterest, I was so intrigued. Her blog is beautiful. You just gotta check out her site.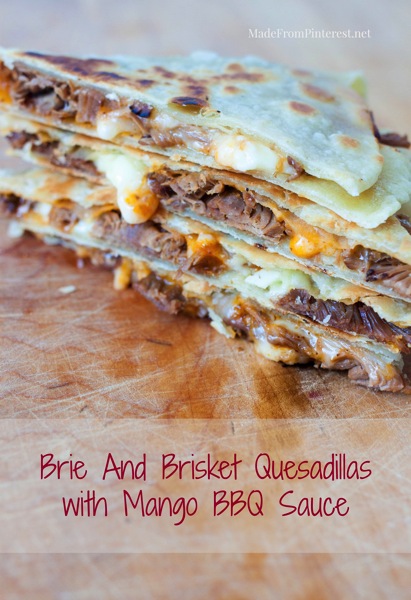 And real this is. As in real good. Or real tasty. And real easy to make. The flavors of the sassy Mango BBQ Sauce paired with the smoothness of the creamy Brie are amazing! This is a great spin on quesadillas, authentic or not. I have found that I can freeze any leftover meat and pull it out later for an easy dinner, light on prep. It is also a versatile recipe that can be cooked in the skillet and works just as well on the grill. Authentically Mexican, maybe not. Authentically good, definitely. So keep your cool, authentic or not…
This pin rocks!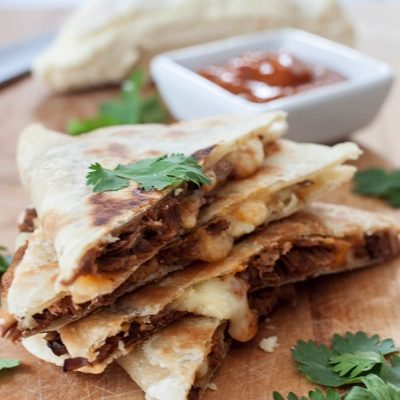 Mango BBQ Brisket and Brie Quesadillas
Ingredients
Brisket
1

3lb beef brisket

Kosher salt and freshly ground black pepper

1

tsp

chili powder

2

cloves

garlic

1

12oz can cola drink
Mango BBQ Sauce
3

tbsp

olive oil

1

yellow onion

diced

5

cloves

garlic

minced

1

cup

ketchup

1/4

cup

freshly squeezed lemon juice

3

tbsp

Worchestershire sauce

2

tsp

Creole mustard

1

tsp

Kosher salt

1/2

tsp

freshly ground black pepper

1/4

cup

bottled mango chutney
Quesadillas
8

8 inch flour tortillas

8

oz

Brie cheese

thinly sliced, with rind left on

1

cup

shredded Monterey Jack cheese

Cilantro for garnish
Instructions
Brisket
Rub the meat with salt, pepper, chili powder, and garlic.

Place brisket in the crockpot and pour the Cola over the top.

Cook on low for 8 hours.

Remove from the crockpot and let rest for 15 minutes.

Slice against the grain (1/8-1/4 inch thick).
BBQ Sauce
Heat olive oil in a 2-qt sauce pan.

Saute onions for 5 minutes.

Add garlic and cook until fragrant.

Stir in the remaining ingredients and simmer for 5 minutes.

Transfer to a blender or food processor and run until smooth.
Quesadillas
Heat a griddle or large pan over medium or preheat grill.

Lay out the tortillas. Divide the meat, brie, and monterrey jack between the tortillas, placing the meat and cheese on half of the tortilla.

Top with a spoonful or two of barbecue sauce and fold the other half over.

Place in skillet on medium or on the heated grill (brushing the tortilla with oil will prevent sticking).

Cook until the bottom is crisp and flip over.

Remove from heat and cut into 2-3 wedges. Serve with extra barbecue sauce.

Garnish with cilantro.
For some more Mexican "inspired" meals click on any of these photos:
We're sharing this post with: