Let the spooky begin! These Mummy Cereal Bars are a no bake dessert recipe designed to take your halloween parties up a notch. Not to mention, they're no bake (!!) and filled with all the pumpkin spice flavors. They're similar to a traditional rice crispy treat, but with cheerios, pumpkin and decorated for fall.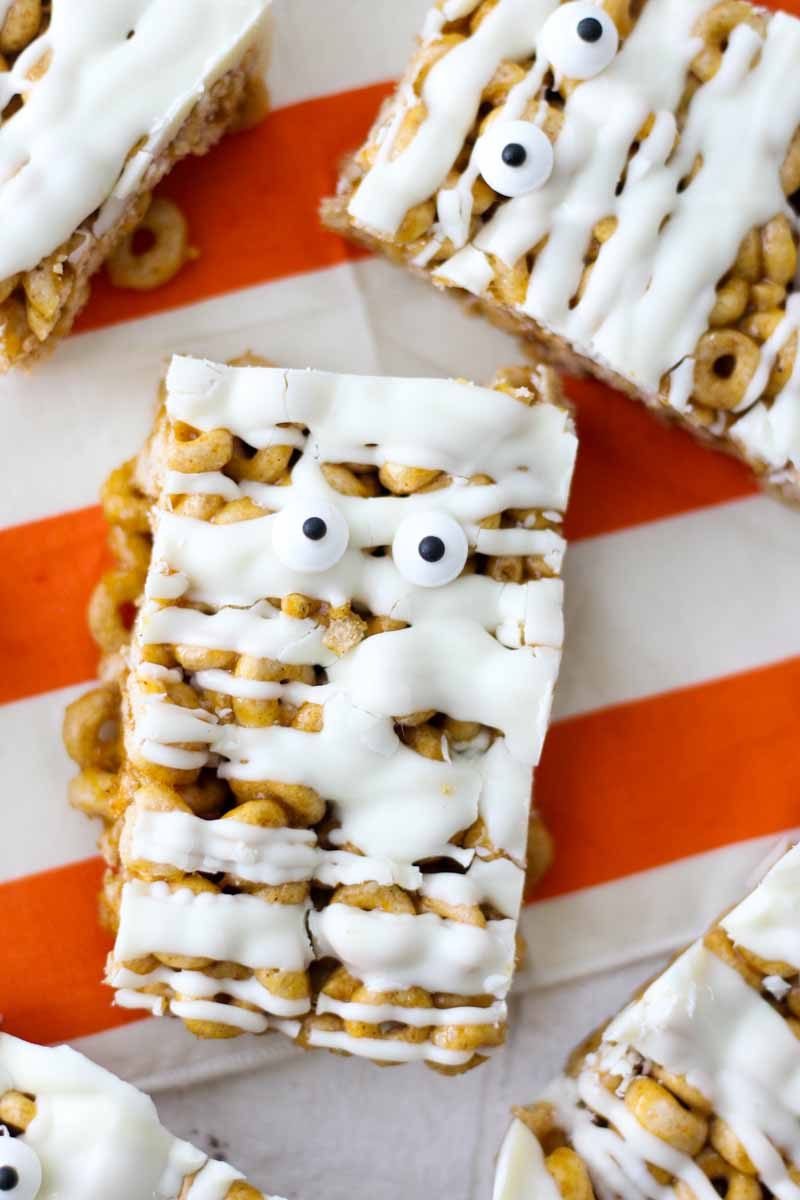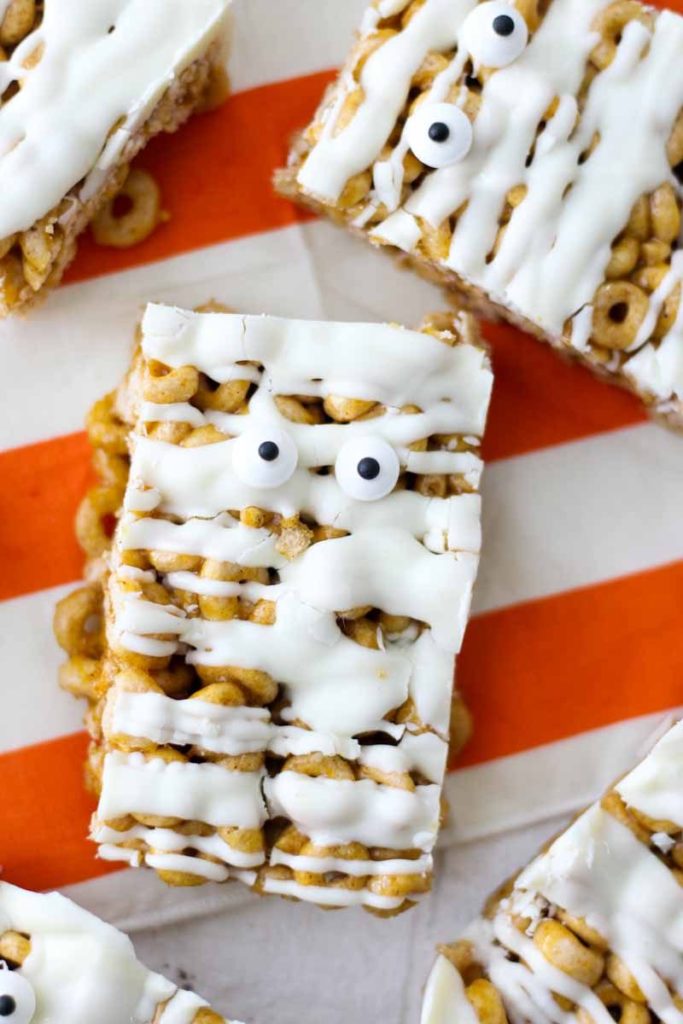 Hey there! Molly and Chelsea here! We're the besties and food bloggers from Bests and Bites. We've been best friends for over 20 years (so like, 90% of our lives) and we love nothing more than food, health/fitness and pool days!
We're so glad we could share this Halloween recipe with you and hope you love making it for your spooky soirees this fall!
How adorable are Halloween treats? There's no less than 10000 spooky recipes on Pinterest and every single one has an adorable place in my heart. And this one has a very special place because it's comes together in a snap and it the epitome of fall: pumpkin spice and mummy decorations.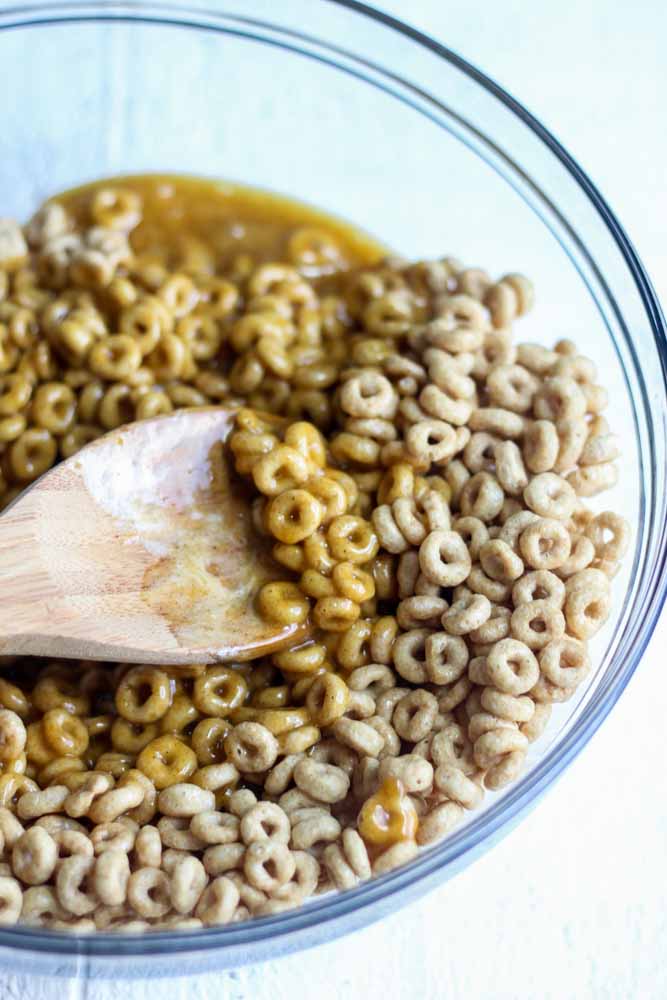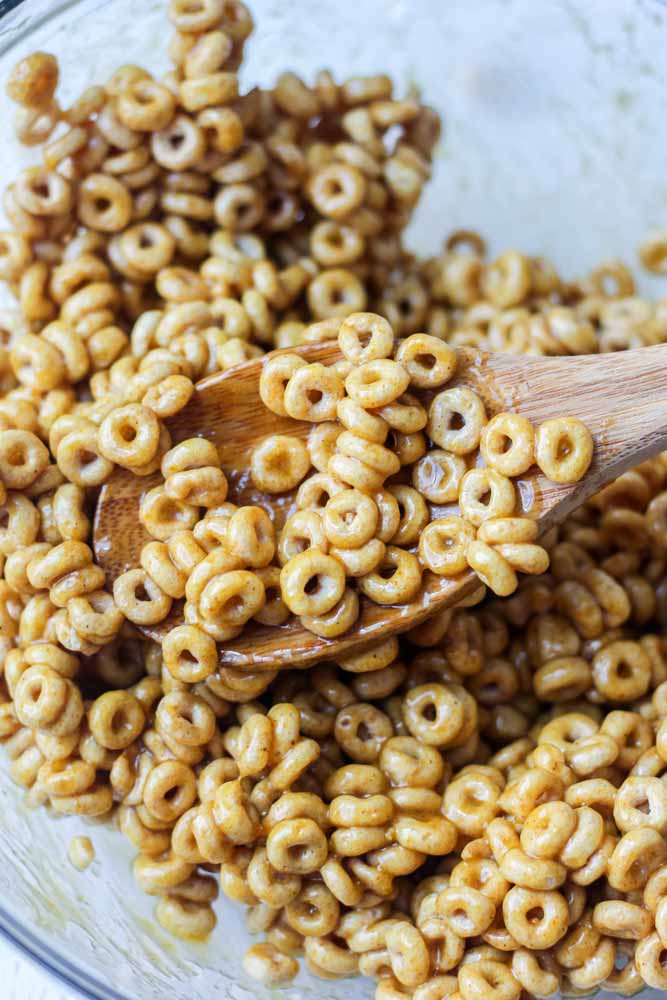 The base of this recipe is exactly like you'd start rice crispy treats. Measure out the cereal (which will be cheerios here rather than crispies) and melt the butter. But this is where it changes! Add a little pumpkin and pumpkin pie spice to the melted butter and mix well to combine. There isn't a ton of pumpkin puree here but it's just enough to tell it's made for fall.
When you mix the marshmallows in just keep stirring so it won't burn. It's best to use a wooden to avoid sticking. Oh and DO NOT forget to grease your pan:) Nobody wants a bunch of cereal stuck to a pan.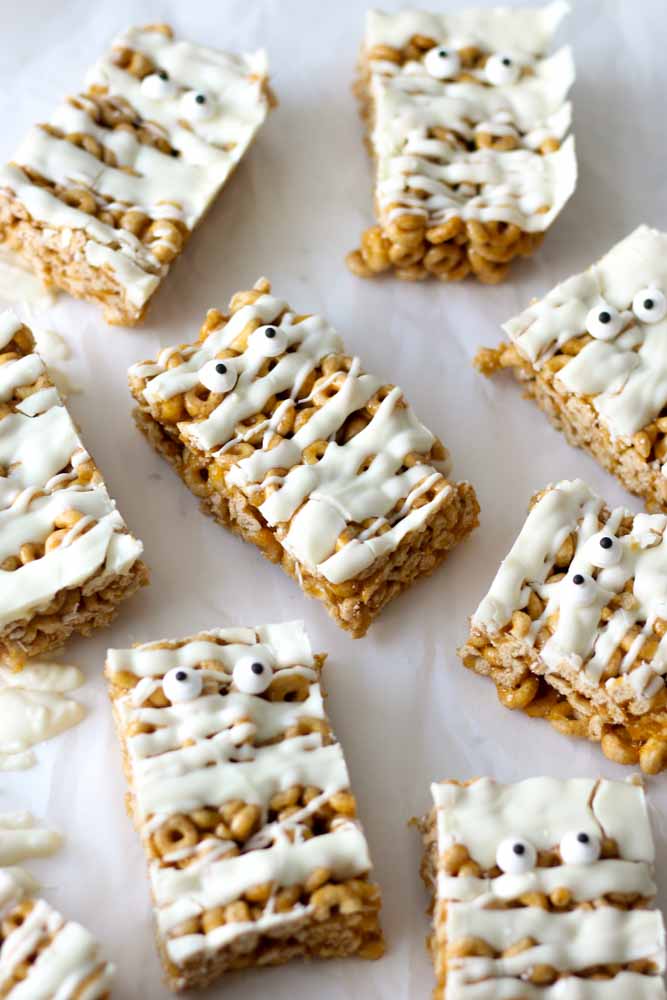 Expert tip: spray a rubber spatula with cooking spray before you spread it in the pan. This way the marshmallow-y cereal won't stick to your spoon and you can press it firmly to set.
My favorite part about this is obviously the googly eyes! The bars just look like a cereal trip with chocolate until you add the eyes and they're instantly transformed into the spooky Halloween treat!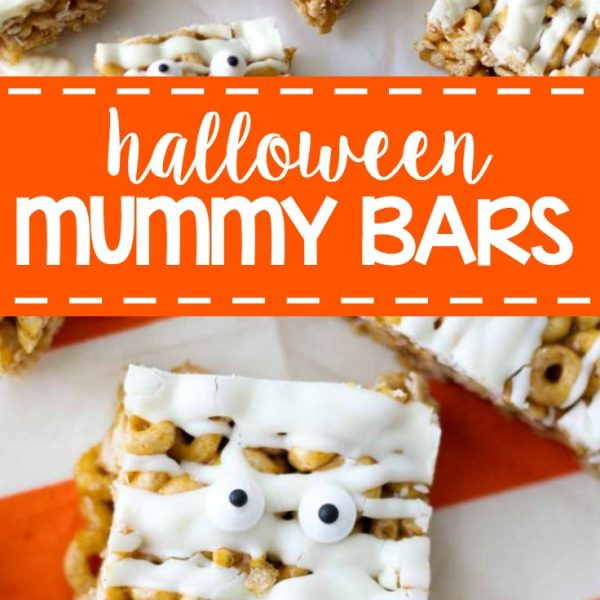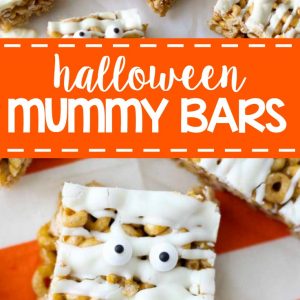 Mummy Cereal Bars
Ingredients
3

tablespoons

unsalted butter

1/4

pumpkin puree

2

teaspoons

pumpkin pie spice

4

cups

miniature marshmallows

6

cups

honey nut cheerios

12

ounces

1 bag of white chocolate melting morsels

18

candy googly eyes
Instructions
Spray an 11x7 inch pan with nonstick cooking spray and set aside.

In a medium saucepan over medium heat, melt the butter, stirring occasionally with a wooden spoon. Once melted, add the pumpkin puree and pumpkin pie spice and mix well. Add the marshmallows and stir continuously until they're all melted and mixture is sticky, but smooth, about two minutes. Add the cereal and mix well, making sure everything is coated with the marshmallow mixture.

Pour mixture into prepared pan and press firmly down with a rubber spatula spray with cooking spray to avoid sticking. Allow to set for 15 minutes.

In a microwave safe bowl, add the white chocolate chips and place on high for 30 seconds, remove and stir and return to microwave in 30 second increments until melted, stirring between each one. Transfer melted chocolate to a pastry bag or plastic bag with 1/4 and inch of the tip cut off and pipe melted chocolate on top of cereal bars back and forth horizontally, saving a little extra to add the eyes. Place bars in the fridge for 10 minutes to set.

Cut bars in long rectangles and use left over melted chocolate to place eyes on the bars towards the top of the rectangles.
Save
Save
Save
Save
Save