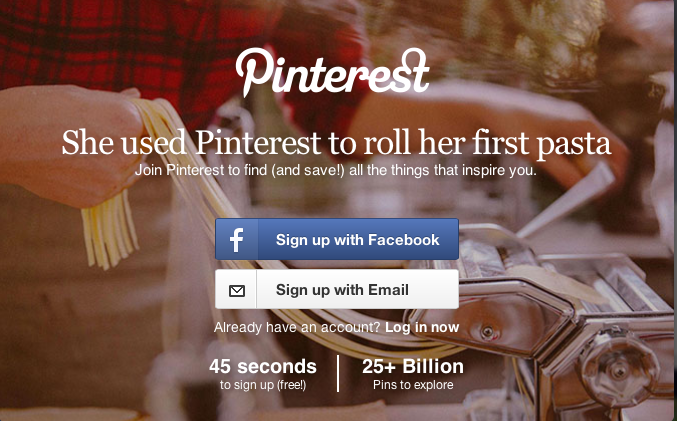 Make sure you enter to win a free 1 year Premium subscription to Pin4Ever at the bottom of this post!
What could possibly make Pinterest any better? How about a program that will back up your entire Pinterest account: "Pins, Likes, Followers and Following" in case your account becomes hacked and deleted (yes this happens). Or heaven forbid, you accidentally delete a board on accident. Until now your only option would be starting a new board or new account at ground zero, a true Pinterest NIGHTMARE! A few months back I was on our Linkedin account and noticed there was a "Pinterest Networking Group" which I quickly requested an invitation to join. This is where I found out about Pin4Ever and met Christina Mendoza, the founder behind Pin4Ever. I immediately contacted her with questions about Pin4Ever and its features. By the end of our conversation I very excited to give it a try. There are too many features to cover in detail in one blog post so I will share the features that I have used the most.
Once you have downloaded Pin4Ever this is how the tool bar will look in your browser window. My biggest attraction to Pin4Ever was that it can back up your entire Pinterest account.

I have to say I'm thrilled and relieved that our Made From Pinterest on Pinterest account is now safely backed up. I did this by clicking on the "Run Backup" button in the top left hand corner of the toolbar. The window below popped up giving me the options of what I could backup. I choose to back up everything except some of the larger group boards that we are contributors on.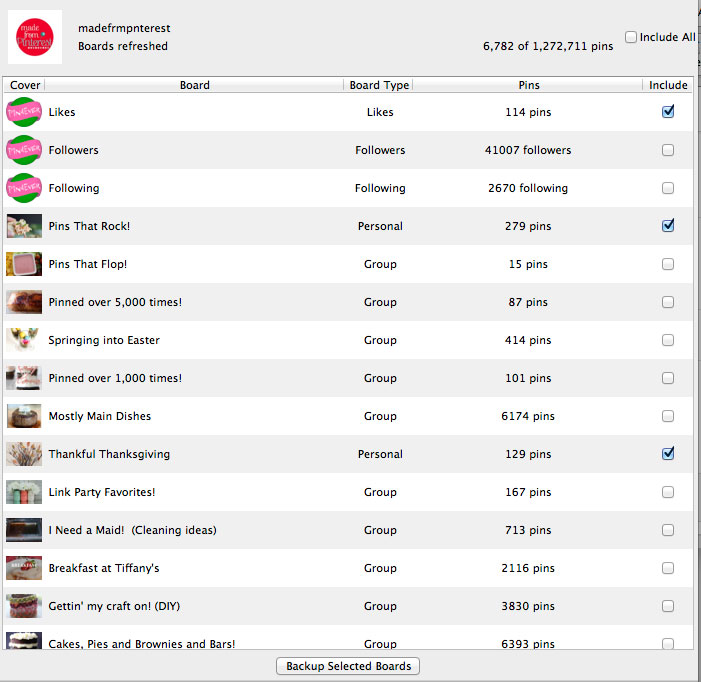 Like most of you, Debbie, Sherri and I have spent countless hours over the last 2 years building our Pinterest account and following. We currently have 73 boards, 13,391 pins, 114 Likes, 40,976 Followers and are Following 2669. Thanks to Pin4Ever every single Pin, Like, Follower and Following is safely backed up on my external hard drive! If our Pinterest account is hacked or compromised in any way, the "Restore from Backup" feature can fix it. "Restore from Backup" brings up the console to allow you to batch multiple pins from your backed up boards, if a whole board or your whole Pinterest account has been deleted. It will automatically recreate your missing boards and restore the pins to them.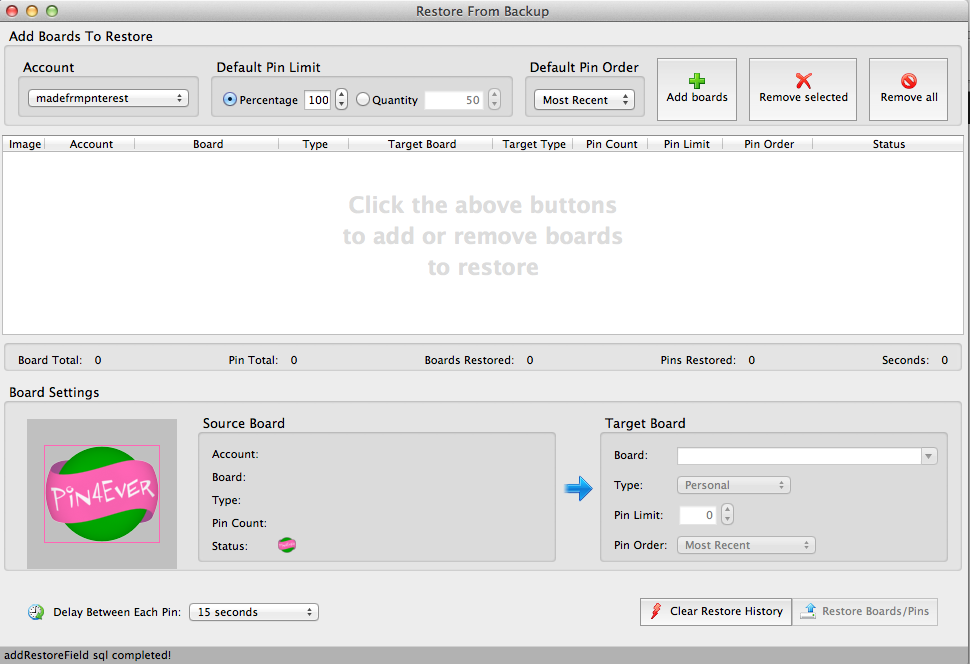 The "Run Backup" and "Restore from Backup" features alone justify the $49.99 yearly fee at the Premium level for us. Fortunately Pin4Ever is packed with more great features that help make your Pinterest experience even better.
Let's talk about organizing those pins of yours!

Funny thing about sisters, we think alike and many times have very similar tastes. The result is that sometimes we pin the same content without realizing it. We like to keep our feed and boards clean, which means going in and manually deleting each of the duplicate pins. If you have ever had to do this you know it can be a time consuming task. The Pin4Ever Delete button makes deleting duplicate pins a breeze! Below is a screen shot of our pins with some duplicates in it. First I clicked on the pink delete button in the tool bar and then clicked on each of the pins I wanted deleted. I then clicked on "Execute" in the tool bar and tada, four pins got deleted at once! If I had chosen 20 pins all of them would have been deleted at once when I clicked the Execute command.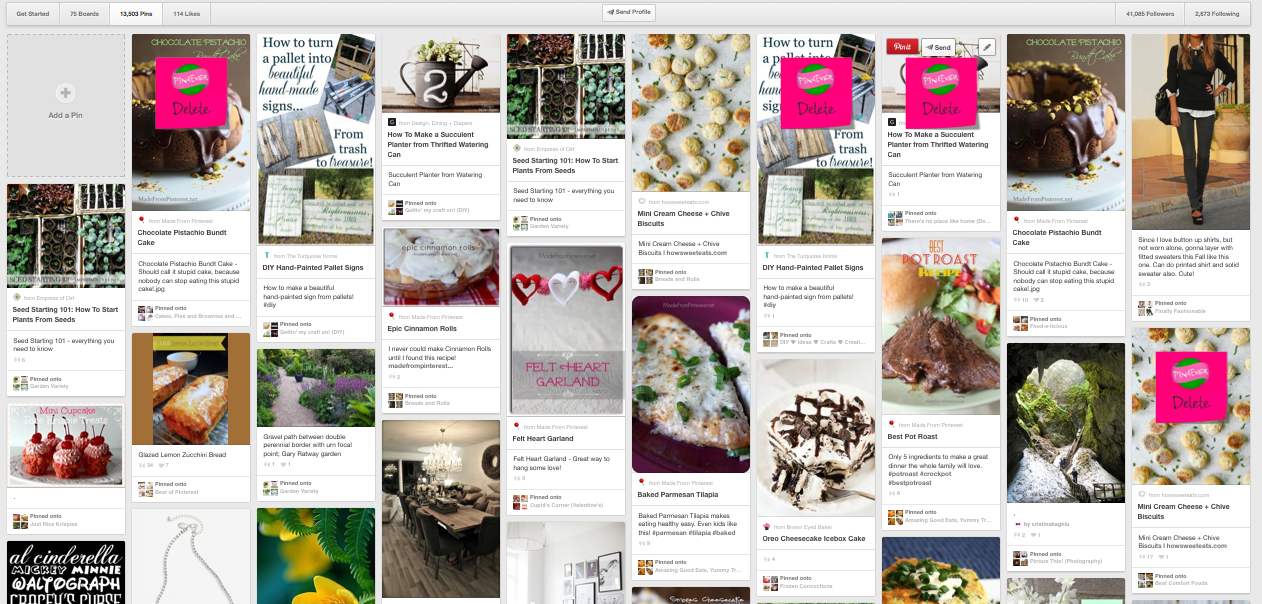 At the beginning of each holiday or season we rearrange our homepage by moving relevant boards to the top of our account. Since it is Spring we have placed our Easter and Gardening boards at the top of our homepage. What if you could rearrange the pins within your boards the same way you can rearrange boards on your homepage? If you have a large recipe board you could move the recipes you use the most to the top to make finding them easier. Or keep your most popular pins at the top of each board. Pin4Ever provides a "Rearrange" function that makes this possible. This button is found under "Organize Pins" which is the 4th button from the left.
This is a screen shot of our "This Pin Rocks!" board. We want to move our Easter and Spring/Garden pins to the top of our "This Pin Rocks!" board.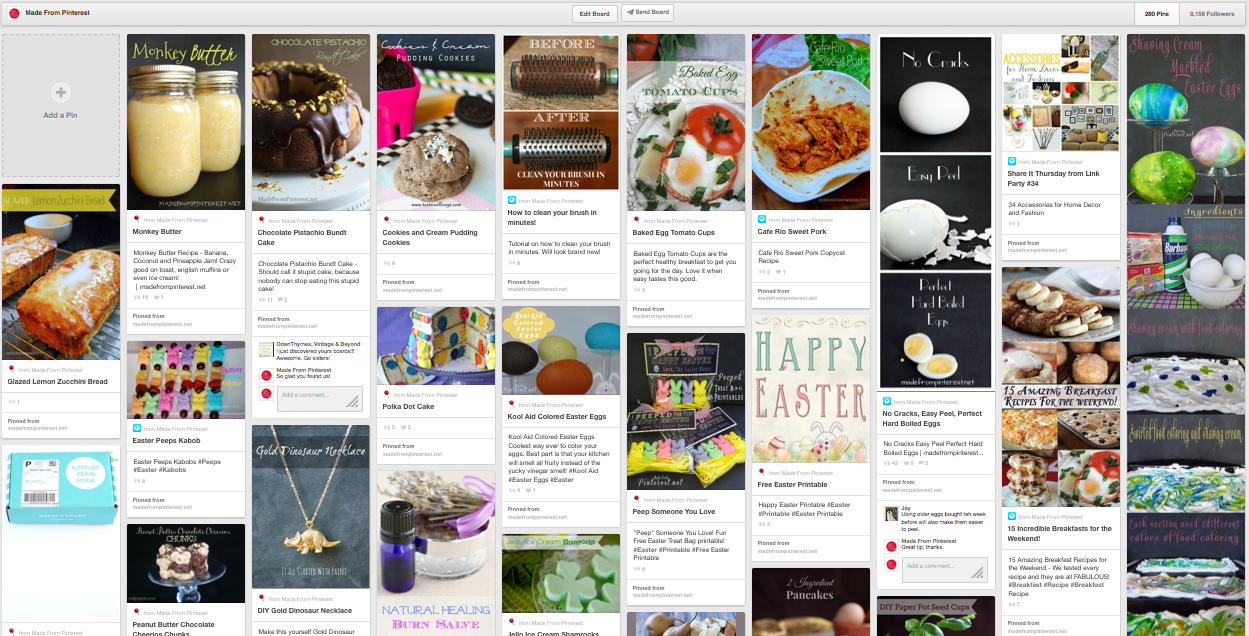 To do this I clicked on the "Rearrange" button in the tool bar and then I clicked on the pins in the order I want them rearranged in.
Next I clicked the "Execute" command in the toolbar and tada, Pin4Ever rearranged 9 pins for me! With all of our Easter and Spring posts from our blog at the top of our "Pins That Rock Board!" you do not have to scroll through 290 pins to find our Easter or Spring content. Having seasonal or the most popular pins at the top of any of our boards helps drive more traffic to our site. This make us very, very happy bloggers!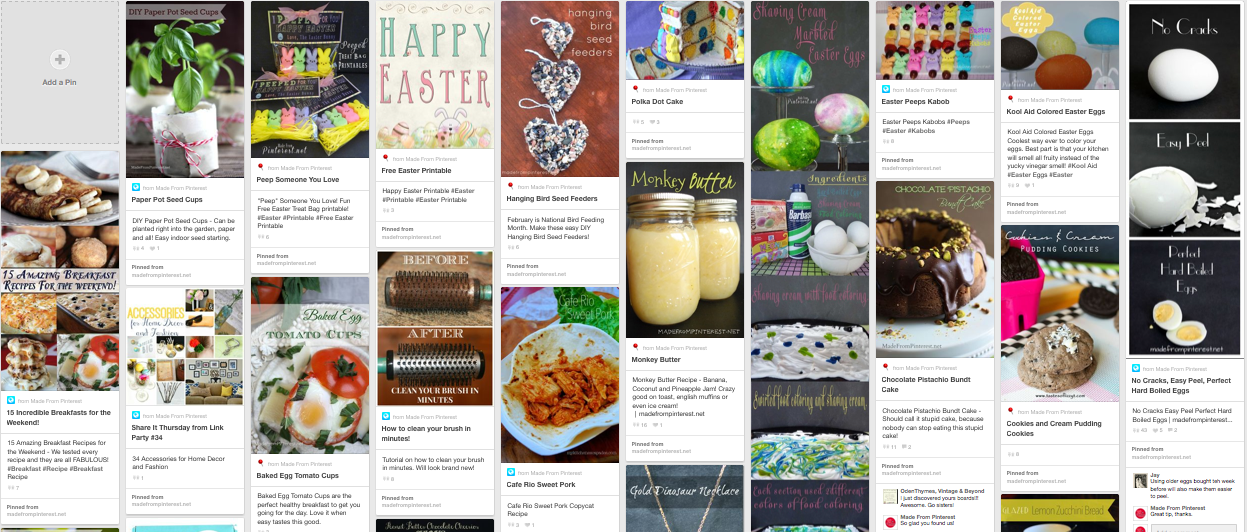 Scroll to the bottom is another feature I love. It is found under Power tools, second row, second button from the left.

Because we have so many pins checking for spam regularly on all our boards is necessary and time consuming. Our Cupcake Cuteness board has 7,066 pins alone! It takes along time to scroll down to the bottom on our bigger boards. With Pin4Ever I simply hit the "Scroll to the Bottom" button and in seconds I'm at the end of a board and can quickly scroll my way up to the top while checking for spam. I check our Pinterest account every couple of days for spam, bare minimum once a week. The "Scroll to the Bottom" features has saved me hours of time.
One of the best ways to increase your Pinterest following is to listen to what your followers want and like. If you have a gardening board and your followers are repining birdhouses more than anything else…..pin more birdhouses to your garden board. Sometimes it takes awhile to figure out what your followers really like. Pin4Ever has a unique feature that makes this easy. Once you have completed backing up your account with Pin4Ever the first board you will see in your back us is "Top Pins". This board contains your highest repinned pins from every board in your account. Spend a few minutes looking around this board and you will know exactly what your followers like!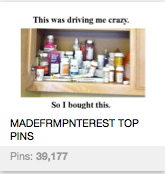 Here is one last gem of a feature for you, wouldn't you just love to see your home feed without the Related pins in it? Easy peasy, just click on the "Clean Home Feed" button in the tool bar and all related pins will be removed from your feed, you will only see the pins from people you follow. Now if we could just get Christina to create a program that would do that for Facebook…….
Truth is, Pin4Ever Totally ROCKS!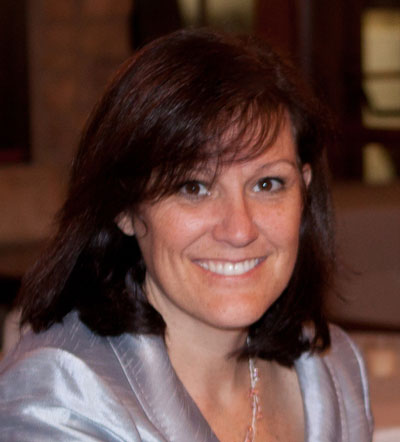 We are sharing this giveaway with : Tatertots And Jello, Just Us Four Blog, Be Different Act Normal, Will Cook For Smiles, Cheerios And Lattes, Inside BruCrew Life, The Recipe Critic, Hun What's For Dinner , A Bowl Full Of Lemons , Lady Behind The Curtain,