What is your favorite kind of pie? Is it pumpkin? It seems like people have either a love/hate relationship with pumpkin pie. Either you really like it or you don't.
My favorite kind of pie is Razzleberry from Marie Callendar's. Whenever I find those on sale at the grocery store, I always stock up because Razzleberry Pie is also my husband's favorite.
But.
My mom's favorite pie is…….
Mincemeat.
While I was growing up, my mom would buy the traditional pies for the holidays, but she would also always buy a mincemeat pie just for her.
Because no one else liked it.
So she could eat it all by herself.
But what in the heck is MINCEMEAT?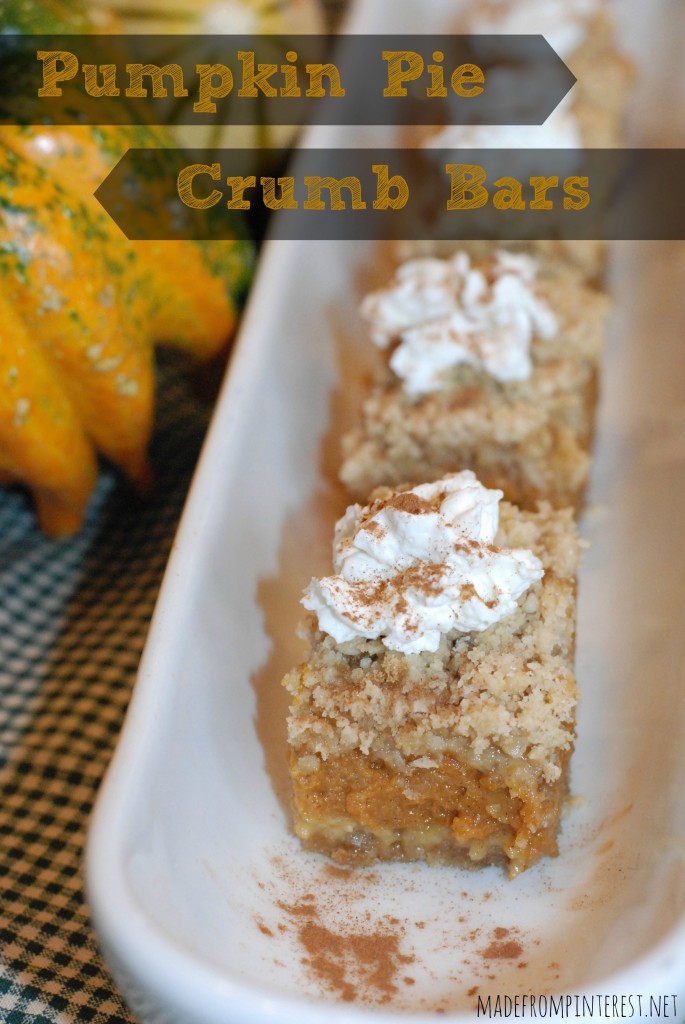 Traditionally, a mincemeat pie used to contain beef or chicken with dried fruit and spices added only as a secondary ingredient. Today mincemeat is mostly made of dried fruits (usually raisins) along with apples, nuts and spices. It doesn't sound all that bad, but I know that no one else in my family likes it.
I would say "hate" but that's too strong of a word when one is talking about pies.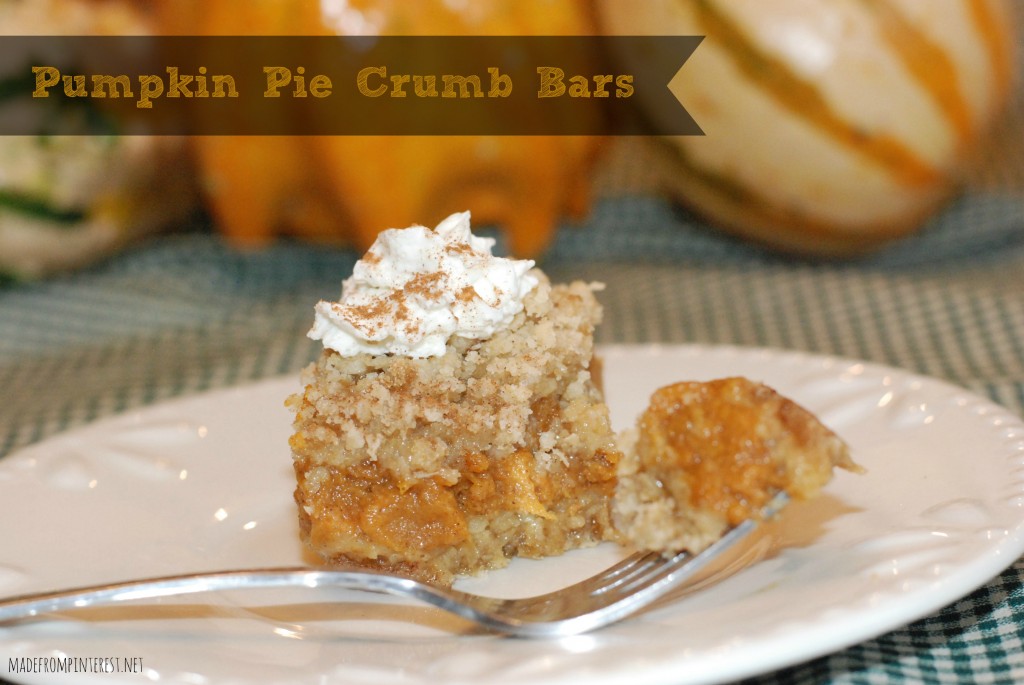 Luckily I DO know that all of my family likes pumpkin so I was pretty sure that these Pumpkin Pie Crumb Bars that I pinned from Cooking Classy would be a big hit! And I was right. The addition of the oatmeal in the bottom crust and crumbly topping makes this an over-the-top great fall dessert!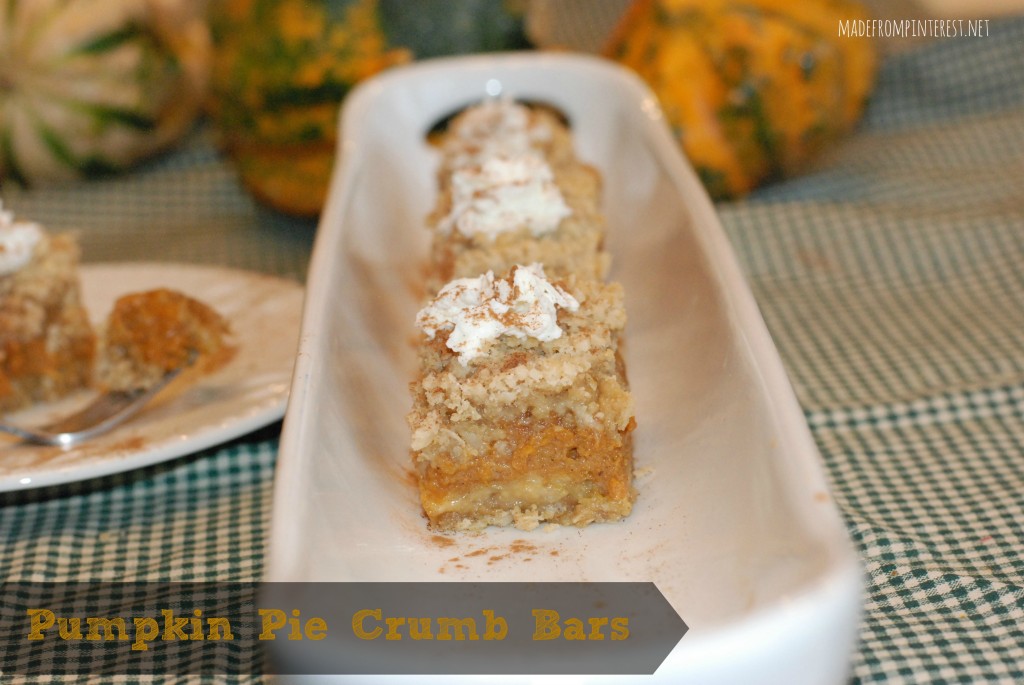 So if you like pumpkin, you will LOVE these Pumpkin Pie Crumb Bars! And if you don't like pumpkin, then you may just like these bars anyway, just for the fact that they aren't…..
Mincemeat.
My opinion is that…..This Pin Rocks!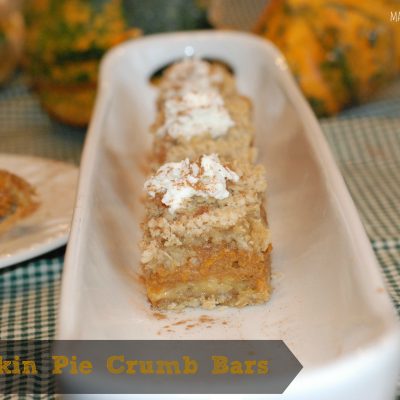 Pumpkin Pie Crumb Bars
Ingredients
Crust

1 1/4

cups

all-purpose flour

1 1/4

cups

quick oats

old fashioned works too

1/2

tsp

salt

1/2

tsp

baking soda

1/2

cup

granulated sugar

1/2

cup

packed light-brown sugar

3/4

cup

unsalted butter

melted

1

tsp

vanilla extract
Pumpkin Pie Filling
1/4

cup

granulated sugar

1/4

cup

packed-light brown sugar

1

tsp

cinnamon

1/2

tsp

nutmeg

1/4

tsp

ginger

1

pinch

ground cloves

1/4

tsp

salt

1

large egg

1

large egg yolk

1/2

tsp

vanilla extract

1 1/4

cups

canned pureed pumpkin

1/3

cup

evaporated milk or half and half

Whipped cream and cinnamon

for serving (optional)
Instructions
Preheat oven to 350 degrees. Mix together flour, oats, salt and baking soda for 30 seconds. Add your 1/2 cup sugar and 1/2 cup brown sugar. Then add the melted butter and vanilla until everything is evenly moistened.

Press half of the mixture into a greased 8 by 8-inch pan and bake for 15 minutes.

While your crust is cooking, mix together 1/4 cup granulated sugar, 1/4 cup brown sugar, cinnamon, nutmeg, ginger, cloves and salt. Then add in egg, egg yolk and vanilla and stir until blended. Next, mix in pumpkin and milk.

After your crust has cooked for 15 minutes, pour your pumpkin mixture over crust and return to the oven and bake another 15 minutes. After 15 minutes, remove from oven and top with the remaining crumb mixture. You will also want to move your oven rack closer to the top-center (not directly beneath but a few levels below) and return to oven to bake about 20 - 25 minutes longer until golden brown and the center only wiggles a little.

Remove from oven and you can serve warm with whipped cream or ice cream. You can also refrigerate and serve a little colder. Both are super delicious!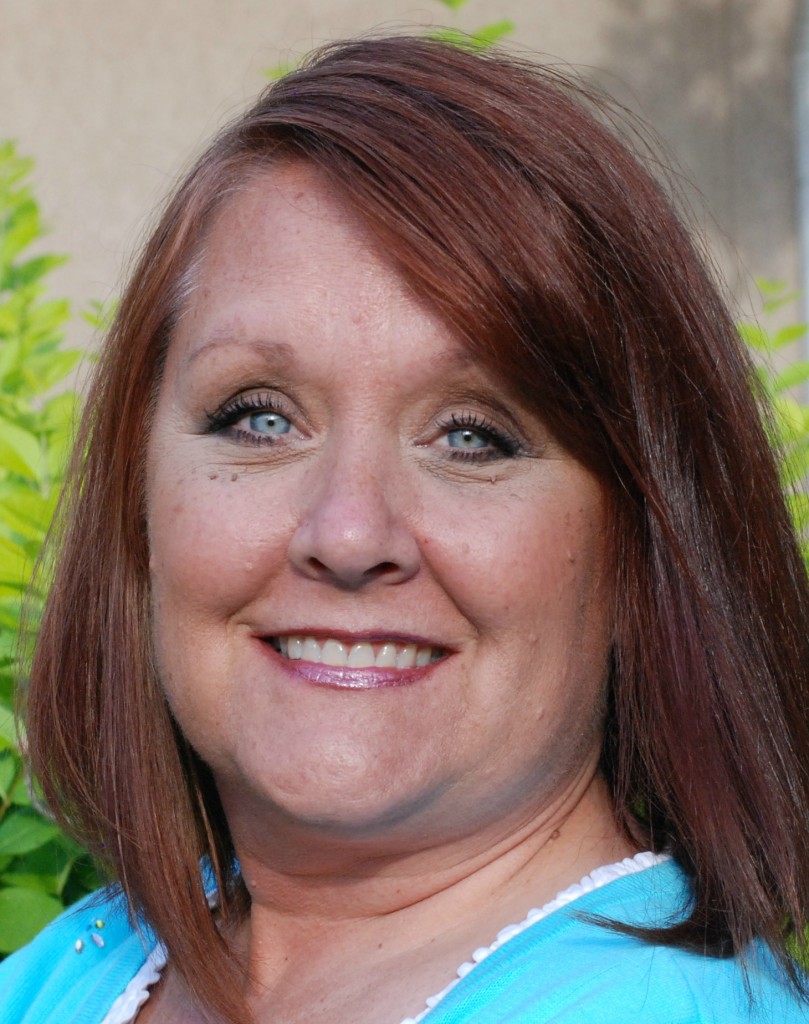 If you like this recipe, take a look at these other great "Fall" recipes at MadeFromPinterest:
You can also find MadeFromPinterest on
On Mondays it's a party with these great sites!