When I say raw, I mean that this raw salted caramel apple pie is delicious decadence and a no-bake recipe, too!
Hello everyone, I'm Celeste from The Whole Serving, a food blog that shows you how to use real food to create simple, delicious, wholesome dishes that allow you to celebrate and enjoy whole foods that nourish the body, and not feel bad about eating The Whole Serving!
For those that know me it's no secret that I love desserts, and apple pie is one of my favorites. But with the temperature rising on the outside, I don't want to heat it up on the inside, so this no-bake raw apple pie I pinned to my Raw Vegan board from Oh Lady Cakes is perfect for the hot summer days here in Texas.
This pie is also perfect for those who want to reduce their intake of refined sweeteners, because dates are used to sweeten as well as create the smooth and creamy caramel sauce.
Guilt-free dessert is what this is, it also happens to be quick and easy. The food processor and blender practically does all the work. This crust comes together in about 40 to 50 seconds, it's ready when it resembles coarse meal and it sticks together when squeezed between your fingers. The crust alone makes a tasty snack, I found myself eating it as I was pressing it into the tart pan.
I pretty much followed the recipe from Oh Lady Cakes, but I did make a few changes in the amount of dates I used and I added vanilla extract and nutmeg. I chose to slice my apples and layered them in the tart pan instead of cubing, it was easier to have the food processor do my slicing, plus I like the layered look.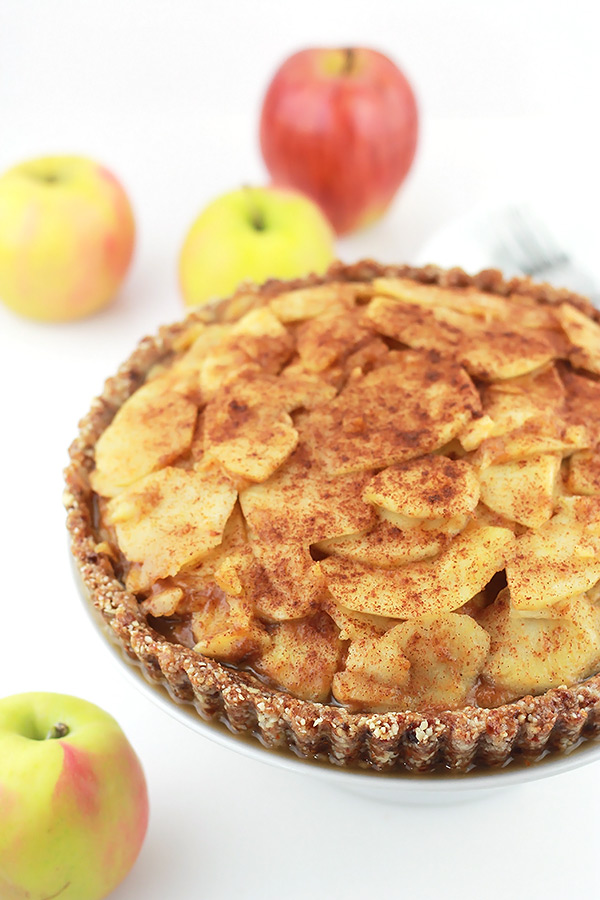 Next time I make this, and it will be a next time, I will make the caramel sauce a bit thicker.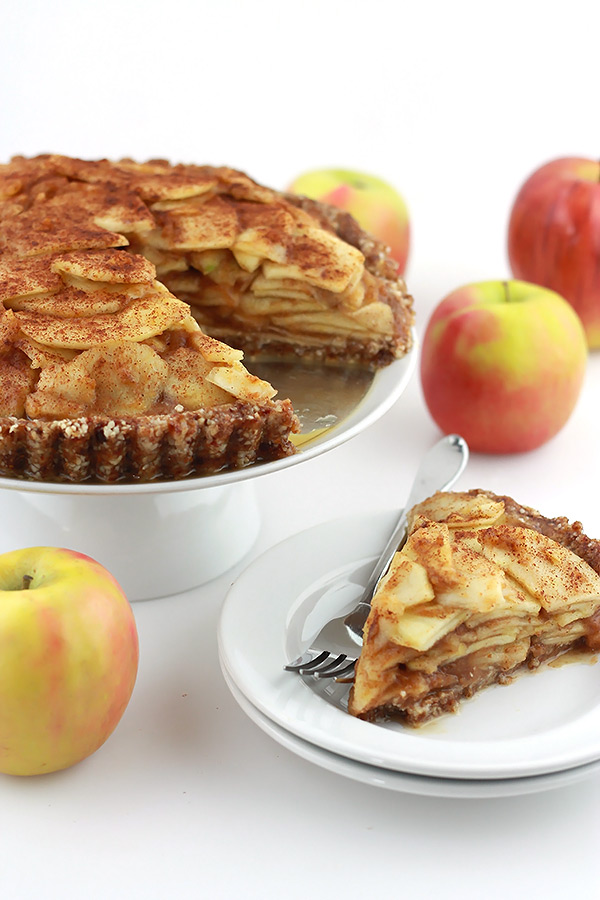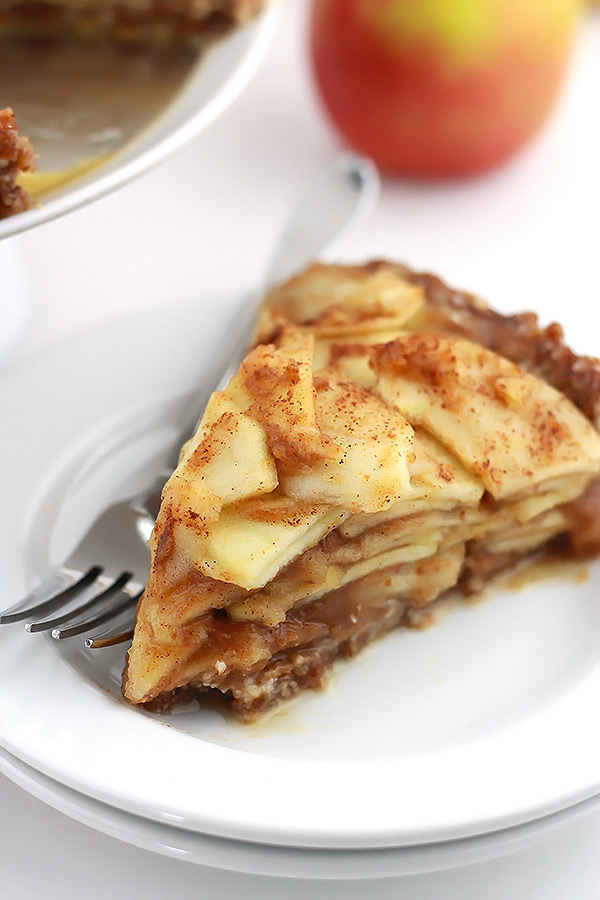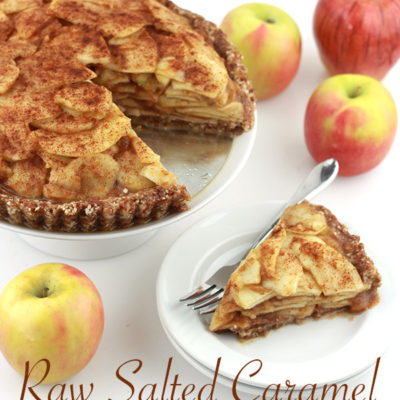 Raw Salted Caramel Apple Pie
Ingredients
1 1/2

cup

walnuts

30

pitted dates

divided 12 and 18

2

cup

warm filtered water

1

teaspoon

cinnamon

1/2

teaspoon

ground nutmeg

1

teaspoon

vanilla

1/2

teaspoon

sea salt

4

medium apples

sliced or cubed
Instructions
Prepare a round 8" tart pan by lining it with parchment.

Place 18 of the dates in a medium bowl and cover with 1 cup of the water and set aside.

Place walnuts in food processor fitted with the s blade and blend into a fine meal.

Add in the remaining pitted dates and process until dates are blended with the walnuts and it resembles coarse meal and the mixture hold together when squeezed between your fingers.

Press date/nut mixture into prepared tart pan, cover with plastic wrap and freeze until ready to use.

Drain dates and place them in blender bowl, add the remaining 1 cup of warm water, cinnamon, nutmeg, vanilla and sea salt. Blend until smooth.

Transfer to a medium bowl.

Slice or cube apples, placing them into bowl with date caramel as you go, toss until evenly coated.

Remove crust from freezer and fill with apples.

Sprinkle pie with cinnamon.

Serve and enjoy!
Notes
Pie can be frozen for 6 weeks in an airtight container.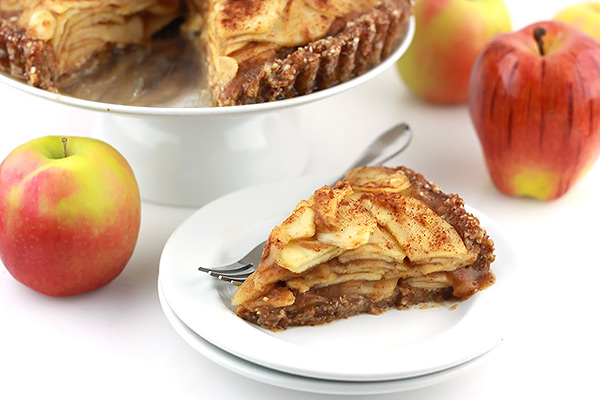 Please come visit me at The Whole Serving, to see my latest creations. Feel free to follow me on Pinterest, Twitter, Instagram, Google+, or Facebook.
This awesome post has been shared with Home Stories A to Z