Sing with me. Memories…..Like the corners of my mind. Misty water-colored mem….Okay, that's enough. I actually started to sing out loud and some dog down the street started howling. Barbara Streisand I am not.
However, this post does bring back a memory. A memory of my dad. And the memory is that my father LOVED Pecan Logs!
I can never see any type of caramel/pecan candy without thinking of him. So when I pinned this pin for Salted Chocolate Caramel Clusters from The Small Things Blog, memories of my father came rushing back.
My dad would eat anything with caramel and pecans until he was sick. Anytime I went somewhere and found a pecan log, I never failed to buy one for him. Don't tell my two sisters, but just this one act alone made me the favorite daughter. Me buying him pecan logs. It was kind of "our thing".
So in honor of my father, I made these Salted Chocolate Caramel Clusters and they turned out fabulous!! (Full recipe below) I am expecting people to think I am a professional candy maker when I bring these into work tomorrow. (Secretly, I have always wanted to be a professional candy maker.) People will think that you too are professional candy makers when your clusters turn out like this: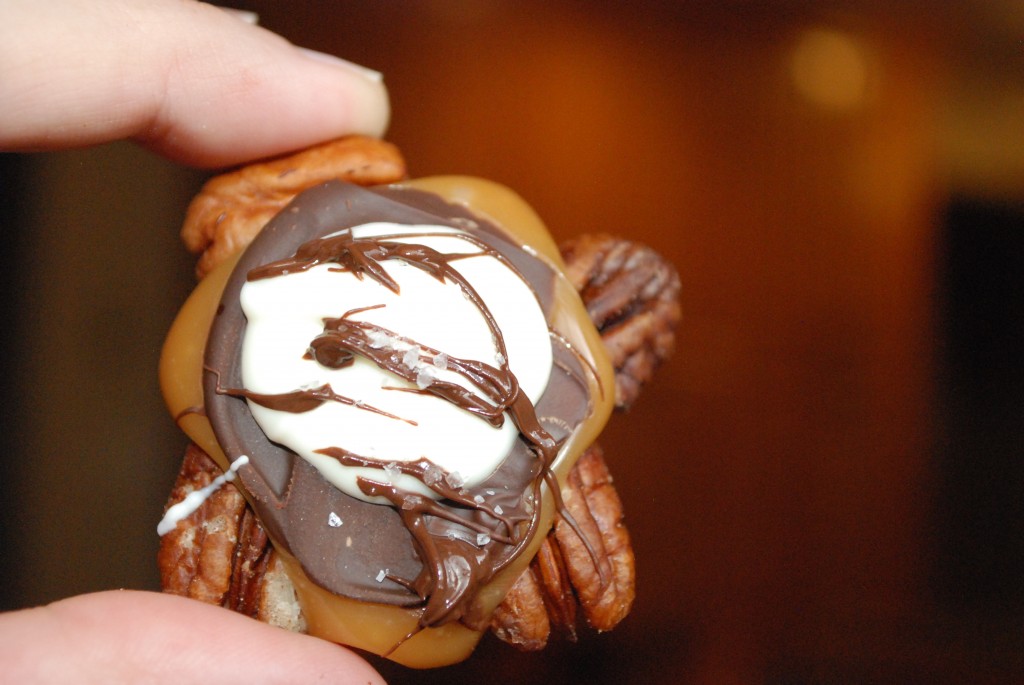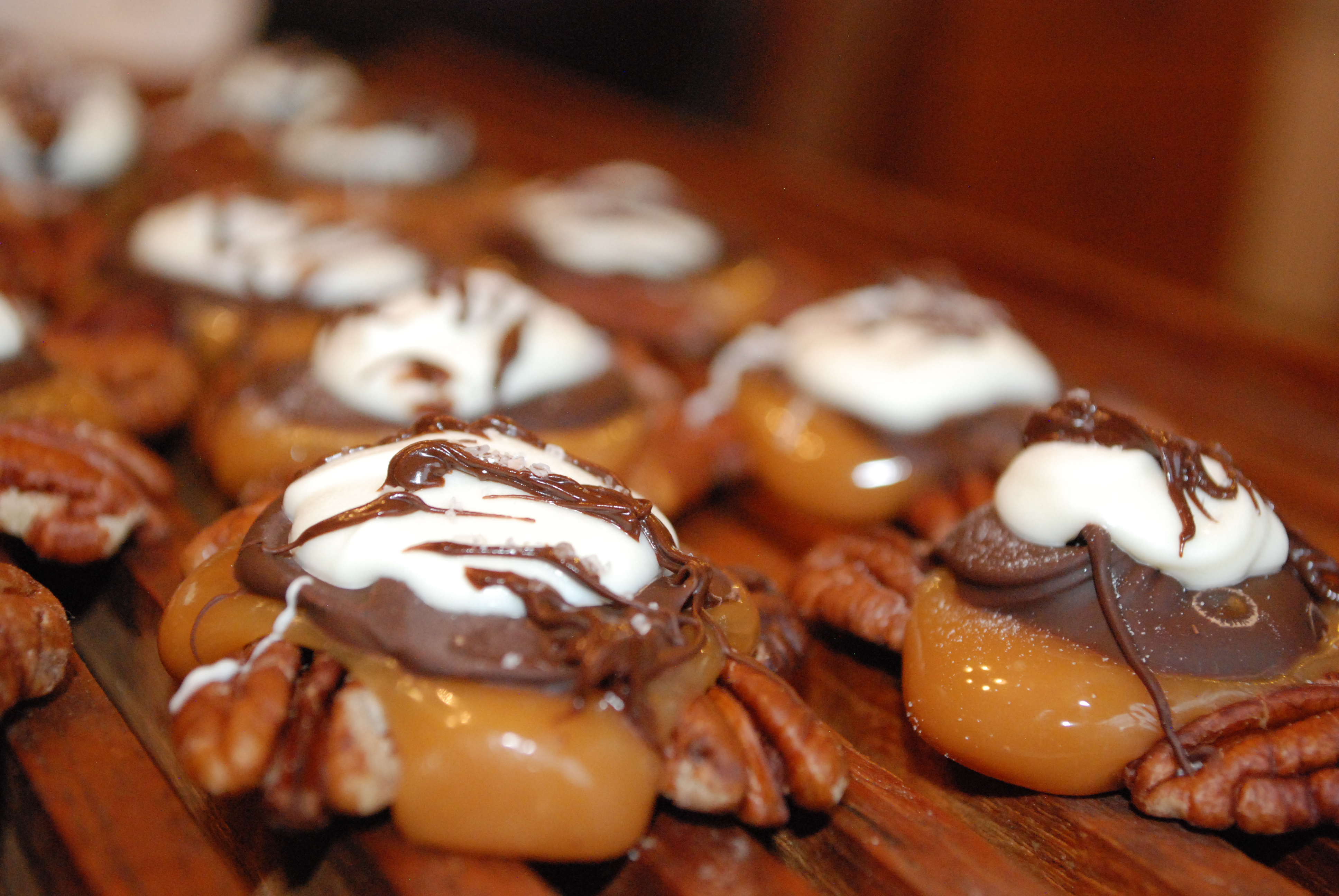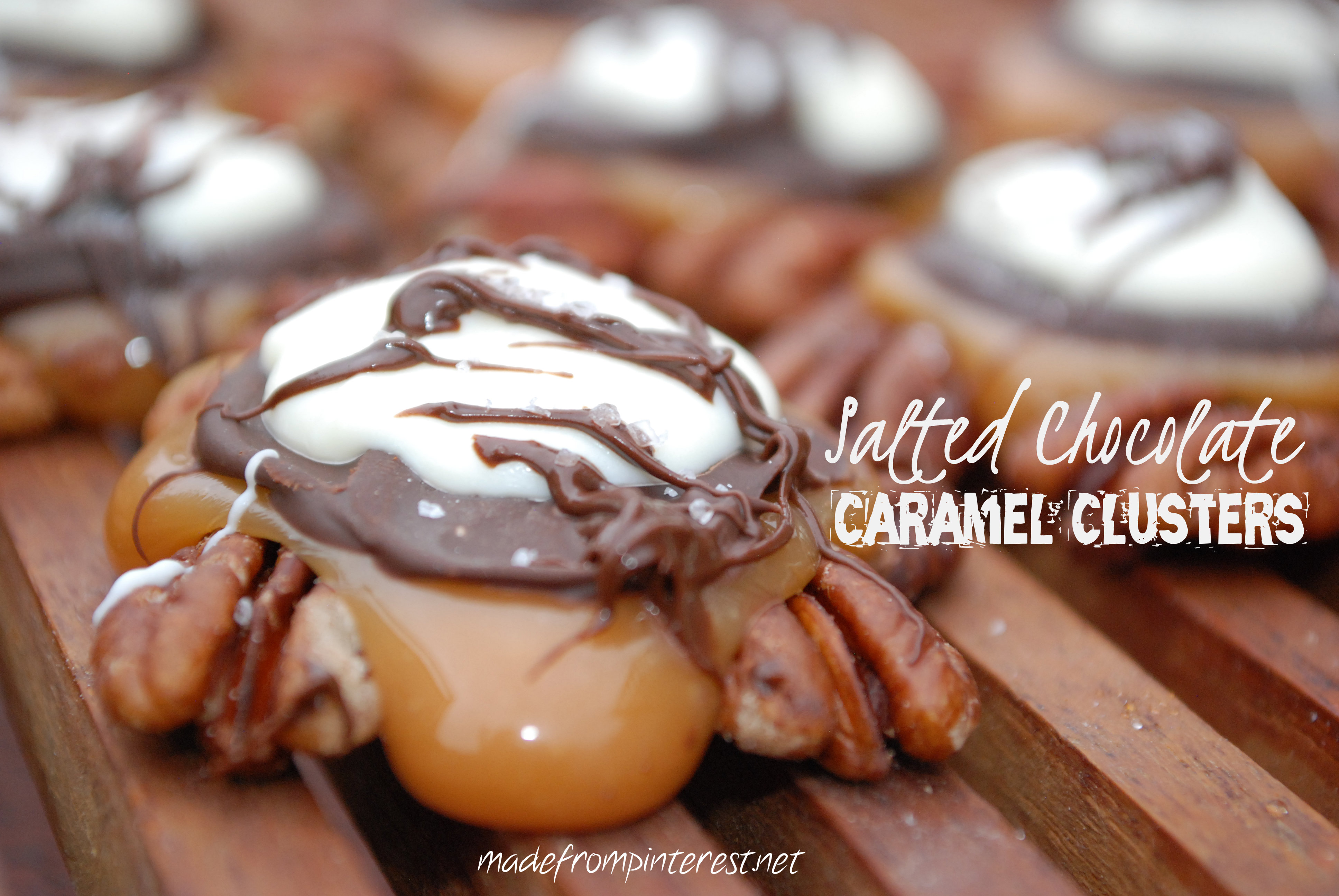 So if you have some time today, make some of these Salted Chocolate Caramel Clusters and maybe give some to your father. He will love them. And he might just even bust out singing…Memories….
My dad would agree that This Pin Rocks!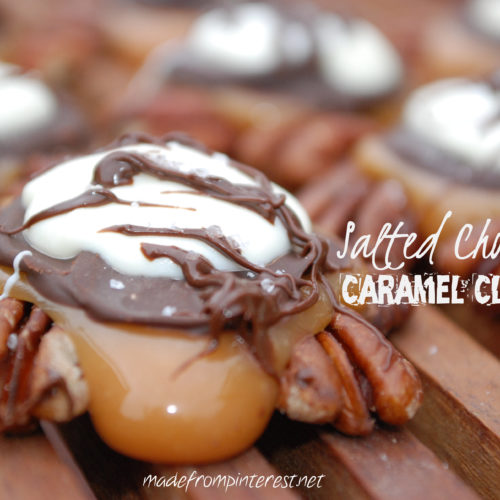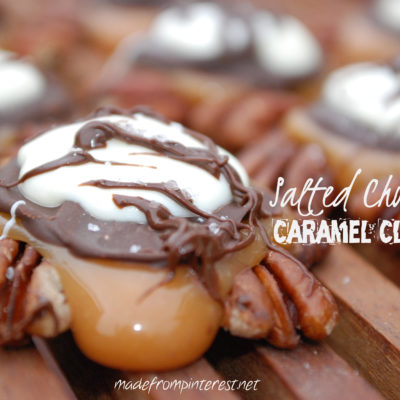 Salted Chocolate Caramel Clusters
Ingredients
8

oz

of pecan halves

toasted

14

oz

package of caramel candies

unwrapped

1

tablespoon

of milk

1/2

teaspoon

of vanilla extract

12

oz

package of dark chocolate pieces

2

ounces

of white chocolate

chopped

Fleur de Sel
Instructions
Line a baking sheet with waxed paper. Arrange pecans in a cluster of 5-6 halves

In a small saucepan combine caramels, milk and vanilla. Heat and stir over medium heat until caramels are melted and mixture is smooth. Don't let them burn! Spoon caramel over each cluster of pecans. Return saucepan to heat periodically if your mixture starts to harden before you've finished all your clusters. Let stand for about 30 minutes or until firm.

In a medium saucepan heat and melt dark chocolate pieces over low heat until chocolate is melted and smooth. Set aside about 1/4 cup of melted chocolate in a resealable plastic bag. Spoon remaining chocolate over clusters and gently spread to the edge. Let stand for about 30 minutes or until firm.

Meanwhile, chop white chocolate into small pieces and melt in microwave uncovered for about 1 minute, stirring every 20 seconds. Spread white chocolate over tops of clusters.

Microwave the plastic bag you reserved the dark chocolate mixture in for 20 seconds. Snip a tiny bit off one corner and drizzle over the top of each cluster.

Finish by sprinkling fleur de sel over each while drizzled chocolate is still soft.
Check out these great sites that we are linking with today:
Katie's Nesting Spot – House of Hepworths – Live Laugh Rowe – Glued to my Crafts – Gingerly Made – 52 Mantels – The Mandatory Mooch – Whats Cooking Love – Easy Living Mom