Hi, It's Jen from Bakerette again and I'm excited to be back at Made From Pinterest to share with you one of my favorite garlic bread recipes: Spanish garlic bread! Holy cow, is it ever delicious and full of flavor. When I originally made this bread, I made it while everyone was away from home not thinking that I would devour nearly half the loaf. No kidding. I took one bite and I was hooked. Must've been the delicious Manchego cheese that sucked me in. Who can go wrong with cheese? Or maybe it was the green olives stuffed with pimentos.
Have you ever had Manchego cheese? It's a semi-hard Spanish cheese with a buttery flavor. I wasn't that familiar with it but now am a huge fan of it! I didn't know my local grocery store carries it, but they do. I even found a block of it at Costco, too! Totally stoked. Manchego is my new-found friend.
Any-who, maybe you have more willpower than I, but I couldn't stop with one bite. I had one, then another, then another.
I hope you enjoy it, too!
Thank you Sherrie, Tracy, and Debbie for allowing me to play in your space once again. Have a wonderful weekend y'all!
Thanks Jen, for a great recipe. I love experimenting with different types of cheeses and this sounds excellent! Mmmm. I can almost smell it!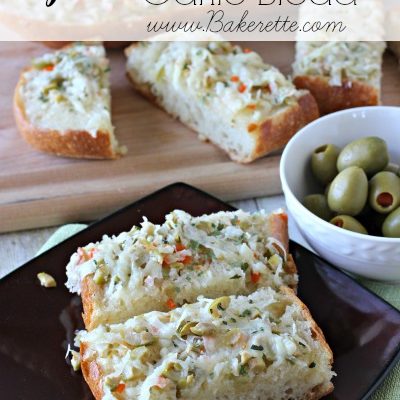 Spanish Garlic Bread
Ingredients
1

stick butter

softened (8 tablespoons)

1/2

cup

pimento-stuffed green olives

chopped

2

tablespoons

garlic

minced or pressed

1

loaf

1 pound French bread, halved horizontally

1

cup

4 ounces Manchego cheese, shredded

Parsley

chopped
Instructions
Preheat oven to 350 degrees F.

Stir together butter, olives, and garlic until well combined.

Spread onto bread halves and top with cheese.

Bake for approximately 10 minutes or until cheese is melted. Remove from oven and garnish with chopped parsley. Serve warm.
Recipe adapted from Cuisine Magazine, Splendid Soups & Super Sides, Winter 2013, p43
If you like this recipe, you might like these other recipes at Bakerette.com. Just click on the picture for the recipe:
We're sharing this recipe at: Lines Across, Mandy's Recipe Box, Chef in Training, The Recipe Critic