Hello everyone! This is Dawn from
Not Just A Mommy
and I am so honored to be here and share these Stitched Valentine Treat Bags for the Love Potion #9 series. I like to throw parties, I like to craft, I like to go fun places, and that's what I blog about!I am a huge fan of clever but easy crafts…sometimes you just don't have the time to commit to major projects. I was so excited when I came across Place Of My Taste's
Stitched Drop Cloth Valentine's Treat Bags
.
They are so easy to tweak for any theme (making them perfect for any party from birthday to holiday) and with simple stitching, right up my no-sewing-abilities aisle. Seriously, even if you say you have no crafting skills, you can do this! I mixed it up with gold supplies…who says Valentine's Day has to be all red and pink?
Supplies needed:
drop cloth (I found a 5′ square package at Home Depot for less than $8!)
baker's twine
embroidery needle
decorative heart ribbon (I found it by the yard at Paper Source)
scissors
Cut 4″ wide, long strips of the drop cloth and cut the long strips down into about 10″ strips.
Using the baker's twine, started stitching from the bottom of the bag, and take your stitches a little over half way up the bag.

Stitch large stitches across each topside of the bag, leaving some thread on both sides to have enough to tie the bag, once the bag is filled with candy and other treats of your choice. You could even put in cookies since the waterproof liner of your bag will keep things from getting greasy and seeping through.
Cut a heart from the ribbon, remove the sticker backing and attach to the bag.
See? I wasn't kidding…now go make a gang of them for those special people in your life!
A big thank you to the ladies of Made From Pinterest for inviting me over. Please feel free to follow me on Instagram and Twitter for sneak peeks on upcoming projects and check out more of my favorite ideas I hope to do one day on Pinterest.
Need more Valentine's Day ideas? I have a few ideas to inspire you…
Love Is In The Air party table
Candy cane hearts with free printables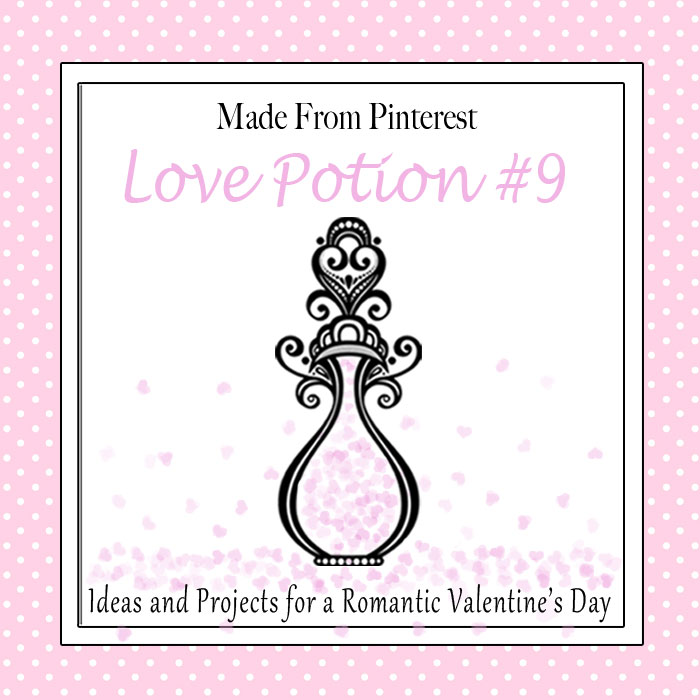 Dawn's color of Love party table is such a fun idea, I really like how she used the plastic paint palette to organize the cupcake decorations! These would be perfect for classroom parties.