Is it worth it? Trying to be like Martha Stewart, I mean? Clean house, amazing food, super organized, nifty crafts accomplished. The truth is, it is out of my reach. And I am okay with it. I have a friend who taught me a wonderful phrase. When you notice something about yourself that is not so hot, just remind yourself, I am good at other things. But when I see ideas like this from Martha's website, I wonder if that one, just that one, might be possible for me. I found it. This is the one. This is an idea that is doable and worth it.
Sometimes when doing the laundry I am tempted to wad up the sheets and shove them onto the shelf in a ball. Because when it is time to change the sheets and I go digging to find what I need, the sheets get all messed up anyway. Besides, when I try to fold the fitted sheets, they are a mess no matter how hard I try. But now, if you can't seem to fold the fitted sheets perfectly, it won't matter. Do the best you can, but even if they are a bit of a mess, your shelf in the linen closet that is home to your sheets is going to look spiffy. Okay, spiffier. Folding your sheets is worth it because folded sheets take up less space than wadded ones. I am speaking from experience here. Once you are done folding them, storing sheets in pillowcases is easy by placing the fitted sheet, flat sheet and and extra pillowcases inside your main pillowcase. Fold the pillowcase around your bundle and voila! When you go looking for what you need to change the sheets, everything will be together in a neat little packet. If your picky mother-in-law is coming to visit, here is a neat little way to really fool her into thinking your are very Martha Stewart"ish". Iron the outside pillowcase! Everything will look so crisp and fresh, when really there is a folded, wrinkled mess inside. Sneaky, right?
Thank you to Kelly of Imperfecting Homemaking for a great tutorial on folding sheets.I have been storing sheets in pillow cases for months (all except for ironing the outside pillowcase which I only did so it would look good in the photo), and I love how simple it is to do. It really isn't but 10 seconds extra work. Add to that how happy it makes me feel to see that even if the rest of my linen closet is a mess, I am good at other things, just look at my folded sheets to prove it!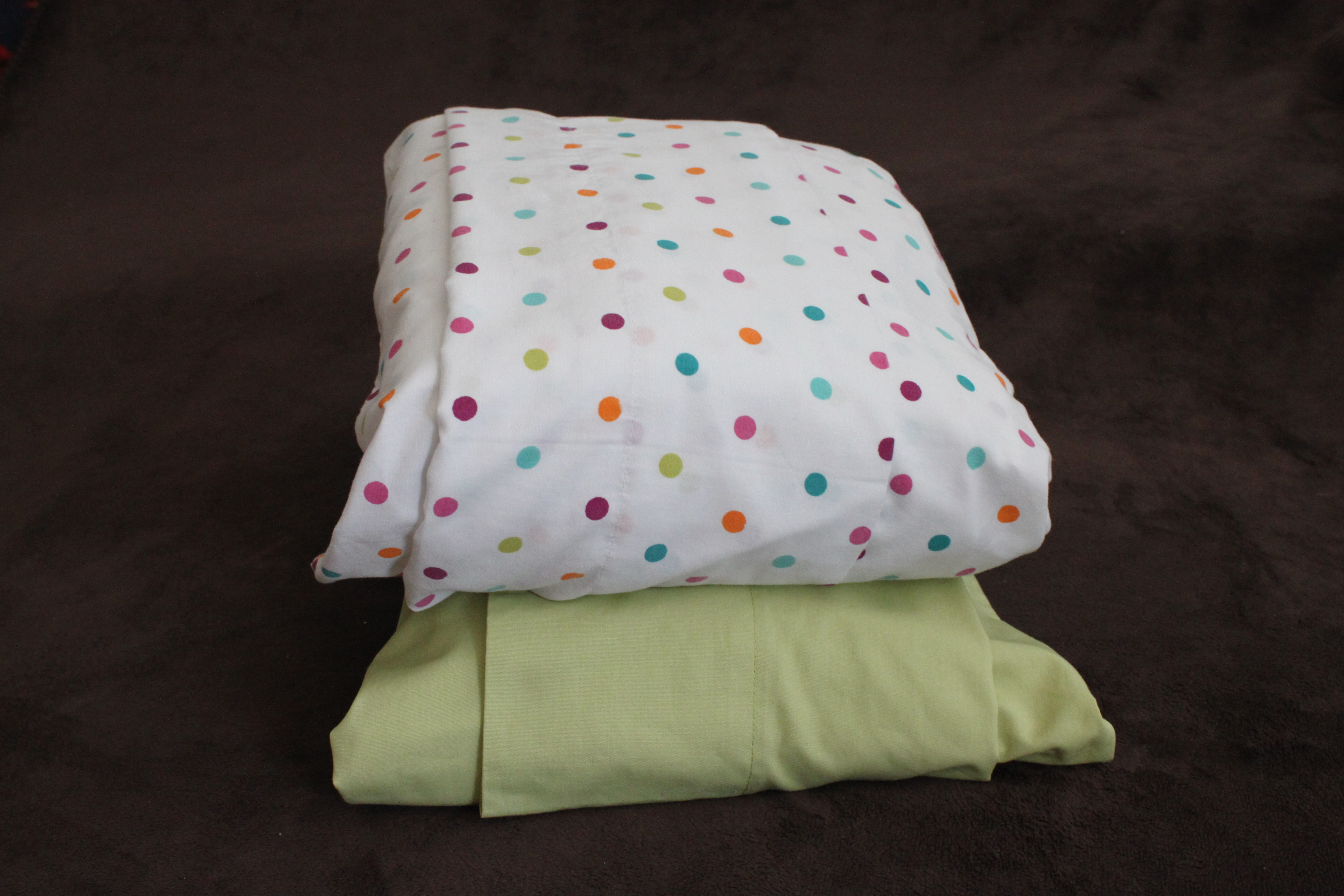 This pin Rocks!
Today we are happy to be linking with:
DIY Showoff, Keeping It Simple Crafts, Artsy Fartsy Mama, Sumos Sweet Stuff, Mad In Crafts, Setting for Four, Lines Across, Craft-O-Maniac, Delicate Construction, Just us Four, A Sassy Little Lady.