A big welcome back to Julie and Maddie from Tastes of Lizzy T. They have a great recipe that they are sharing today and one that will get you excited for strawberries!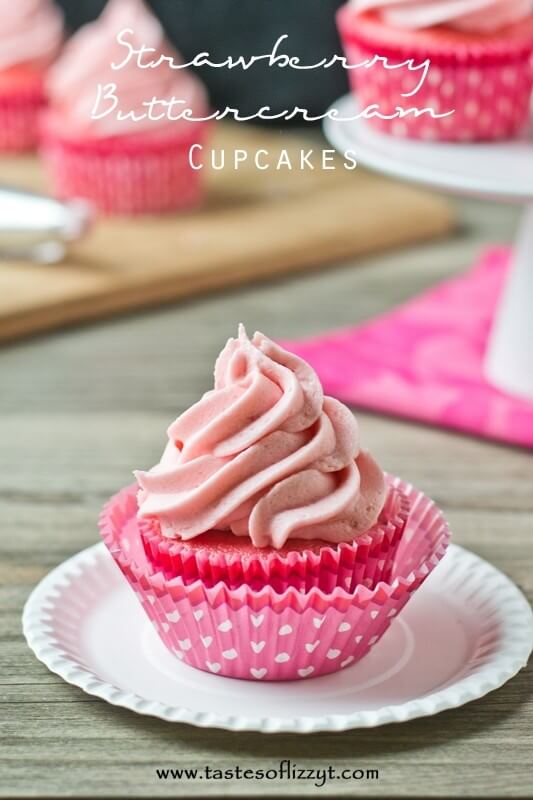 Hey there, friends! It's an exciting month ahead over at Tastes of Lizzy T. It's been one year since we started sharing our recipes with you and we are celebrating our first blogiversary this month! We have a fun month of favorite recipes ready for you, including new chocolate and peanut butter treats, pancakes, cupcakes and lots of sprinkles! Plus, we're going to have several giveaways so that you have a chance to win some of our favorite products. Be sure to follow along with us on social media so that you can join in on these awesome giveaways! You won't want to miss it!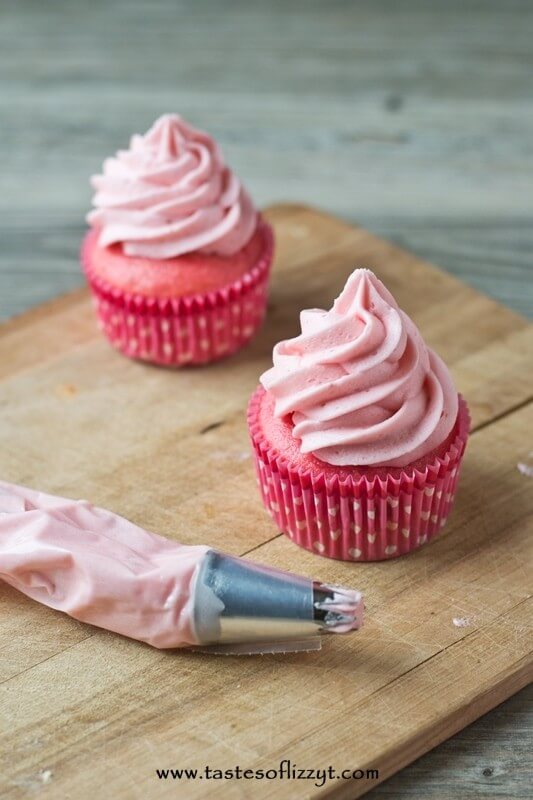 What is a celebration without cupcakes?! You're going to love these cupcakes that we're sharing with you today. Strawberry Buttercream Cupcakes. These cupcakes are bursting full of strawberry flavor. They're so moist and the strawberry buttercream on top complements them perfectly!
What's even better than their flavor? They're easy! You're going to make these with a boxed cake mix and a strawberry Jell-O mix. Add in a few diced frozen strawberries that have been thawed and you'll get a cupcake that is super moist and soft.
The buttercream on top is made from powdered sugar, butter, milk, almond flavoring and strawberry jam. The jam adds in just the right amount of strawberry flavor to top these cupcakes.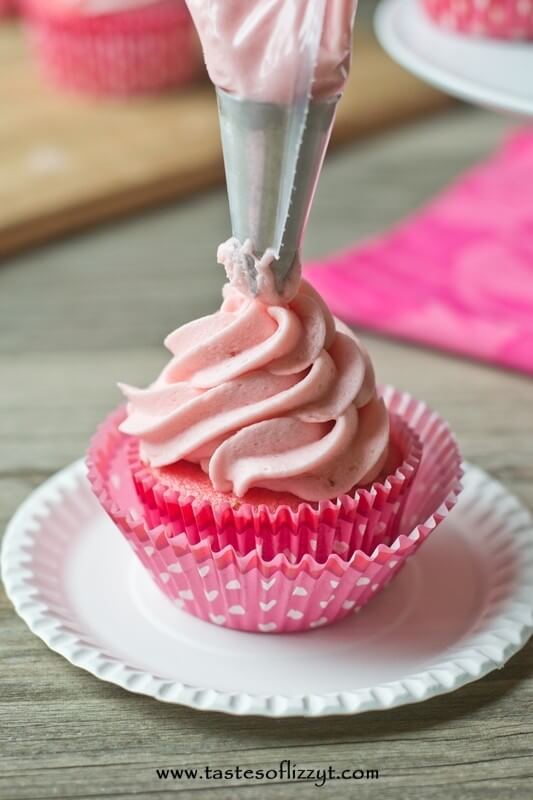 We hope that you'll enjoy these cupcakes and be sure to stop by Tastes of Lizzy T to help us celebrate!
-Julie and Maddie
Strawberries and Cream Cupcakes
1 Pillsbury white cake mix (15.25 oz)
4 egg whites
¼ cup canola oil
1 small box strawberry jello
½ cup water
½ cup thawed frozen strawberries, chopped finely with a food processor
Mix all of the above ingredients together with a mixer until well blended, about 2-3 minutes. Put 24 cupcake liners in a cupcake tin and fill the cupcake liners 2/3 full with batter. Bake at 325 degrees for 17 minutes, or until a toothpick inserted in the center comes out clean.
Frosting:
1 cup butter, softened
4 cups powdered sugar
1 teaspoon almond flavoring
¼ cup strawberry jam
Red food coloring
1-2 tablespoons milk, if needed to make the icing more spreadable
In a stand mixer bowl, with the mixer on medium speed, whip the butter for 2 minutes until it is almost white in color. Add in the powdered sugar, vanilla , strawberry jam and a drop of red food coloring. Beat on low speed for 3-5 minutes. If the frosting is too stiff for spreading, you can add in a tablespoon more of jam or a tablespoon of milk.
Spread the buttercream on the cooled cupcakes with a knife, or use Wilton tip 1M to pipe on a swirl of frosting.
Don't these look great? I love spring and summer when strawberries start showing up in my grocery store. Thanks Julie and Maddie!